Bin collections
Check the latest information about missed bin collections.
Planning Service Update October 2020
A change to our back office software affecting all services
The software used by North Norfolk District Council for the processing of all planning applications has been successfully upgraded to a new system called UNIform. 
This new platform offers a planning management system that is more in line with modern business practices and technology. UNIform is a recognised leader in the field and is used by most Norfolk Local Planning Authorities. The software provider has committed to supporting and developing the product into the foreseeable future.
The introduction of UNIform delivers immediate efficiencies to the authority in terms of both service delivery and customer service. It will mean easier tracking of application progress online, allowing you to self-serve and find out more easily about the progress of applications.
Now the new system is live; further development will be undertaken to discover more process efficiencies and greater customer service.
We hope you didn't notice any impact if you were commenting or viewing applications online through Public Access. Significant work has been done to minimise the effect on our customers.
Here's what we've been doing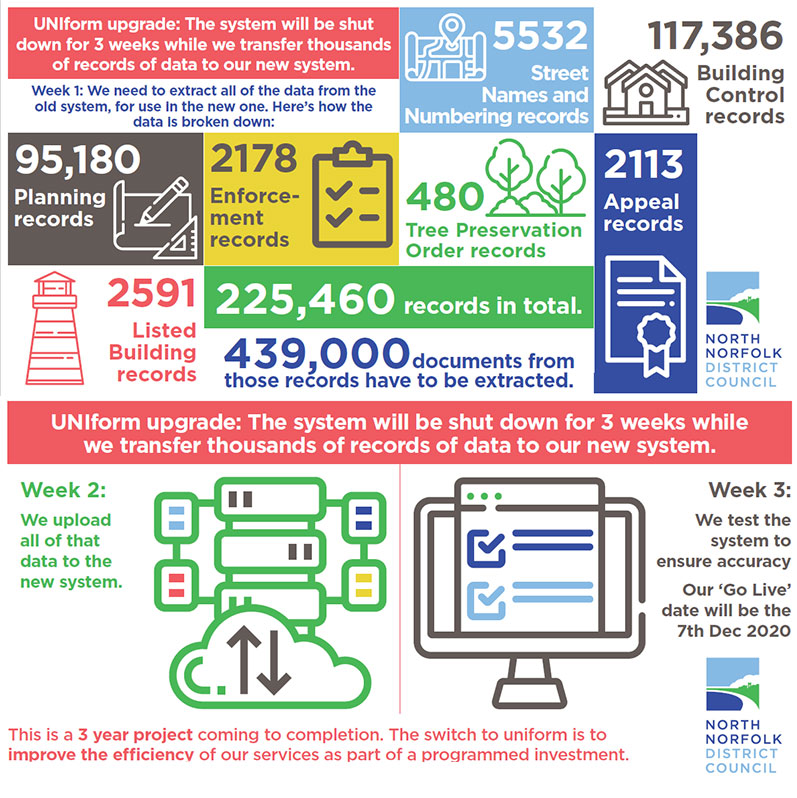 As well as the above work we have:
Undertaken training on the new system
Progressed elements of all types of applications and enquiries which were not impacted by the system unavailability, e.g., carrying out site visits and site inspections
Drafted recommendation reports on all types of applications
Responded to customer emails
Supported additional customer contact calls resulting from downtime
How does this affect each area of our service?
Planning Applications
We will be working through the applications submitted during the shutdown period and registering them in the new system. We will start accepting applications through the portal, email, and post, and we will have been in touch for additional information requirements. We hope to be back up to date soon. Your patience is appreciated.
We have been drafting decisions, so we hope to issue these in date order. Re-advertisement for any amended schemes will now be undertaken. However, schemes may be advertised for longer than 21 days due to the Christmas period.
The Development Committee will proceed as planned in December 2020. Dates of future meetings can be found on the meetings calendar.
Tree works applications
We will now register Tree works applications on the new system. If you have been advised and your tree work application was approved or refused, you will now receive your formal decision. 
Commenting on a planning application
If you are a statutory consultee, please keep submitting your comments online through Public Access or by email to planning@north-norfolk.gov.uk.
If you are a Town and Parish Council, you may wish to consider additional meetings in December 2020 and January 2021 if you regularly receive large numbers of notifications of new applications. Please keep submitting your comments to us.
If you are a member of the public, you can still comment on planning applications. Please use Public Access to submit your comments or email planning@north-norfolk.gov.uk.
We will try and accommodate any requests from all third parties for extensions to time frames for comments whilst being mindful of the need to determine applications.
Building Control
We have maintained a level of service for Building Control, but the team will now be working to clear any backlog of applications and decisions. Please be patient with them. Officers will continue to assess building control applications and undertake site inspections. 
Enforcement
Any new complaints will be registered and investigated. Officers have been preparing recommendation reports so will be able to advise on the outcomes of investigations. We have been issuing notices, as necessary.
Land Charges and Searches
We will respond and register new searches. We have a backlog of requests but have put in place additional resources so that results can be sent out quickly.  In the meantime, please continue to send search requests to electronic.search@north-norfolk.gov.uk.
We hope to have soon the new Public Access for Land Charges (PALC) system live, meaning customers will be able to send requests and receive search results online. When it is ready to go live details of this service will be published on our website. We hope this will be very soon.
Street Naming and Numbering
Applications for new addresses including street naming and numbering or changes to addresses (house and business names) will now be registered and processed. 
How are you dealing with any backlog?
Once the new system is available it will be the focus of all teams to catch up during normal working hours. However, if needed, more resource will be in place for weekend working to help address any backlog of new applications, enquiries and searches.
We thank you for your patience
We realise there may have been some impact on our customers over the last 3 weeks and for this we apologise. Please be assured we are working hard to catch up and we appreciate your continued patience. 
---
Last updated: 8th December 2020