New National Restrictions - Support for Businesses
If your business has been forced to close due to lockdown restrictions, you may be eligible for a grant
Planning Service Update October 2020
A change to our back office software affecting all services
The existing software used by North Norfolk District Council for the processing of all planning applications including Listed Building Consent, tree works and pre-application advice requests), building control applications, enforcement investigations and land charge searches will no longer be supported by the provider in the near future. As a result we have invested in upgrading to a new product called UNIform.
This new platform offers a planning management system that is more in line with modern business practices and technology. The product is a recognised leader in the field and is used by almost all other Norfolk Local Planning Authorities. The software provider has committed to supporting and developing the product into the foreseeable future.
The introduction of UNIform delivers immediate efficiencies to the authority in terms of both service delivery and customer service. It will mean easier tracking of application progress online, allowing you to self-serve and find out more easily about the progress of applications. Once the new system is live, further development will be undertaken to realise more process efficiencies and greater customer service.
When will the new system go live?
We will suspend the existing system from Friday 13 November 2020. We will then extract and convert the data between the systems with quality checking undertaken to check accuracy. The new system will be live from Monday 7 December 2020 for all new and existing applications and enquiries within the service.
Between these dates the system will be unavailable, however you will still be able to view applications online through Public Access. Consultees, town and parish councils, and the public will still be able to comment on existing undetermined applications, raise enforcement complaints, and request land charge searches.  Significant work has been undertaken to minimise the impact on the customer during this period with staff working extra hours to make sure of a smooth transition.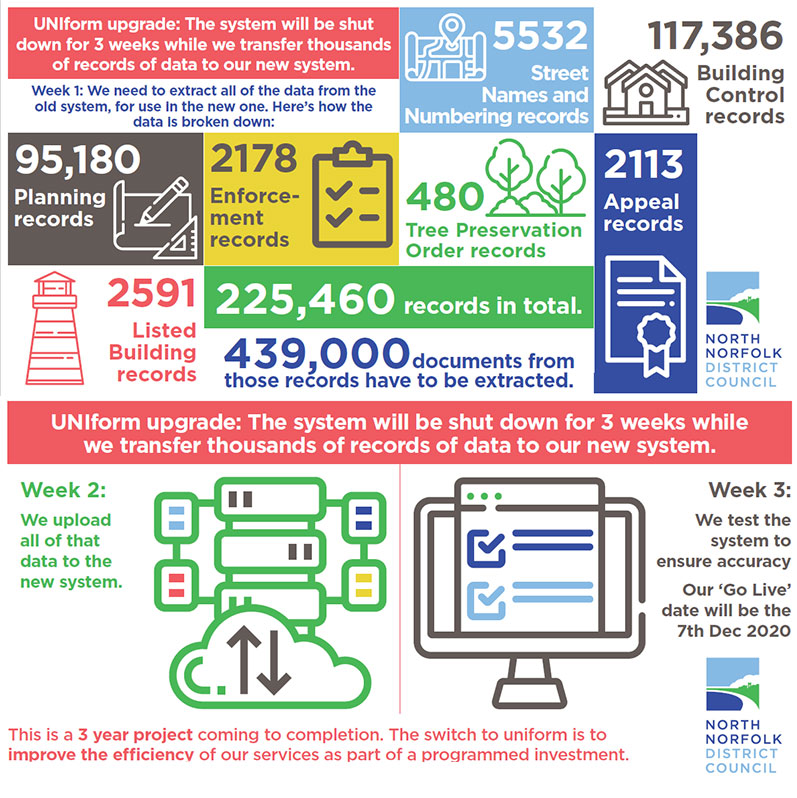 What will officers be doing during this time?
Officers will proactively communicate with agents and applicants using all parts of our service to provide advice on the progress of applications and enquiries. They will also be:
Undertaking training on the new system
Progressing elements of all types of applications and enquiries which are not impacted by the system unavailability, e.g. carrying out site visits and site inspections
Drafting recommendation reports on all types of applications
Responding to customer emails
Supporting additional customer contact calls resulting from downtime
How does this affect each area of our service?
Planning Applications
Officers will be preparing recommendation reports so that once the new system is available we can issue planning decisions. Development Committee will proceed as planned in November and December 2020 (with some reserve dates being used for important applications). Dates of future meetings can be found on the meetings calendar.
We will be unable to issue planning decisions so we will be asking agents and applicants for an extension of time to cover both the system unavailability and a short period afterwards to process any resulting backlog. Decisions will be issued in date order.
We will not be able to re-advertise any amended plans on any application. Any backlog will be addressed once the new system is available and resources are in place to aid a quick recovery.
Tree works applications
You will be advised if your tree work application is approved or refused. Please take the advice of the NNDC Tree Officer before works are undertaken. Emergency measures will be in place while the system is unavailable in the event that the Council has to take action quickly in respect of unauthorised works and Tree Preservation Orders.
New planning applications
New applications will not be able to be registered after Thursday 12 November 2020. It would assist us during this time for submission of applications to be delayed until after Monday 7 December 2020.
Applications submitted after Monday 26 October 2020 and which are invalid will have a reduced time for submission of information of 7 days. If this information is not provided by Thursday 12 November 2020 we will return the application to you and refund the fee.
If you are an agent, developer or applicant, officers will proactively contact you in regard to your planning application to inform you of progress. You may be asked for an extension of time to cover both the system downtime and a short period after to process any resulting backlog. Officers will be able to advise you if your application is approved or refused. If approved we ask that you wait until you receive the decision notice before any works are started on site as there may be conditions you need to be aware of.
Commenting on a planning application
If you are a statutory consultee, please keep submitting your comments online through Public Access or by email to planning@north-norfolk.gov.uk. It is important we receive your comments on time to help us move applications forward quickly post go-live.
If you are a Town and Parish Council, you may wish to consider additional meetings in December 2020 and January 2021 if you regularly receive large numbers of notifications of new applications.
If you are a member of the public, you can still comment on existing planning applications. Please use Public Access to submit your comments or email planning@north-norfolk.gov.uk.
We will try and accommodate any requests from all third parties for extensions to time frames for comments whilst being mindful of the need to determine applications.
Building Control
Due to the fewer number of building control applications submitted to the authority we are able to offer some level of service. Officers will be continuing to assess building control applications and undertake site inspections. New applications can still be submitted during the shutdown period, but there may be some delays in issuing paperwork to agents and builders as processes are manually recreated. As a result of this there will be some replication of processes post go-live.
Enforcement
Officers will be preparing recommendation reports so that once we are live we can advise on the outcomes of investigations or issue notices as necessary. Emergency measures will be in place during system downtime in the event that the Council has to take enforcement action quickly.
New enquiries and complaints will not be able to be registered until Monday 7 December but we will carry out initial site inspections.
Land Charges and Searches
New searches will not be registered after 5pm on Wednesday 11 November. During the shutdown period we will still be able to receive search requests by email, however these will be held until the new system is available. From Saturday 7 November customers will be able to send requests and receive search results online via Public Access for Land Charges (PALC) details of which will be available on our website soon.
Street Naming and Numbering
Applications for new addresses including street naming and numbering or changes to addresses (house and business names) may not be confirmed by Friday 13 November. New applications will not be registered after Thursday 12 November. We will continue to accept applications, however these will not be registered until week beginning Monday 7 December.
How are we dealing with any backlog?
Once the new system is available it will be the focus of all teams to catch up during normal working hours. However, if needed, more resource will be in place for weekend working to help address any backlog of new applications, enquiries and searches.
Thank you
We realise this will have an impact upon you and your customers. However we will be working hard to complete the transition as quickly as possible and we appreciate your cooperation and patience.
Frequently ask questions
---
Last updated: 19th November 2020