North Walsham West
Have your say on the draft Development Brief, which will inform future planning applications for the site. Learn more about this by selecting 'Find out more'.
What goes in my green bin
Join the Recycling Revolution! From 1 October 2014 far more items can be placed in to your green bin for recycling. A full list can be found below, and for more details about the Recycling Revolution campaign, see the Recycle for Norfolk website.
Your recyclables should be placed loose in your green bin - not in bags.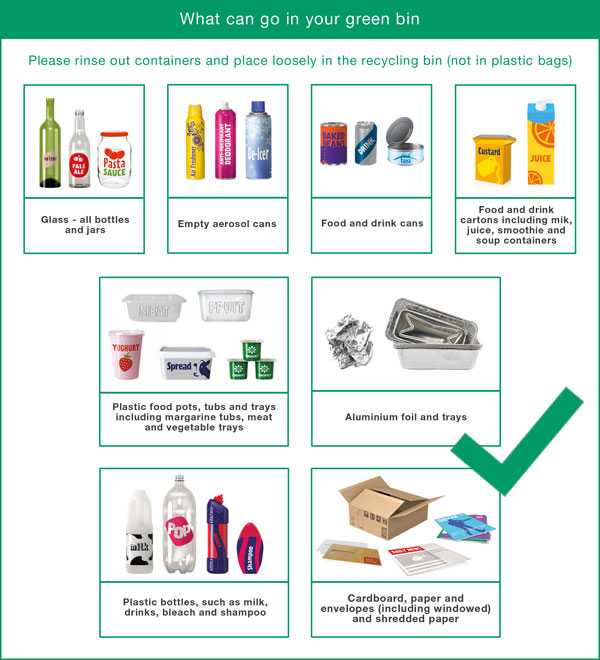 Things that can go in your green bin include (don't forget to rinse them out first):
Food and drink cans, both aluminium and steel.
Glass - all bottles and jars (no more trips to the bottle bank!).
Aluminium foil and trays including takeaway and ready meal containers.
Plastic pots including yoghurt pots, containers for gravies and fresh sauces.
Plastic food tubs and trays including margarine tubs, meat and vegetable trays.
Empty aerosol cans.
Plastic bottles, such as milk, drinks, bleach, shampoo.
Paper, including envelopes (including windowed), shredded paper and cardboard.
Food and drink cartons including milk, juice, smoothie and soup containers. Bottle tops can be left on.
Things that can't go in include:  Toys, video tapes, CD'S and DVD's, plastic plant pots, washing up bowls, cutlery and drainer trays, plastic paint pots.  Soft plastic - polystyrene, bubble wrap, plastic sheets, carrier bags. Sweets and crisp wrappers, nappies, textile (clothing, carpet and shoes), wood and metal paint tins.