Pretty Corner Woods
Please note this woodland is closed until further notice
Council signals multi-million pound investment in sport

Date published: 1st November 2017
A £12.6 million investment in state-of-the-art sporting facilities in North Norfolk will go before councillors next week.
The multi-million pound investment would see a £10 million new leisure centre with a swimming pool at the Splash site and a £2.6 million indoor tennis centre with gym at a new North Norfolk Community Sports Hub in Cromer, with satellite tennis facilities across the district at Fakenham, Wells and North Walsham.
The proposals for the new leisure centre at Sheringham and the North Norfolk Community Sports Hub will be considered at the Council's Overview and Scrutiny Meeting on Wednesday 8th November.
The reports will then go to Cabinet on the 4th December. If the proposals are supported they will go to Full Council on the 19th December for the funding to be agreed.
Cllr Tom FitzPatrick, Leader of North Norfolk District Council, said: "We know that keeping fit and active is important for residents. These ambitious plans would see a £12.6 million investment in sport and active leisure; that's a wise investment for the Council as well as good news for the community who will benefit from better sports facilities."
Cllr Judy Oliver, Cabinet Member for Assets and Commercialisation said: "By promoting commercial investment, we will provide a much needed new leisure centre for our residents, to replace the old Splash facility at Sheringham. The Sports Hub will bring together other partners, and also provide satellite tennis facilities across North Norfolk. If we can improve our facilities for everyone, that will encourage more people to stay fit and active, which is a key priority for our Council and our district." 
Cllr Maggie Prior, Cabinet Member for Leisure added: "This is a significant proposal to invest in sporting facilities that could benefit all residents' health and wellbeing in North Norfolk.  Earlier this month I attended the launch of the second annual Sporting Centre of Excellence for hockey, cricket, running and netball, if these proposals are supported we could extend that programme to cover swimming and tennis in future years."
Cllr John Lee, Ward Member for Suffield Park added: "This innovative proposal shows the Council's commitment to health and well-being and enhancing the already outstanding facilities at Cromer tennis club for the benefit of the whole community."
Cllr Nigel Pearce, Ward Member for Suffield Park added: "This opportunity will provide the local population with excellent new sporting facilities – it's a win-win for everyone."
Cllr Andreas Yiasimi, Ward Member for Cromer Town said: "Anything that enhances the facilities for the school while providing much needed facilities for the wider area must be a positive thing."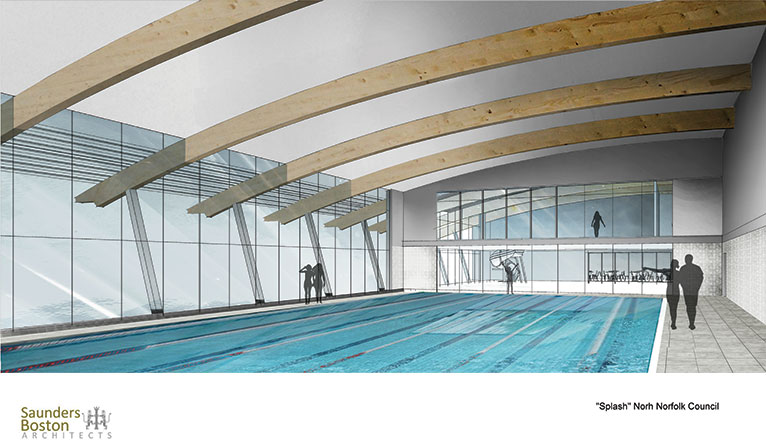 Pictured above is an initial artist's impression of the new leisure centre.
The North Norfolk Community Sports Hub would be created in partnership with Cromer Academy and grant funded by the Lawn Tennis association (LTA) and should be built by mid 2019 if councillors approve the proposals. The new facility will include:
Three indoor tennis courts
Changing rooms
Toilets
Reception area
New bar/lounge and viewing gallery
20 station-gym with an area for free weights and fitness
Studio space for fitness classes
In addition, a grant from the Lawn Tennis Association will provide for improved tennis facilities across the district, to drive up participation.
Building costs are estimated to be £2.6m for a 'framed fabric' indoor tennis facility or nearly £4 million for a traditional built facility.
Nick Amis, Chairman of Cromer Lawn Tennis and Squash Association, said: "This is a fantastic opportunity, in conjunction with Cromer Academy, which would bring a great deal of benefit to a range of ages and abilities.
"It has always been my aim to increase the sporting facilities at our club and we have been fortunate to have received support for very many years from NNDC in various forms. This project will enable us to increase our already well established coaching programme for 140+ juniors. We will be able to accommodate all ages and abilities in the new facility, bringing in other local clubs to use the new indoor courts and keeping fitness levels up, which is a key part of the NNDC plan for healthy living."
Cromer Academy Principal Dr Geoff Baker said: "These are fantastic and creative proposals that will make a lasting difference both to our pupils and the wider community. We are delighted to be working with North Norfolk District Council and local sports groups to make them happen, and enhance the Cromer Sports Hub for everyone in the area.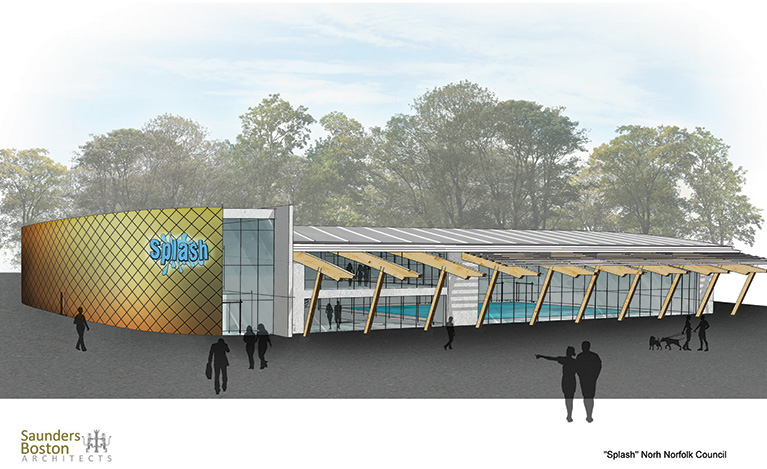 Pictured above is an initial artist's impression of the new leisure centre.
"Sport is already a really important part of life at Cromer Academy and this investment will give our young people even more opportunities to take part both as individual players and in teams, and develop key social and leadership skills."
The feasibility study for the replacement of the Splash Leisure and Fitness Centre in Sheringham considered three options: refurbishment of the existing site; a new build and a new build plus a health spa facility.  The new build option was by far the best value and will be taken forward if the proposal is approved by councillors.
It is recommending that a new leisure centre with a swimming pool is built on the site, partly funded by the sale of land for a hotel development.
The new build option, without the health spa, would see:
A £10 million investment in a new leisure and fitness centre
A 25m six lane pool
A learner pool;
A Splash pad/ fun water;
A 50 station gym health and fitness suite;
One large dividable studio;
A spin studio;
Two treatment rooms; and
A café.
The study estimates that the new leisure centre will take around two years to complete and be open to the public from October 2020.
Splash will continue to be open as usual to customers and members while future investment plans are considered by the authority. 
---
Last updated: 1st November 2017