New 'futureproofed' play area near to completion as part of NNDC's £1m Cromer West Prom investment

Date published: 16th May 2017
North Norfolk District Council's new facilities along Cromer's West Promenade will be ready for use by residents and visitors in advance of the 2017 summer season.
The 'futureproofed' catering kiosk, toilets and showers units, as well as the new play equipment, are able to be craned out of the area to higher ground in the event of a storm surge warning.
The equipment for the themed children's play area, featuring a shipwreck, is being constructed on site this week, with Wetpour safety surfacing being introduced once the structure is in place. It is hoped the play area will be ready for use in two to three weeks, dependent on weather and safety inspection.
The new catering kiosk and facilities, including accessible public toilets, beach showers and changing facilities are receiving their final touches and will be ready for use in advance of the summer season. These facilities are adjacent to the area of disabled parking which was provided last year.
Cllr Maggie Prior Cabinet Member for Leisure said: "These new facilities will be a superb addition to Cromer's offering and we hope residents' and visitors' children will especially love Cromer's very own shipwreck on dry land!
"We are committed to making a number of investments in Cromer to make the town more attractive for local people and visitors. We have a four-year programme to enhance jobs and the tourism economy and it's great to see yet another element of this come to life."
The new facilities are part of a £1million investment by North Norfolk District Council into Cromer's West Promenade to increase the attraction of the whole of Cromer Promenade.
Last year improvements were made to the zigzag path, including refurbishment of the viewing turrets and the installation of solar lighting, opening up this end of the Prom to visitors parking at the Runton Road car park. Improvements costing £110,000 were also made to the Art Deco block, where a concession opportunity remains available.
As part of this further phase of investment, the white steps have been refurbished and new promenade lighting will also be installed before the summer. In addition, the children's play area is set to have an underwater mural painted during June illustrating the flora and fauna of the Cromer Chalk Reef.
For all enquiries regarding the Art Deco concession opportunity, please contact Richard.Eardley@north-norfolk.gov.uk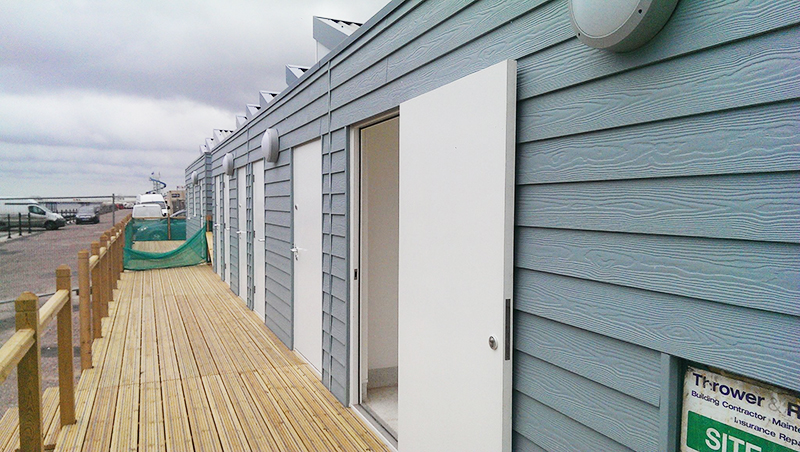 Pictured: West promenade toilets
---
Last updated: 16th August 2017