North Norfolk's Cromer Pier – the show goes on!
Pier Management Contract Awarded to Openwide
Date published: 13th October 2017
A new 10 year management contract to run Cromer Pier, one of the nation's most iconic seaside structures, has been awarded by Pier owners, North Norfolk District Council, to Openwide.
The celebrated and award winning Grade II Listed Pier which has been described as 'fabulously English' has become a national treasure and a 'gem of the Norfolk coast' since it was built in 1901.
Playing host to the world's only remaining full season End of the Pier Show, the 495 ft long Pier has claimed its fair share of awards through the years, kick-started many entertainment careers and provided a stunning backdrop to numerous films and productions.
This year marked the 40th anniversary of the famous End of the Pier show, and now, with the award of a new contract to Openwide, the show will definitely continue to thrill visitors and provide an added attraction on the North Norfolk coast.
The new contract will start on 1st February 2018 and run for a minimum of 10 years – covering the 120th anniversary of the Pier in 2021.
Cllr Tom FitzPatrick, Leader of North Norfolk District Council, said: "We are tremendously proud to be custodians of Cromer Pier on behalf of the people of North Norfolk and the many tourists that come here every year.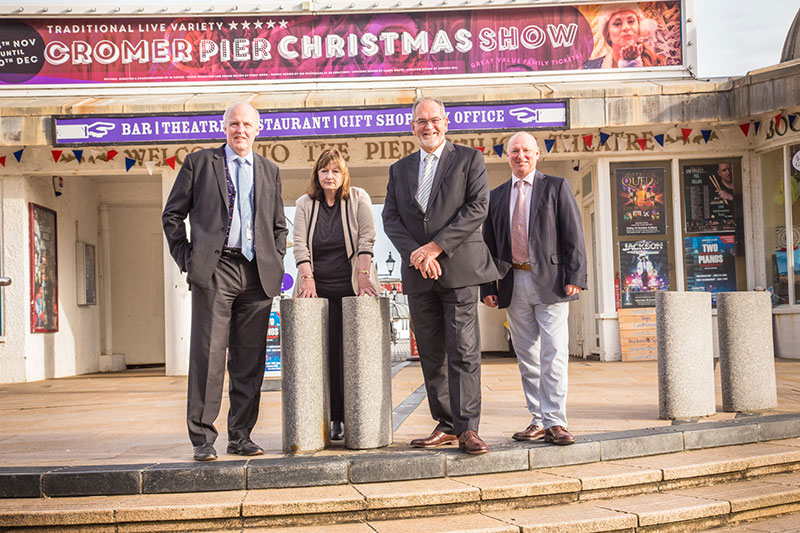 Pictured above: Cllr Tom FitzPatrick, Cllr Judy Oliver, Steve Cutbush and Rory Holburn.
"The Pier has always been an iconic structure for our area, and keeping the ambience and character of this asset is vital to North Norfolk's tourist offer. 
"We are delighted to be awarding this contract to Openwide and ensuring a bright future for the Pier. We will be looking to support Openwide in expanding the attractions and the vitality of the Pier for years to come."
Cllr Judy Oliver, North Norfolk District Council Cabinet Member for Corporate Assets and Commercialisation said: "' A key objective in NNDC's procurement strategy is to drive down costs and to get ever greater value for money. I am delighted that the new contract will help us achieve that aim whilst also ensuring ten years of excellent entertainment for residents and visitors alike."
Cllr Maggie Prior, Cabinet Member for Culture and Leisure at North Norfolk District Council added: "I'm very much looking forward to working with Openwide and ensuring the Pier has bright and vibrant future for many, many years to come."
Steve Cutbush, Openwide Managing Director, said: "We are naturally delighted with the outcome after a very robust procurement process.  Openwide will continue to put the Cromer Show at the heart of the Pier's offer and evolve and preserve this historical aspect of Britain's seaside tradition, further building on the national heritage attraction it has now become.
"We are delighted that North Norfolk District Council has given us the chance to develop and grow the Pier in partnership with them into the future. We have therefore proposed a number of early enhancements to the Pier and its operations to enhance the commercial opportunities and reach a sustainable position without future subsidy.
"North Norfolk District Council already has a capital investment plan for the theatre and Pier. All of these enhancements will add to the Pier experience and enable it to evolve into the future as a national treasure and operate without further subsidy."
Rory Holburn Operations Director added: "Openwide have proposed a number of new developments, with new offers added to the current Pier attraction, based upon our experience and success elsewhere.
"Our objective is to help the Council broaden Cromer's appeal as a tourist destination with some exciting new attractions. Moving forward, we will evolve our proposals and seek to develop options that can add to the commercial and aesthetic success of Cromer as a resort.
"We have the most amazing team of motivated and dedicated staff all looking forward to taking our proposals forward and continue to delight our customers and patrons.
"We are delighted that we now have the chance to invest and to work with North Norfolk District Council to grow the Pier into the future."
Key Facts:
Pier owned and maintained by North Norfolk District Council since the Council was formed as the result of local government reorganisation in 1974.
The 495ft long pier was built in 1901 and cost £17,000.
Won Pier of the Year in 2015
Famous for hosting the only traditional End of the Pier Show in the world
Free admission to the pier
North Norfolk District Council is proud to be the custodian of this national treasure and has protected and enhanced this iconic asset. In 2015 the Pier underwent a £2m refurbishment and later in 2016 it benefited from a £8 million pound coastal defence scheme.
Further major works costing £500,000 are planned by North Norfolk District Council on the Pier which includes: 
Extensive improvements to the theatre roof, ventilation and electrical switchboards
Work to replace the sewerage system, housing and access gantry between theatre and RNLI boat shed, along with new fire hydrants and redecoration
Work to replace an area of decking between the forecourt and the front of the booking office, and Tides Restaurant.
Replacement of two lamp columns on the forecourt
Completion of the deck lighting
A five year rolling programme of structural inspections
North Norfolk District Council owns and maintains this iconic landmark and has been looking after the Pier since 1974.
In December 2013 the Pier was badly damaged by the major storm surge. It was hit again in January 2017 by a weaker storm surge but on both occasions reopened only days later, thanks to the hard work of NNDC staff.
North Norfolk District Council is determined to protect and enhance this iconic asset; the Pier underwent a £2m refurbishment which ended in 2015, and benefited from a £8 million pound coastal defence scheme which finished in 2016. In 2017 the Council invested £1.3m in the West Promenade Improvement Project.
The Pier features in many TV and film dramas – including Alan Partridge: Alpha Papa and the BBC's Agatha Christie drama Tommy and Tuppence; the Pier is currently a prominent feature in M&S stores across the country and abroad as the backdrop for the company's autumn season clothing campaign.
Openwide was formed in 1992 as a company of "imagineers" designing innovative attractions, shows and new and original themes for conferences and trade launches. As a result of its successes it has diversified into an ever-greater range of projects and industry sectors. Our consultancy is based upon decades of industry experience in leading attractions and in the hard reality of in-house operations.
Now the Openwide Group employs a permanent team of over 60 staff.   We maintain a network of internationally renowned experts in all areas of resort/attraction development and operation as well as theatrical production. The jewel in our crown is the internationally famous Cromer Pier and Pavilion theatre in North Norfolk which we have developed in partnership with North Norfolk District Council into a major heritage attraction. www.openwideinternational.com
---
Last updated: 20th October 2017