Voter ID
The UK Government is changing how we vote. From May 2023, you will need to show photo ID when you vote at a polling station.
Empty Homes Week 2018 Day 3
Helena Road, Walcott.

Date published: 17th October 2018
A railway carriage style property in Walcott had been empty since the owner passed away in 2010; it was then severely damaged by the flooding in 2013.
Due to the empty status of the home the inheritors of the land were not able to claim flood relief benefit, which in time led to serious decay of the structure. Despite reaching out to the owners to resolve the issue and discuss complaints from local residents, they were not forthcoming and progress was consequently delayed.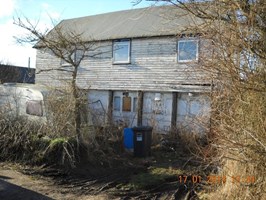 After further contact from the Council and to prevent further decay, the owners decided to fix up the building, however, due to another death in the family, the project experienced further delay. The home was eventually auctioned off and was purchased by a builder who was keen to make positive changes to the property.
It has now been masterfully restored, with sympathetic consideration for its railway history. 
---
Last updated: 19th October 2018