Voter ID
The UK Government is changing how we vote. From May 2023, you will need to show photo ID when you vote at a polling station.
The lights went out but the vote went on
Power cut brings community together

Date published: 18th December 2019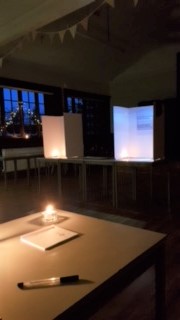 When power-outages hit two polling stations near Holt, voters in Letheringsett came together to provide lighting so that the polling booths could still be illuminated whilst voters cast their ballots.
The poor weather conditions coinciding with the winter election meant that the polling station in Letheringsett was left without power in the late afternoon of polling day, 12 December. The polling station remained open, but in darkness. After a social media post from North Norfolk District Council, the community came together to provide additional lighting for the station, allowing fellow voters and polling staff to continue the electoral process, undeterred.
---
Last updated: 18th December 2019