Voter ID
The UK Government is changing how we vote. From May 2023, you will need to show photo ID when you vote at a polling station.
Norfolk chainsaw artist unveils donated sculpture to Holt Country Park

Date published: 24th August 2020
Local artist, Matt Darge has unveiled the latest wood sculpted addition to Holt Country Park.

Mr Darge, who carves lifelike wooden sculptures using a chainsaw, created a stunning nature themed installation to be put along the trail in Holt Country Park. The piece features a buzzard and a squirrel and was inspired by the local wildlife in the park.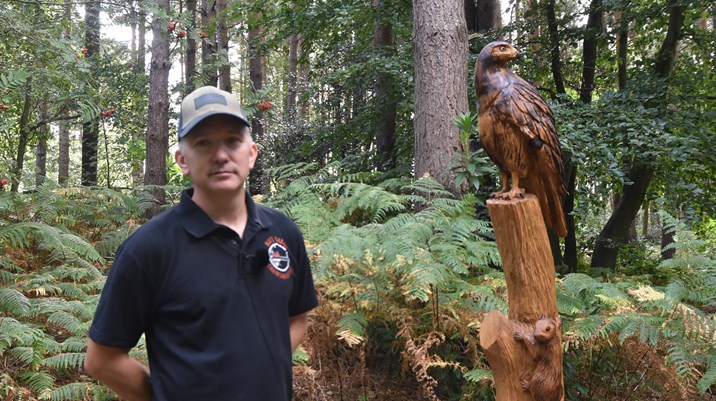 The piece was kindly donated to North Norfolk District Council by Mr Darge, who set up his chainsaw and power carving business just six months ago, after deciding to turn his newfound hobby into a full time venture.
Unveiling the latest work, Mr Darge said:
"It's carved out of a piece of chestnut from the park and inspired by the surroundings. We get a lot of buzzards in [the park], and squirrels are a big feature of the woodlands. It was made to add some interest for people walking the marked walks.
I actually started two years ago, I was working at an unrelated business and wound up with some time on my hands, so I started making log furniture. I knew I could be more creative than that, so started making sculptures like owls and two years later, here I am"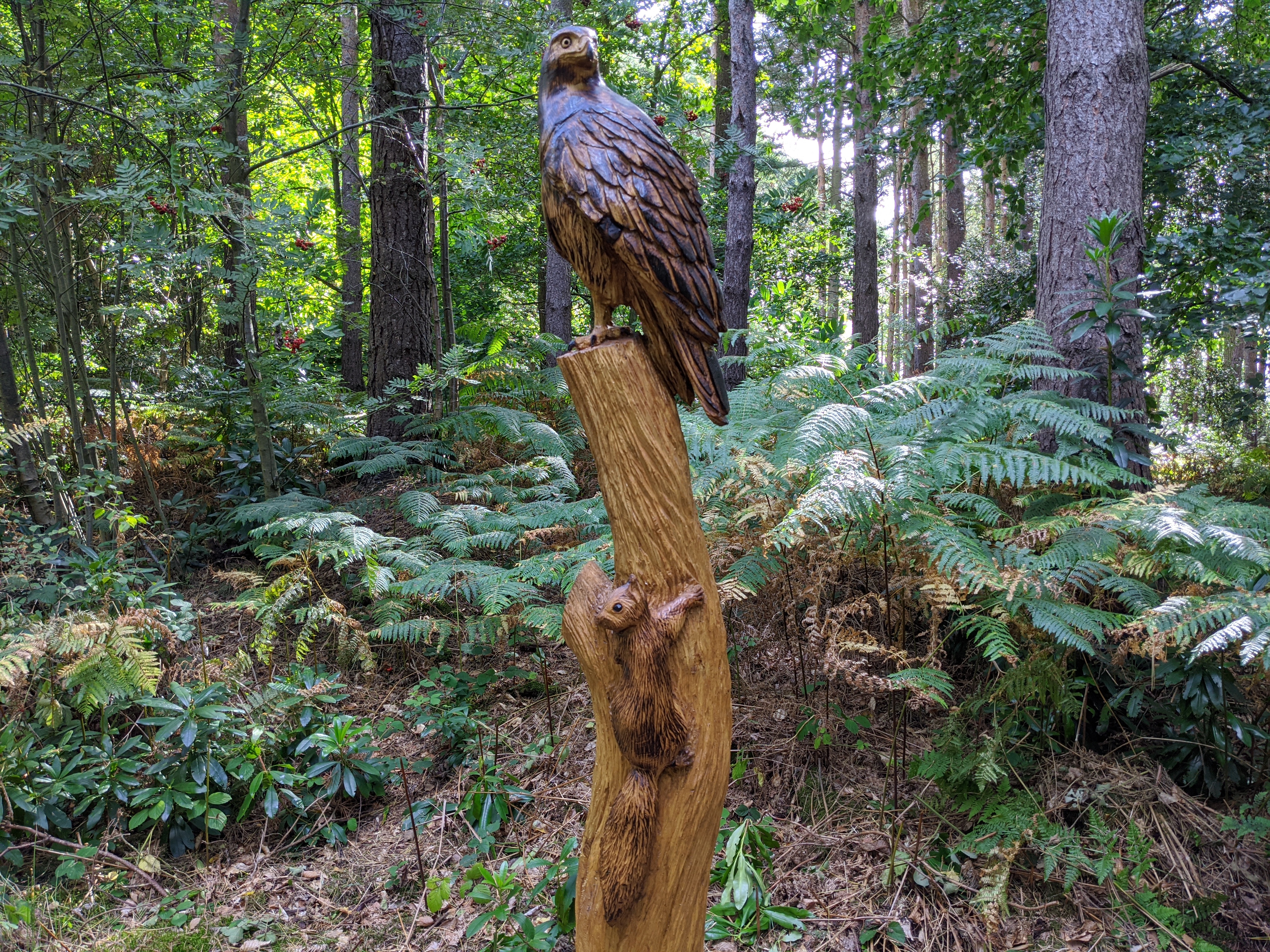 The Park, which is one of three Green Flag country parks the District Council maintain, is to be the site of various improvements over the coming months.
Sports, Recreation and Countryside Manager, Colin Brown said:
"Late last year, the rangers and I looked at all the areas that needed attention, development and what we'd like to improve. We came up with a plan and we've been lucky to already install some of those improvements, like the children's play area. Earlier this year, we produced a new park map and flyer and re-routed all our waymarked trails. One of those trails is a feature trail, taking in all visitors favourite features; the Archway, the Carved Men, the Causeway, and we're looking to increase the number of features and structures that we have." 
Holt Country Park features many wooden sculptures along the trails, created previously and kindly donated by another woodwork artist, Mike Thody. The iconic sculptures, such as the Carved Men, have been a much loved feature of Holt Country Park for nearly two decades and have welcomed the hundreds of visitors each week.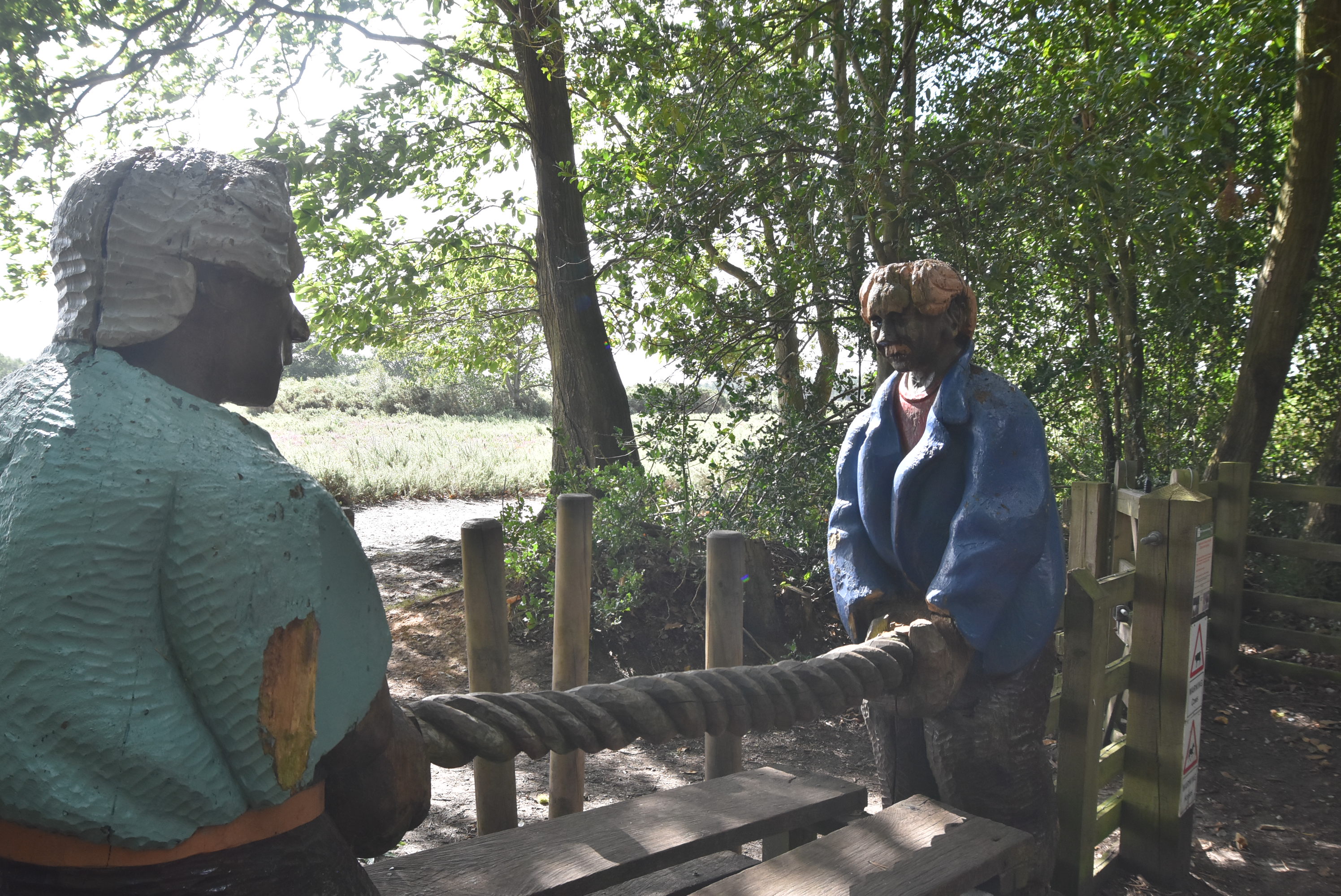 North Norfolk District Council manages four Country Parks in total, three of which have been awarded the prestigious Green Flag award, 14 years in a row.
You can view Matt Darge's portfolio of carved sculptures on his website.
---
Last updated: 24th August 2020