Voter ID
The UK Government is changing how we vote. From May 2023, you will need to show photo ID when you vote at a polling station.
Play Areas across North Norfolk to re-open

Date published: 23rd July 2020
From Friday 24 July, all of North Norfolk District Council's 29 play areas are to be re-opened.
Central Government announced that outdoor play areas could be re-opened from Saturday 4 July on a discretionary basis. Like many other councils and play area providers across the country, North Norfolk District Council took the difficult decision to not open the play areas until it was deemed as safe as possible to protect the residents of North Norfolk.
Play areas can now be re-opened for parents, families and other users to visit and play responsibly while observing appropriate safety and social distancing measures.
Cllr. Virginia Gay, portfolio holder for Culture and Wellbeing: "We will be re-opening all of the 29 Council operated play areas in the District from Friday. It is a measured response and we ask all people using the play areas to take responsibility for handwashing and social distancing. Please look out for our signage at the play areas which will provide further guidance"
Whilst play areas have been re-opened, for safety purposes, it may become necessary to close them again. The Council will be reviewing their operation on a regular basis.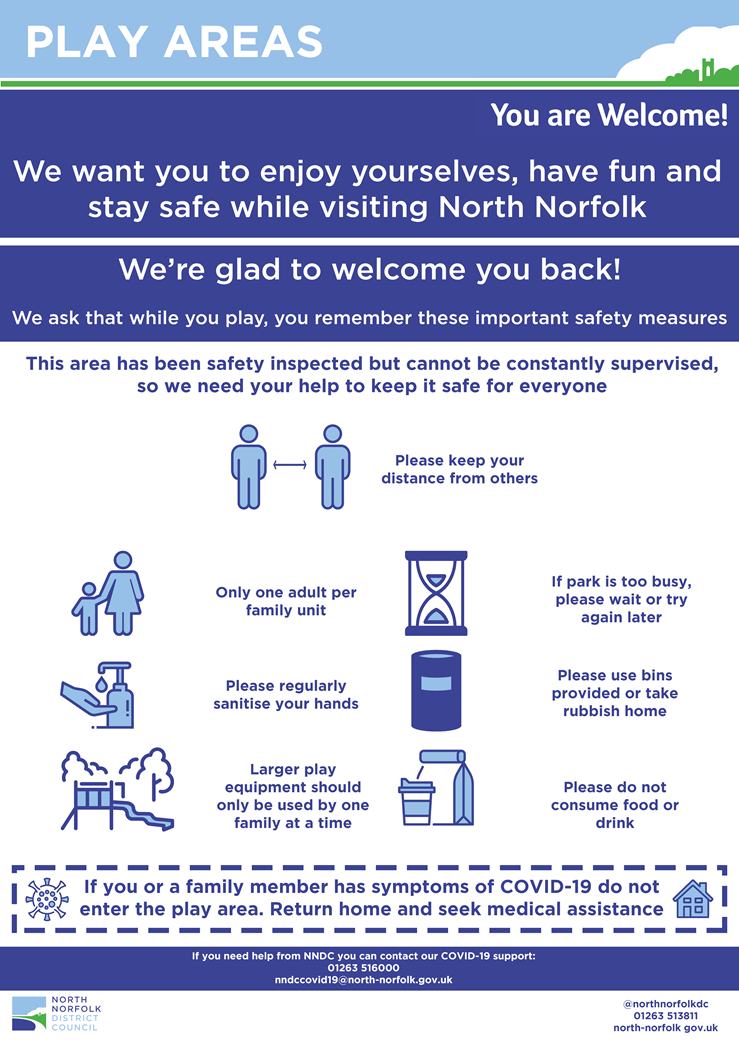 ---
Last updated: 23rd July 2020