Voter ID
The UK Government is changing how we vote. From May 2023, you will need to show photo ID when you vote at a polling station.
Cromer Pier glows in support of the 'Light It In Red' campaign

Date published: 7th July 2020
Cromer Pier and the Pavilion Theatre lit up in a red glow to support North Norfolk's arts industry.
The 'Light it In Red' national movement seeks to raise the public profile of the arts, theatres and events industry across the UK, which has taken a significant hit during the COVID-19 pandemic.
The movement saw renowned theatres and arthouses up and down the country turning all their lights red at 9pm to stand in solidarity with many who work in the arts which have been severely impacted during lockdown.
Local residents, visitors and photographers alike came to see the Pier in resplendent red, against the setting sun.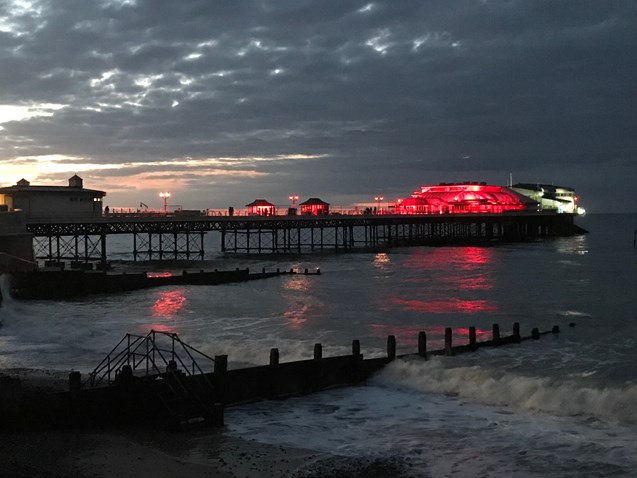 In a video interview from the Pier, Debs Lewis, Marketing, Box Office & Retail Manager for Openwide Coastal Ltd, said:
"Funding is so important to small venues like us. This campaign is for all theatres in the UK and all the performers that perform in those theatres, it is such a massive part of the culture scene. For theatres like ours, which is the only end-of-the-Pier theatre with a full show, it's vitally important to us"
The Government recently announced a £1.5bn lifeline for the arts sector, which venues and professionals across the country will hope to benefit from. It has not yet announced how the money will be distributed across the UK. Many iconic and culturally important venues have welcomed the news of funding. This includes the Pavilion Theatre on Cromer Pier, which had to cancel the Summer show.
Welcoming the news of the funding and support for theatres across the country, Leader of the Council Sarah Bütikofer added:
"We are concerned whether it reaches out to all areas, like ours in North Norfolk with our iconic Cromer Pier and end-of-pier show, which is the last of its kind in the country- possibly the world.
We are determined to do everything we can to protect this vital facility for residents and visitors"
Cllr. Virginia Gay, Portfolio Holder for Culture and Wellbeing commented: "It's magnificent news, our creative industries are so important to us in the district and to the nation. We're waiting to hear how this money will be distributed and very much hoping how this money will come here [to North Norfolk]. In Cromer, we have got one of the last traditional Pier shows in the nation"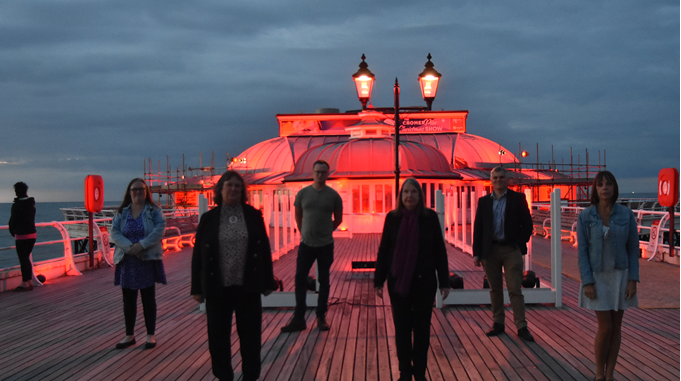 Left to right: Cllr. Spagnola, Cllr. Bütikofer, Cllr. Addams, Cllr. Gay, Chief Executive Steve Blatch, Debs Lewis 
---
Last updated: 7th July 2020