Voter ID
The UK Government is changing how we vote. From May 2023, you will need to show photo ID when you vote at a polling station.
First pavement decals placed in Sheringham

Date published: 20th June 2020
The first pavement decals, designed to help people remember that they still need to keep their distance, wash their hands regularly and queue responsibly, have been placed in Sheringham, the first of 10 locations to be receiving them.
The decals have been produced as part of the You Are Welcome campaign, which is funded by the Government's Re-opening the High Street Safely Fund and part funded by the European Regional Development Fund. NNDC has produced the decals with local business Structure-flex, who are printing the 7000 specially-designed pavement markers which will be placed to remind people about social distancing.
Local contractors, Malcolm Abbs Ltd. have been out around the high street in Sheringham laying the pavement signage and will continue to work through the weekend to populate the decals around the town centre. 
To witness the laying of the decals, NNDC was joined by Sheringham Mayor Madeleine Ashcroft and Chair of the Sheringham Chamber of Trade, John Roseby.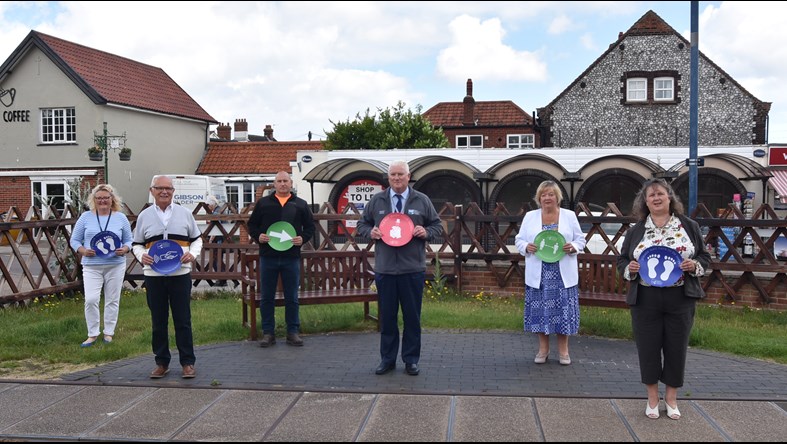 Leader of the Council, Sarah Bütikofer said: 

"It was great to visit Sheringham this morning and (albeit socially distanced), meet with representatives of the Town Council and  Chamber of Trade to see the start of the new signage placement for our 'You Are Welcome' campaign. Over the next few weeks residents will notice a number of changes as we start to prepare for further easing of lockdown restrictions. It's really important to us that our residents feel safe and secure to go out shopping in their local towns and villages, and that when the time is right visitors will feel welcome once more."
In coming weeks, the introduction of several further safety measures will be implemented across the town, such as promenade decals, hand washing stations and pedestrian access routes. One local resident spoke to Cllr. Sarah Bütikofer about plans for the high street in a video interview.
---
Last updated: 20th June 2020