Voter ID
The UK Government is changing how we vote. From May 2023, you will need to show photo ID when you vote at a polling station.
Social distancing measures introduced in Holt and Fakenham

Date published: 2nd July 2020
On Monday, the first phase of social distancing measures began in Holt and Fakenham as part of NNDC's 'You Are Welcome' campaign to support the return of shoppers and visitors to North Norfolk high streets.
Among some of the measures introduced were pavement decals, designed to help shoppers, pedestrians and businesses with queuing so social distancing can be maintained around the storefronts and streets.
With many businesses due to re-open from July 4th, many towns will see a high volume of visitors. NNDC has previously introduced a Social Distancing Co-ordinator for each of the towns in the district, who is tasked with providing support for the high streets to ensure they re-open as cohesively and safely as possible.
The Co-ordinators have also been mapping out areas for the implementation of hand sanitising stations and making themselves available to the public to hear their concerns or worries around town centres.

In Holt, Leader of the Council Sarah Bütikofer, Cllr. Richard Kershaw and the Council's SDCO Danny Doran were joined by MP & Holt Cllr. Duncan Baker, Town Councillor & Deputy Mayor Phil Wright and Sarah Tribe from Love Holt to discuss the new measures introduced in the town. 

Holt Cllr. & MP Duncan Baker said: "I welcome seeing our towns opening back up again as soon as it is safe. Our High Streets are often the centre of our communities and is essential we do all we can to help them flourish again."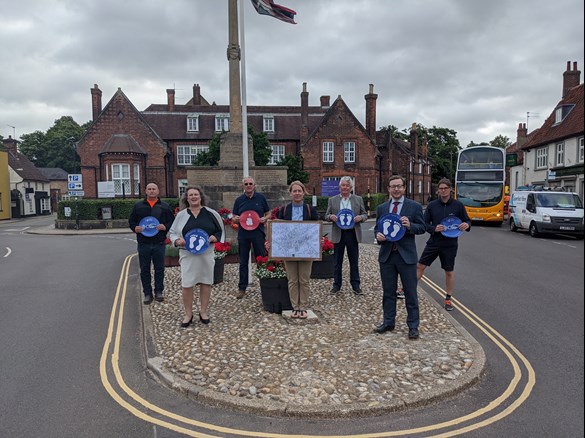 In Fakenham, Leader Sarah Bütikofer, Cllr. Christopher Cushing, Cllr. John Rest and SDCO Sue Webb were joined by MP Jerome Mayhew and the Fakenham Town Mayor, Gilly Foortse to observe new measures and their implementation around the busy high street.

Cllr. John Rest commented: 'We hope these measures will give residents and visitors the confidence to come out and enjoy the many shops that have reopened in Fakenham - your support will be appreciated by the business community.'

Cllr. Christopher Cushing add: "These social distancing measures will help give confidence to anyone coming into the Fakenham town centre that they can visit the shops safely. This is crucial to enable businesses to re-open successfully."

As part of the 'You Are Welcome' campaign NNDC will work with the Chambers of Trade and local tourism organisations to promote the safe and measured return of affected industries to support businesses, residents and visitors. 
---
Last updated: 2nd July 2020