Voter ID
The UK Government is changing how we vote. From May 2023, you will need to show photo ID when you vote at a polling station.

Date published: 10th June 2020
In light of recent lockdown relaxation from Government and as further restrictions are lifted in the coming days and weeks, North Norfolk District Council is working hard to ensure that local retail, town centre and seafront businesses can re-open and local residents can shop safely - so we are pleased to say, "You Are Welcome" to shop safely in North Norfolk.
To facilitate the safe re-opening of shops and businesses, the Council will be providing a package of advice and guidance to businesses and, with the County Council, will be introducing social distancing measures through the narrowing of some road carriageways, widening pavements and advisory one-way pedestrian movement on pavements and promenade areas, so as to create as safe as possible environment for shoppers.
These measures will be introduced in:
Cromer-town centre and seafront
Fakenham
Holt
North Walsham
Hoveton
Mundesley
North Walsham
Sheringham – town centre and seafront
Stalham
Wells
As part of the "You Are Welcome" campaign, which is funded by the Government's Re-opening the High Street Safely Fund, NNDC is pleased to be working with local business Structure-flex, who are producing 7000 specially-designed pavement markers which will be placed to remind people about social distancing. NNDC Leader Cllr. Bütikofer, Chief Executive Steve Blatch and Portfolio Holder for Economic & Career Development Cllr Kershaw paid a socially distanced visit to the factory and met MD Paul Reeve to see the decals in production.


Cllr. Bütikofer, Leader of NNDC, said: "North Norfolk have come to Structure-flex, a local company that we're delighted to award our contract to, to help us in our 'You Are Welcome' campaign. This is a new campaign that we're launching, to make people feel welcome and safe when they come to our towns and beaches around the district, at this very difficult time as we start to come out of lockdown. "These signs that Structure-flex are helping us with, are designed to help people remember that they still need to keep their distance, wash their hands regularly and queue responsibly. We want people to feel welcome at all times, but still appreciate that we all have the rules and the guidelines that we still have to abide by to keep us all safe at this time."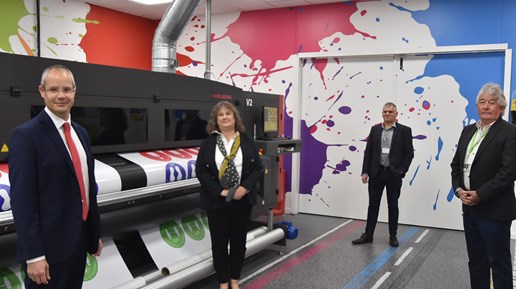 Paul Reeve, MD of Structure-flex, added: ""Today we have shown members of the local District Council how we've been printing the 7000 pavement stickers that they awarded us the contract for, to help with the Government social distancing measures for COVID-19, as the local towns begin to ease out of lockdown."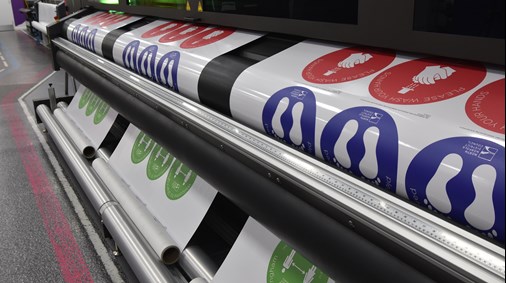 A team of District Council staff will be on hand over the next few weeks to advise businesses on the social distancing measures to be put in place in each town and in them implementing appropriate social distancing measures such as queue management and PPE so that they can re-open for business and trade safely.
More useful information for residents and businesses about how to stay safe now that shops are re-opening can be found on our website.
---
Last updated: 2nd July 2020