Voter ID
The UK Government is changing how we vote. From May 2023, you will need to show photo ID when you vote at a polling station.
A look inside the new leisure centre in Sheringham gives a glimpse of the future of fitness in North Norfolk
Where we are and what we can expect for the future of Sheringham Leisure Centre

Date published: 9th October 2020
Splash:
While Splash remains open for the public to use, the much loved facility is nearing the end of its operational life. The leisure facility has been enjoyed by many over the 32 years it has been open.
In recent years, the building has required several repairs to keep the pool and gym open to patrons.
Visiting Splash, Leisure and Localities Manager Karl Read discussed the need for a new facility, commenting:
"We had a condition survey and an indoor facility strategy in 2015. Both indicated there was a need to replace the facility with a more modern, energy efficient and accessible facility that meets the needs of today.
"The current Splash facility opened in May 1988. Today it's a completely different climate in regard to sports and leisure provision. It needs to be modern and we now know we need larger options and a better area where children can learn to swim.
"Splash is iconic. Everyone you talk to in the region will remember coming to Splash when they were a young person. For children and families especially, it was a wonderful offer. We believe the new facility will provide that fun element with a sport and leisure offer for all. Splash owes us nothing – it has done its job, and it is time for a new start."
Looking forward to the future, Everyone Active's Contracts Manager Stuart Jardine, gives a glimpse into what we can expect fitness features we can expect in the new centre in the video below.
Site visit:
Progress continues on Sheringham's exciting, state-of-the-art new Leisure Centre.
In September, senior Council figures visited the site of the Leisure Centre, where Metnor Construction Ltd. had commenced installations on the roof and have made great progress on the structure of the building. The visit marked the first occasion senior officials were able to visit the site since the COVID lockdown.
Visiting the site, Leader of the Council Sarah Bütikofer said:
"This is an amazing project and it's so exciting to be a part of it and to be on site to see the progress that is being made. There will be wonderful views and it will be great for fitness.
"It's looking really good – we're really excited about it. It's going to be a state-of-the-art facility for the people of North Norfolk."
Site Manager Carl Ellis said:
"We've had a good few months – especially since coming back after lockdown. We're pleased with where we're at and within the next few months there will be a lot of activity on the site that the members of the public will be able to see."
Metnor have produced time lapse footage of activity on the site.
The state-of-the-art facility will bring fantastic new leisure and fitness opportunities to North Norfolk. Physical health has been a big consideration for many up and down the country, especially during lockdown with a rise in home exercising, virtual classes and fitness apps like Couch to 5k.
Cllr. Virginia Gay, portfolio holder for Culture and Wellbeing, praised the future centre, adding:
"The new facility is going to bring so much to us, it's so inspiring to see this wonderful building going up. COVID has highlighted the importance of looking after our physical health, and I think there's going to be a lot here to help make us healthier." 
Accessibility
Accessibility is a key focus of the new facility, with much consideration taken into making the new leisure centre a recreational hub for everyone in North Norfolk. Making the centre age and disability accessible with a Changing Places facility and the potential to utilise studio space for specialized fitness classes to so everybody can exercise with comfort, dignity and care.
Full list of accessible features 
A moving floor on the smaller pool will allow the water depth to be changed for different activities and user groups such as swimming lessons, water confidence and toddler sessions and aqua fit exercise classes.
Other features of the centre include a colourful splash pad and learner pool for children to enjoy whilst they can improve their confidence in the water which was a key element of the design, and a range of portable, fun equipment such as inflatables will be offered during timetabled sessions.
Head of Economic and Community Development, Robert Young said:
"It's going to be a facility accessible to all, open to all ages with a wide variety of swim, gym and fitness suites for people to take part in. It's going to be a complete contrast to what we've seen before."

Saunders Boston Architects have produced a virtual tour, which shows the outlined plans for the internal layout. View the full video tour
Exercise in North Norfolk:

Throughout 2019, North Norfolk District Council owned facilities received 382,585 visits for gym, swim or other fitness offerings, with 120,840 of those in the current Splash facility.
Pre-COVID Data from Sport England's Active Lives surveys shows that as of November 19, 56,700 (63%) people surveyed in North Norfolk listed their level of activity to be at least 150 minutes a week, with 11,200 (12.4%) of people surveyed claiming to exercise between 30-149 minutes a week.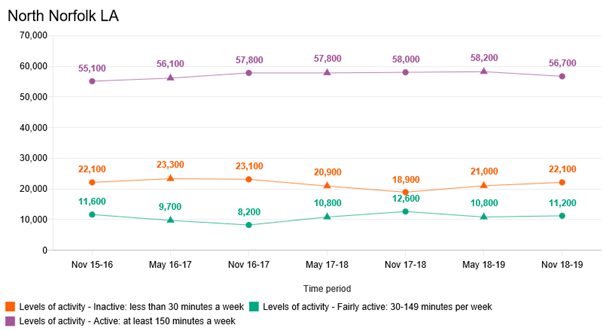 Pre-COVID data shows positive numbers of people taking regular exercise and the new facility will help to ensure this continues as Splash comes to the end of its time.

Residents and visitors who may be unable to get regular exercise or have requirements for increased levels of care will have a facility where their participation and activity will be encouraged and supported.  
Funding:
The Council invested £10.7m into the project to improve the wellbeing and health of residents in North Norfolk. The project further benefited from a grant funding donation of £1m from Sport England and the National Lottery, meeting the requirements that the facility would benefit the health of the District.
Charles Johnston, Executive Director, Sport England, said:
"It is wonderful news that work on the leisure centre has continued making good progress during the pandemic. Our health as a nation has never been more important, and thanks to money raised by National Lottery players, we've been able to help fund this state-of-the-art centre which will be an essential service to keep the local community moving once open. "
It is predicted the facility will be ready to open in Autumn of 2021. With the new facility open, demolition of Splash can commence with a projected completion date of Spring 2022.  
---
Last updated: 23rd September 2021