Council calls for information following roadside fly tipping

Date published: 19th February 2021
North Norfolk District Council is looking to hear from any potential witnesses or members of the public who have any information regarding a fly tipping incident reported at the start of February.

The incident, which involved over 30 tyres being dumped, occurred on the side of Wells Road, near Wells-Next-The-Sea and was reported to the Council on 1 February 2021.

Anyone with any information relating to this offence should contact the Environmental Protection Team at NNDC on 01263 516085 or email ep@north-norfolk.gov.uk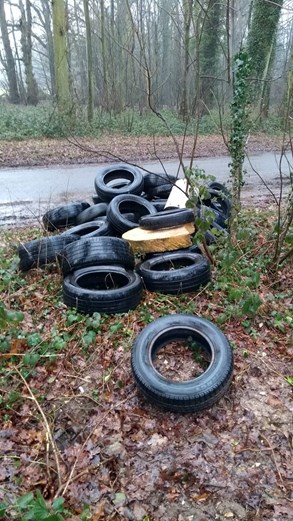 Assistant Director for Environmental & Leisure Services, Emily Capps said: 
"It is very disappointing to see people disposing of waste by littering and spoiling our countryside. Fly tipping is an illegal act for which NNDC will seek a conviction.

We hope that anyone who has any information surrounding this incident will come forward and help us catch the person, or people responsible."

Fly tipping is a criminal offence and is punishable by a fine of up to £50,000 or 12 months' imprisonment if convicted by a Magistrates' Court. If convicted in a Crown Court, the offence can carry an unlimited fine and up to 5 years' imprisonment.

You can report a fly tipping incident on our website.
---
Last updated: 19th February 2021