Voter ID
The UK Government is changing how we vote. From May 2023, you will need to show photo ID when you vote at a polling station.
Council's day-to-day operations go renewable with introduction of eight electric vehicles to fleet

Date published: 5th November 2021
North Norfolk District Council's day-to-day management of cleansing operations will be serviced through electric energy with the introduction of eight new electric vehicles.

The Council have purchased the electric vehicles for use by contractor Serco, to operate sustainably in the district.

The vehicles will be used to support street cleaning operations, daily toilet cleaning and upkeep and call-outs.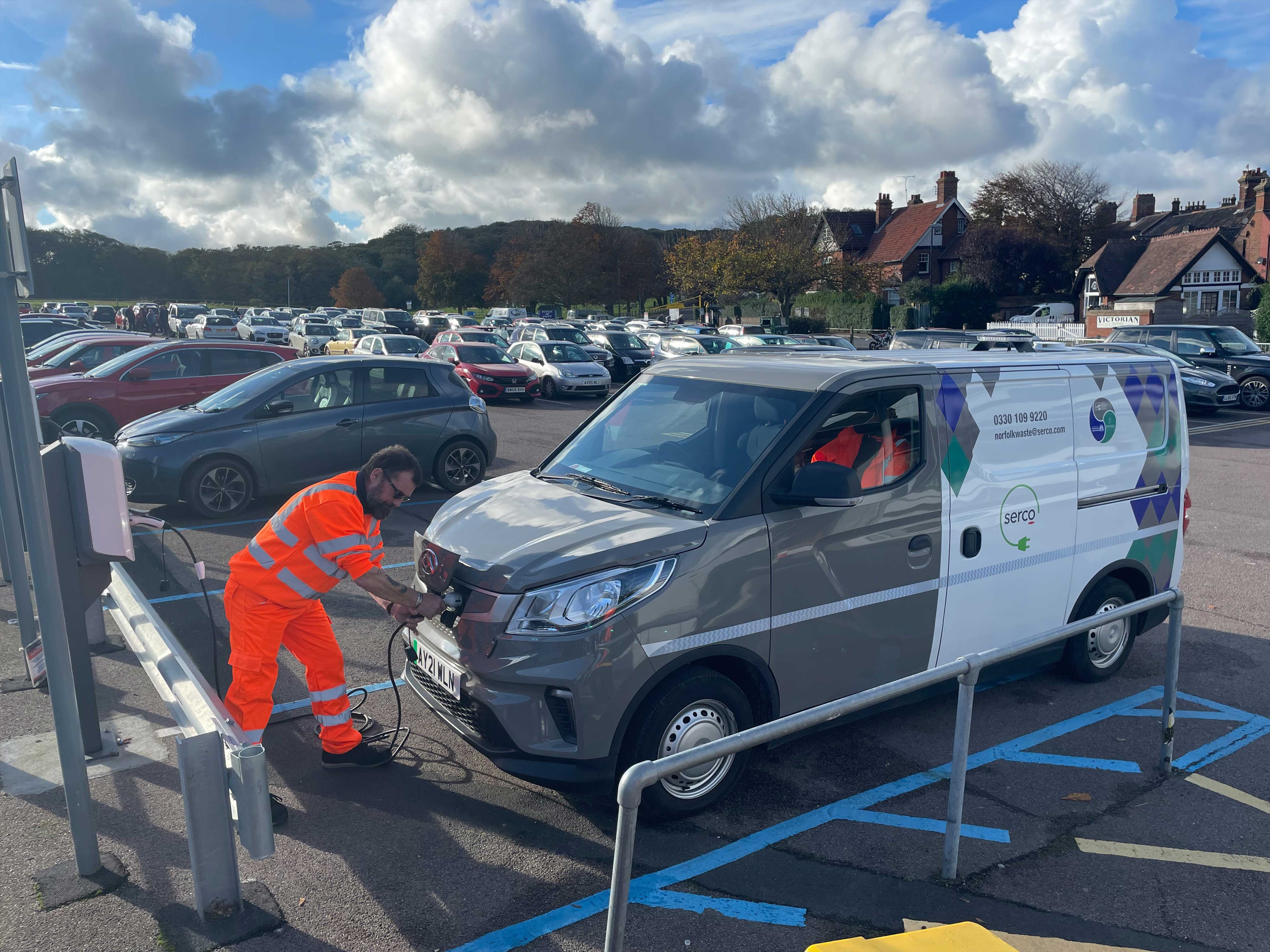 Serco operative charging at the Meadow Road Car Park in Cromer
 Cllr. Nigel Lloyd, portfolio holder for Environmental Services, Climate Change & Environment said:

"This is a great step in the right direction – every positive, sustainable change we can make in our day to day operations has an impact on our future.

We welcome the new vehicles into our fleet and will consider future ways to make our operations energy efficient, meeting our carbon reduction objectives and without compromising delivery of our services.'

The Council, having declared a climate emergency in 2019, recently published an Environmental Charter, committing to achieve net-zero carbon emissions by 2030

One of the pledges is to manage fossil fuel consumptions and carbon footprint of the services the Council employs.

Find out more about the Council's Environmental Charter at www.north-norfolk.gov.uk/climate-emergency

There are currently 34 live Electric Vehicle Charge Points across 5 Pay and Display car parks in the district.

If you drive an electric car, you can charge your car in the following car parks:
Stearman's Yard - Freeman Street, Wells-next-the-Sea, Norfolk, NR23 1BA.
Albert Street - Holt, Norfolk, NR25 6HG
Morris Street - Sheringham, Norfolk, NR26 8JY
Queens Road - Fakenham, Norfolk, NR21 9LD
Meadow Road - West Street, Cromer, Norfolk, NR27 9DX
Council Offices – Cromer, Norfolk, NR27 9EN

Electric Vehicle charging provision for North Walsham is currently under construction.

In 2020, over 10 million electric vehicles were purchased globally, with the UK reporting 176,000 registered electric vehicles; this was matched by an increase in electric vehicle charging points, with 6,200 reported installations.

The Energy Saving Trust has helpful guidance about different types of electric vehicles and support for anyone looking to purchase them.

To find out more about the move towards electric vehicles nationally, visit the Office for Zero Emission Vehicles.
---
Last updated: 5th November 2021