Register to vote for the General Election 2019
Register by 11:59pm on 26 November to vote in the General Election on 12 December
NNDC's Big Society Fund offers grants of up to £15,000 to voluntary and community organisations based within north Norfolk; including town and parish councils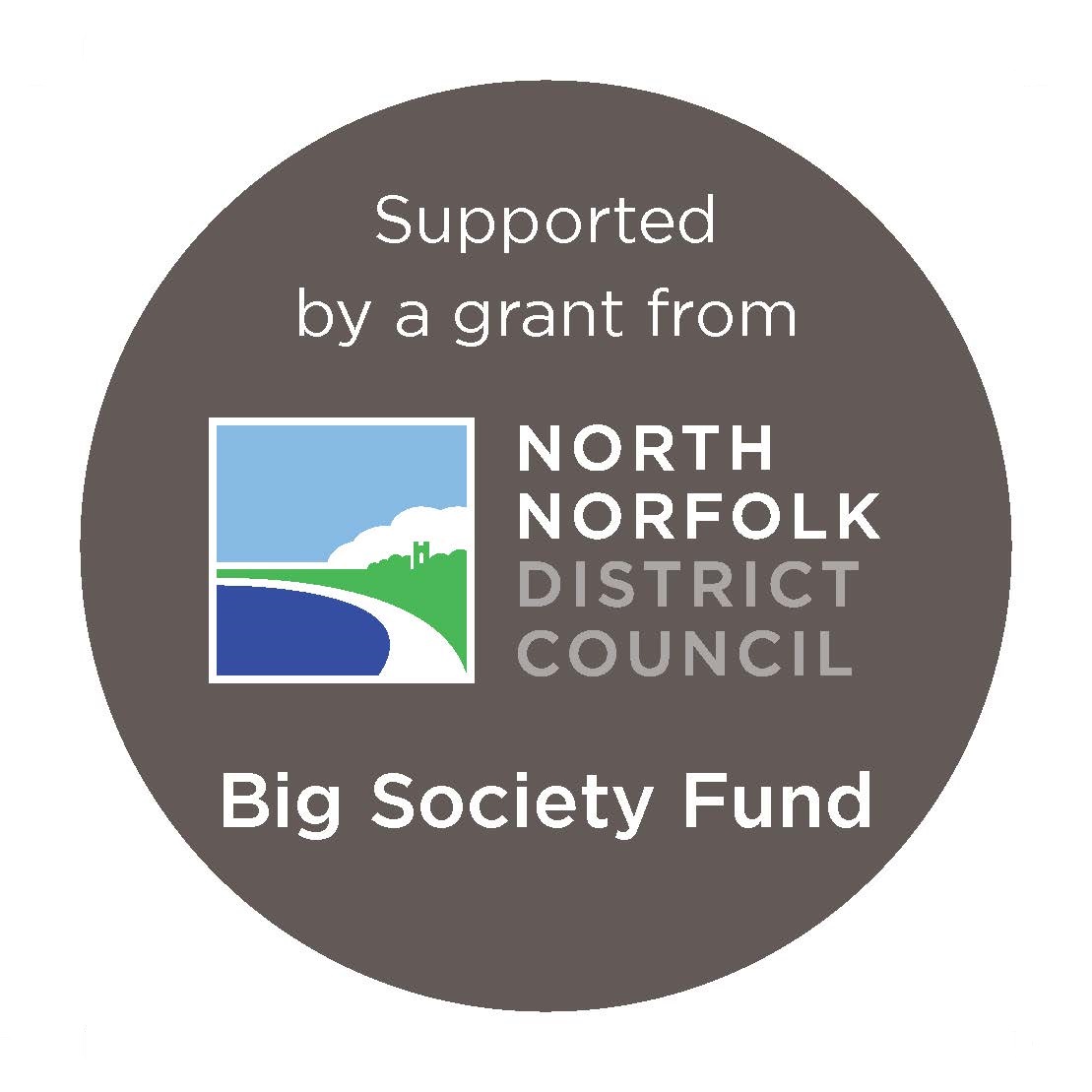 North Norfolk District Council (NNDC) is keen to support town and parish councils, community groups and organisations.
Since the Big Society Fund started in 2012, NNDC has awarded over £1,936,162 to 261 community projects.
NNDC's Big Society Fund offers grants of up to £15,000 to voluntary and community organisations based within north Norfolk; including town and parish councils, and has been set up to help build strong communities across the district.
The Big Society Grant Fund Panel is a politically balanced group made up of 7 elected members selected by Full Council. The Panel meets four times a year; June, September, December and March. The outcome of grant applications are determined by the panel and reported to the NNDC Cabinet through the Minutes of the Meeting.
Who can apply?
The Fund is available for projects that support people and activities within the North Norfolk District geographical area, for example:
Local voluntary organisations, charities (whether registered or not) and community groups
Parish and Town Councils within north Norfolk
Larger regional or national charities or organisations if the funding is to deliver a specific project in north Norfolk
Community businesses, social enterprises and other not-for profit organisations 
Before you apply
Read through the Big Society Fund Prospectus to ensure that your organisation meets the criteria to apply to the Fund and, that what the funding would be used for meets the funding criteria
Contact Sonia Shuter on 01263 516173 to discuss your potential application.
Making an application 
 Once it has been confirmed your application meets both sets of criteria, 
Complete the application form

**

 using the guidance notes to help you.
* Note - Section Six - Declaration must have an original signature.
** Please do not convert the application form to a Word document or any other format or, copy and paste information into the form as this distorts the form formatting.
Complete the independent referee form and ask someone who is familiar with and has knowledge of the project to complete it. An original signature is also required on this form.
Lastly, complete the supporting documentation checklist, gather together all the requested documentation ensuring quotes are on company headed paper; no email quotes will be accepted.
Where to send your application 
Once all supporting documentation has been collated please submit your completed application: 
Only applications which are fully completed, signed and are accompanied by all supporting documentation that are received by the date below will be accepted.
If you would like a hard copy of the application pack please contact us using the details above or call 01263 516248
Applications can be made to the Fund at any time.
Applications to go to the 2 March 2020 Big Society Fund Grant Panel will need to reach us no later than Monday 3 February 2020.
Applicants will be informed of the Panel's decision within a week of the grant panel meeting.
BSF grant awards in September 2019 were made to
Trimingham Village Hall Trust (£4,000) towards the purchase of a Nest Swing.
Fakenham Community Campus Trust (£10,000) towards the purchase of kitchen equipment and appliances.
Walsingham Parish Amenity (£500) towards one years publishing costs of the News & Views bi-monthly free magazine.
All Saints Community Rooms, Mundesley (£1,000) for an Asbestos Survey prior to replacing the heating system.
The Preston Rooms, Ashmanhaugh (£1,052) towards the purchase of an external fire door in the kitchen.
West Norwich Credit Union (£2,828) towards the purchase of equipment to set up 3 mobile online banking points in North Norfolk.
Hanworth Memorial Hall (£10,000) towards the replacement/repair of existing hard wood windows and outside doors.
BSF grant awards in June 2019 were awarded to
Cromer Academy (£1,500) towards the setting up of a plastic recycling system for the benefit of Cromer and surrounding areas.
Upper Sheringham Village Hall (£2,860) towards the purchase of blackout curtains and curtain tracks, fluorescent LED light tubes and the installation of additional electric sockets in the village hall, plus the purchase of a portable laptop projector and screen.
Tattersett Parish Council (£7,338) towards new play equipment of which one piece must be accessible.
Thursford Parish Council (£150) towards the printing and distribution of a newsletter, information leaflet and fridge magnet to promote the Thursford Assist scheme.
Sea Palling with Waxham Community Trust (£12,000) towards the purchase of new play equipment to include a cobra swing, nest swing and small trampoline.
BSF grant awards in March 2019 were awarded to
Old School Hall Fulmodeston (£7,000) towards the updating of the Hall lighting and to connect the Hall to the main sewer system.
Worstead Guild of Weavers, Spinners and Dyers (£8,760) towards a bunded oil tank, an oil combi boiler, radiators to all the rooms in the workshop and a hot water supply to the toilets and kitchen.
The Copeman Centre, Briston (£4,467.57) towards the provision of audio / visual facilities.
Bodham Village Hall (£3,000) to replace the old expensive electric heaters with more modern energy efficient heaters.
Walsingham Parish Council (£5,000) towards a stand for the Stirling Bomber Sculpture, Information Board Lecterns and the Roll of Honour Steel Memorial Wall.
All Saints CEVA Primary School Stibbard (£7,500) to part fund the installation of a 1.8m x 250m all-weather running track.
Knapton Parish Council (£7,817.20) to purchase new playground equipment.
Horning Parish Council (£2,489.16) to replace 2 cradle swings.
Norwich Cricket Club (Ingham Cricket Pavilion - £9,040) to replace 5 external windows and 2 external doors of the Pavillion, and to replace and rebuild the veranda at the front of the Pavillion.
BSF grant awards in December 2018 were awarded to
Dilham Village Hall (£7,500) to be used in the first instance for the purchase of the safety surfacing, any balance remaining should be put towards play equipment identified in the application.
Gt Ryburgh Playing Field (£5,300) to purchase and install a hexagonal swing, safety surface and remove the old equipment.
Holt United Football Club (£2,700) to purchase a ground slitter and line.
North Walsham and Dilham Canal Trust (£14,980) to purchase a second hand self-propelled aquatic plant cutter, it's transport trailer and a Compact Tractor fitted with a front loader and outreach cutter arm.
Honing Village Club (£2,300) to refurbish the Clubroom; situated within the village hall, by replacing the furniture and upgrading the lighting and heating.
Holt Discharged Soldier and Sailors Federation Allotments Society (£6,600) towards the purchase of second hand building with a communal area, a sink with running water and toilet facilities.
Cley Harbour (£9,000) towards the hire of an excavator to dredge the river Glaven between Cley tidal flood gate and Salthouse main sluice.
Cley Parish Council (£15,000) contribution towards building a unisex disabled community toilet.
BSF grant awards in September 2018 were awarded to
All Saints Church, Beeston Regis (£10,000) – to install a toilet in the north-facing vestry that will have disabled facilities and access, and will include baby-changing facilities
All Saints Church, Upper Sheringham (£10,000) – contribution towards the restoration of six church bells and a chiming mechanism to enable those who have difficulty in managing stairs to take part in bell-ringing
Coronation Hall, Mundesley (£10,000) – to replace and improve the existing heating system
East Ruston Village Hall (10,000) – contribution towards the removal and replacing of the roof tiles and installation, guttering and repairing roof timbers
Fakenham Town Council (£8,000) – contribution towards the set-up of a heritage trail
Hawk and Owl Trust, Sculthorpe (£3,110.40) – to purchase a projector and a laptop for the new Education Hide
Hindolveston Parish Council (£2,000) – to provide a concrete access path from the Street to the Millennium Pavilion
Hoveton Village Hall & Recreation Ground (£13,025.50) – to purchase two pieces of play equipment, a zip wire and swing set, plus safety matting
North Norfolk Astronomy Society (£4,000) – contribution towards the purchase of giant observation binoculars plus mount, a refractor telescope on a tracking mount, and a Celestron C11 telescope on a tracking mount
North Walsham Football Club (£10,000) – to refurbish the floodlights that cover the main pitch, youth pitches and the training area at Greens Road
Sheringham Bridge Learners Club (£300) – seed funding to set up a new club to teach bridge to beginners
Skeyton Village Hall (£10,000) – contribution to the extension of the village hall to provide space for a disabled toilet with baby changing facilities
Southrepps Village Hall (£6,246.08) – to remove old heaters and install two new LPG space heaters
BSF grant awards in June 2018 were awarded to
Wood Norton Village Hall (£9,792) to purchase play equipment in particular a swing set and spinning top roundabout.
Sheringham Lighthouse Charity Trust (£15,000) contribution to refurbishing and equipping 10 Wyndham Street Sheringham to be used as the Lighthouse Charity Trusts Sheringham (Men's) Shed project.
Benjamin Foundation (£10,000) contribution to cover the cost of materials, equipment and personal protective clothing needed for Ben's Workforce Handyman Service and the training courses for young people to develop the skills required to be used within the Service.
Friends of Langham Dome (£5,000) contribution towards works to enable a replica Spitfire to be installed and displayed outside Langham Dome.
Stalham Community Gym (£4,170.76) to purchase additional gym equipment for new classes.
Fakenham Town Band (£7,327.14) to purchase 2x Besson Cornets, 1x Tenor Horn, 1x Baritone and 1x set of Cymbals.
BSF grant awards in March 2018 were awarded to
Aldborough Gardening Club (£2,500) to develop a community allotment garden with a new wildlife footpath and a footbridge between Aldborough Surgery car park and the Community garden.
Kettlestone Village Hall (£4,318) to remove asbestos roof from village hall roof and replace with new composite roof.
Ludham Parish Council (£10,000) to purchase and install 2 new pieces of play equipment.
North Walsham Play (£10,502.39) to purchase and install 3 pieces of play equipment including a DDA compliant wheelchair accessible roundabout.
North Walsham Rugby Football Club (£10,000) contribution toward installing a lift to the first floor of the clubhouse which will enable the clubhouse to become a DDA compliant facility.
Stalham Town Hall (£9,000) to repoint the front and side wall of the Town Hall in line with conservation regulations.
St Mary's Bowls Club Stalham (£7,500) to build a second club house to provide changing facilities for 10+ people and a second toilet.
Stiffkey Social Services Committee (£914.40) to purchase wheeled cricket practice nets.
Suffield Village Hall (£1,652) to purchase padded stackable chairs, blackout blinds and a new table tennis table.
Stalham & Smallburgh First Responders (£10,000) to purchase and equip 10 new first responder volunteers with 2-way radios, pulse oximeters, automatic defibrillators and other life- saving equipment.
BSF grant awards in December 2017 were awarded to
Trimingham Village Hall (£10,573.45) to purchase fixtures and fittings for the new village hall.
Gunthorpe Village Institute (£6,000) to replace the 2 main front facing windows of the hall.
Spirit of Coltishall Association (£2,556) to replace the existing loose stone surface of the approach path to the Memorial Stone.
Hindringham Playing Field Committee (£2,000.00) to purchase an up-to-date industrial cooker.
Coastwatch Wells-next-the-Sea (£4,158.87) to purchase new UPVC windows and door and to install a loud hailer speaker system.
Neatishead Parish Council (£10,200) to purchase a solid wood set of 4 swings and a Tower with slide play equipment.
BSF grant awards in September 2017 were awarded to
Swafield Village Hall (£2,923.20) towards the connection of Swafield Village Hall to the mains sewage system.
Binham Memorial Hall (£6,756.75) to purchase kitchen equipment such as a commercial size dishwasher, hot food cupboard and stainless steel preparation tables as part of the kitchen upgrade to enable large scale catering.
Salthouse British Columbia Village Hall (£12,150.00) to renovate the toilet and kitchen areas of the hall.
Paston Playground Project (£15,000.00) towards the purchase of playground equipment.
BSF grant awards in June 2017 were awarded to
Baconsthorpe Village Hall (£6,466.00) to install a fire alarm system, replace kitchen and bar area flooring and purchase blackout window blinds in the village hall.
North Walsham Community Association (£4,600.00) to purchase and install 6 new windows in the main hall and replace external cladding of North Walsham Community Centre.
East Ruston Parish Council (£2,060.00) to install a TROD (A low-cost footpath using unbound material instead of asphalt) between East Ruston Infants School and the Village Hall.
Sheringham Dementia Friendly Community (£950.80) to print leaflets, posters and the local directory of support services sessions to raise the level of understanding of Dementia in the community and to purchase games and equipment for activity.
Walsingham Development Group (£4,465.30) to purchase signs and way-marks for the 5 permissive routes, 6 x A3 'Keep Walsingham Litter Free' signs and 10 x A4 signed maps for walks to help promote Walsingham village as a walking and visitor destination.
Sheringham Playpark Revamp (£10,000.00) to purchase a bespoke piece of play equipment – a Viking Ship, which will allow less abled children to play with those children who are more able bodied.
Stibbard Parish Council (£15,000.00) to remove and replace the old and condemned play equipment and to extend and improve the playing field incorporating a football area.
West Runton Bowls Club (£1,989.90) to purchase a composting toilet to be used as the male facilities.
Wells Town Football Club (£4,500.00) to completely refurbish the showers in one of the changing rooms in Wells Town Football Club Clubhouse.