New National Restrictions - Support for Businesses
If your business has been forced to close due to lockdown restrictions, you may be eligible for a grant
Big Society Volunteer Awards 2017
The Big Society Awards were organised by North Norfolk District Council to thank the people and the projects that have help to create strong communities in the North Norfolk District.
Cllr Tom FitzPatrick,Leader of the District Council said 'Everyone who contributes to their community and helps others deserves recognition which is why we would like to publically thank the people who help others'

The Big Society Awards Night, was held at Sheringham Little Theatre on 23 March 2017 to celebrate the Big Society community spirit that helps to make North Norfolk such a great place to live.
The public were asked to nominate a project or a person who had made a difference in their community by 27 January 2017.
Categories open to public nomination were:
Big Society Community Project Award 2017 - for projects that are based in or benefit people in the district.

WINNER -  Erpingham Leisure Hub



Erpingham Leisure Hub was nominated for this award for providing opportunities for all members of the community to participate in a variety of affordable and inclusive sporting activities. This enabled the local community to enjoy the physical, mental and social benefits that participating in sport can achieve.

Big Society Voluntary Services Award for Sport - for someone who has made an outstanding contribution to sport in the district.

WINNER - William Wright


William was nominated for this award for his dedication to Bradfield Cricket Club. His expert knowledge helped the club achieve an award winning cricket pitch in 2015 & 2016 which is known for its outstanding playing surface throughout Norfolk. William is a constant source of encouragement to players of all ages, he is greatly respected by everyone he meets and is described as the spirit of Bradfield Cricket club.

Big Society Voluntary Services to Young People for someone who has made an outstanding contribution for young people in the district.

WINNER - Hayley Allard



Hayley was nominated for this award in recognition of her outstanding work to improve play facilities in Gresham. She has cheerfully volunteered endless hours even with a young baby, her drive and enthusiasm has helped unite the whole community.

Big Society Voluntary Services Award - Good Neighbourhood for someone who has made an outstanding contribution to their neighbourhood.

WINNER: Dennis Rolfe



Dennis was nominated for this award for his voluntary services to the community of Itteringham. He has been involved with Itteringham Community Shop for over 20 years and is the longest serving volunteer on its Management Committee. Dennis can be found most days of the week ensuring the shop is fully stocked, assembling weekly orders for the more vulnerable customers, helping teach new staff and volunteers the ropes and managing the animal and bird feed counter.

Outstanding Contribution by a young person to their community - by a Young Person aged under 18

WINNER: Abigail Bunn & Holly Rumsby



Abigail Bunn - Abigail was nominated for this award as a tribute to her dedication to North Walsham Gymnastics Club and her desire to support the younger members. Abigail is an excellent coach, firm but fair and combined with her outstanding practical work is a real asset to the club. Abigail is looking forward to the club moving to their own dedicated premises later this year.

Holly Rumsby - Holly was nominated for this award in recognition of her involvement and fund raising efforts for a number of organisations close to her heart including North Norfolk Surf Life Saving Club and St Johns Ambulance. Holly has raised several hundred pounds by making and selling key rings and coasters. She is a trained first aider and lifesaver and volunteers her skills at public events.

Outstanding Act of Heroism


David Castleman


On the 23 July 2016 at Sea Palling beach David responded to request for help as there were people who had got into difficulties in the sea. David didn't hesitate before he plunged into the water and swam 50 metres to reach a man who was unconscious and towed him back to the beach where he regained consciousness and was airlifted to hospital.

James Richardson and Aaron Spencer

On the 19 August 2015 at Pinewood beach at Wells-next-the-sea. The life-saving duo were on a Scout summer activity trip when Aaron spotted a boy in inflatable dinghy having difficulty in getting back to shore. Aaron showed tremendous courage to swim over 100 metres to the boy, before towing him back to shore via the inflatable's tether line. James then helped Aaron pull him to safety.
NNDC also invited projects which were awarded a Big Society Fund between 2014 – 16 to make nominations in one other category which was:
Outstanding Contribution to a Big Society Funded Project

WINNER: Alexis Thurston


Alexis was nominated for this award for her dedication to gymnastics in North Walsham through establishing the North Walsham Gymnastics Club for children aged 3 to 15 years. Alexis is the driving force behind the club, is a mentor for younger children, head coach and fund raiser. Her skills and expertise have helped gymnasts attending the club progress to become regional champions. Alexis dream is for the club to have their own bespoke gymnastic club, this will become reality when the club moves to its own building later this year. 
Finalists 2017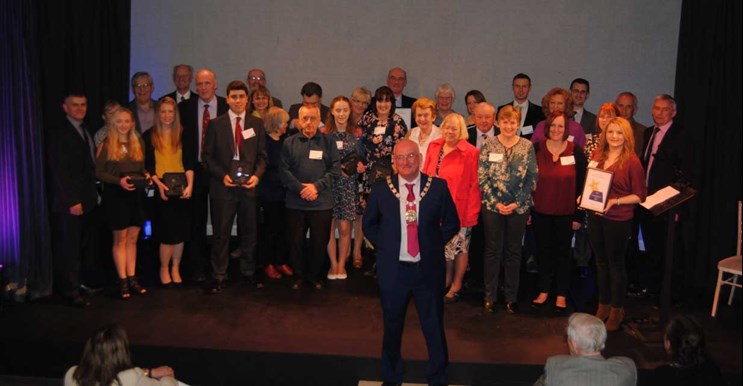 A special Thank You for their efforts was given to those people who played such a large part in the 'before and after' of the January tidal surge: