Bin collections
Check the latest information about missed bin collections.
Coronavirus: Support and Advice for Businesses
Find out about assistance available for businesses affected by Coronavirus (COVID-19)
Page updated 16 February 2021
On this page
Covid-19 Business Impact Survey
North Norfolk District Council recognises that these are very challenging times for most businesses. However, we would appreciate it if you could take a few minutes to complete the following Business Impact Survey.
This will help us better understand the level of impact the Covid-19 pandemic has had on local businesses. It will also allow us to identify the needs and types of support businesses require from the Government and other support partners.
Thank you for your contribution.
Business Closures
Regional and National restrictions from 26 December 2020
The Government announced that on 26 December 2020, Norfolk would be placed in Tier 4 - Stay at home, with a subsequent announcement being made on the 4 January 2021 of a National Lockdown - Stay at home.
As a result, National Lockdown restrictions were introduced outlining what business can and can't do.
Business Support Grants
Follow the flow of the chart to see if your eligible for a Business Support grant. Open a larger view of the flowchart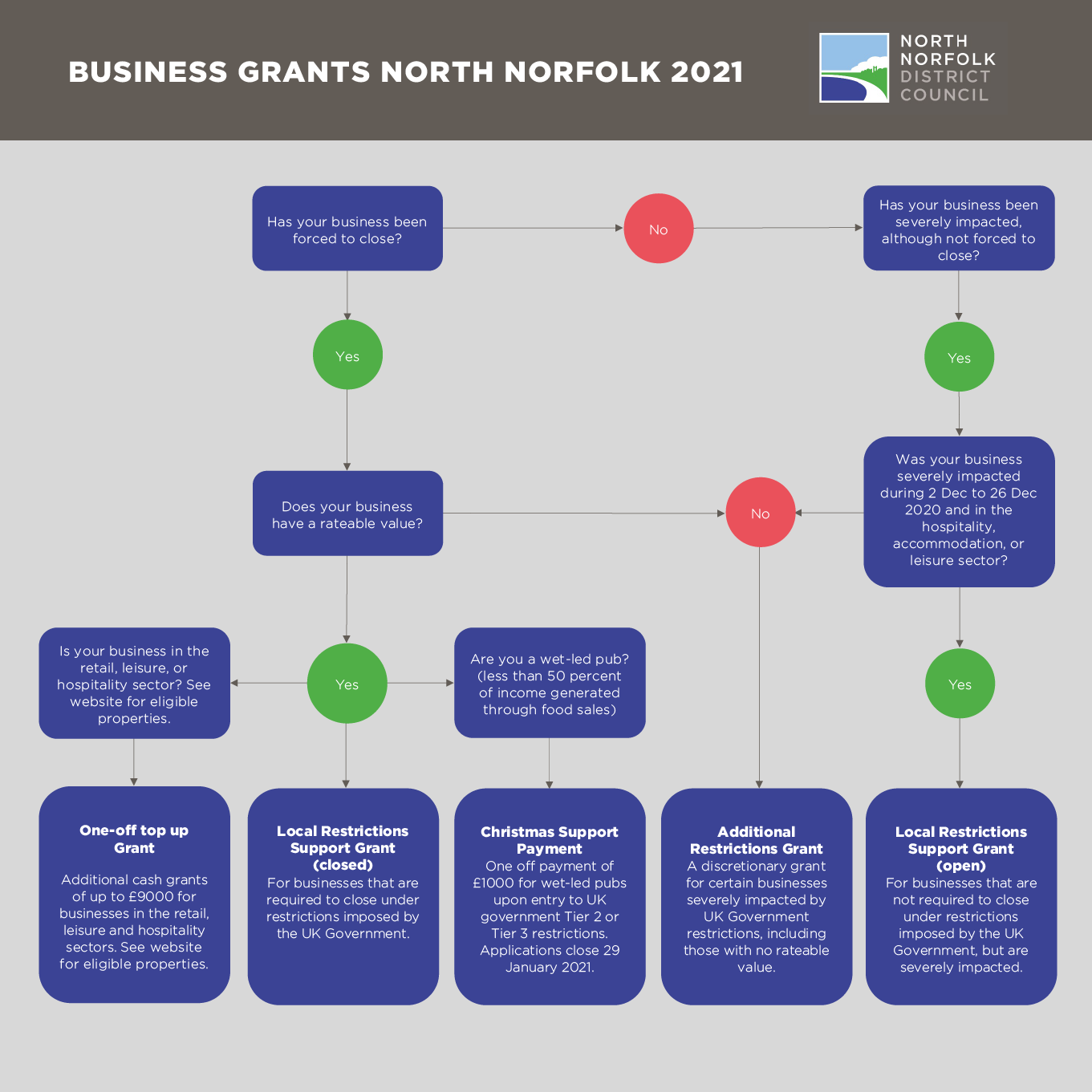 Tier 4 Local COVID Alert Level and National Lockdown Funding
Additional financial support has been made available to businesses that have been forced to close under Tier 4 restrictions and the latest National Lockdown restrictions.
Top-Up Grants for Retail, Hospitality and Leisure Businesses
The Government has announced one-off top-up grants for retail, hospitality, and leisure businesses worth up to £9,000 per property to assist businesses through to the Spring.
For more information on this funding please visit our our Local Restrictions Business Grant page.
Local Restrictions Support Grant
The Government has announced that there will be financial support available to businesses that were open as usual, providing services in person to customers from their business premises, but which are then required to close due to local lockdown restrictions.
This scheme is now live and open to applications, for more information on the scheme, your eligibility and how to make an application please visit our Local Restrictions Business Grant page.
If you are not eligible for the LRSG Scheme and would like information on other Covid-19 business support grants, please read all the helpful information below or email grants@north-norfolk.gov.uk.
Additional Restrictions Grant
A discretionary grant to support certain businesses severely impacted by the national lockdown in England between 5 November and 2 December 2020, or who legally had to close during this period but are not registered for business rates with North Norfolk District Council.
This scheme is now live and open to applications. For more information on the scheme, your eligibility and how to make an application, please visit our Additional Restrictions Grant page.
Government Support and Funding for Businesses
Other sources of support
New Anglia LEP
New Anglia LEP has established a Business Resilience and Recovery Scheme to support businesses during the COVID-19 pandemic and the economic recovery. It will provide grants to support short-term business resilience projects and longer-term recovery and diversification projects.
New Anglia Growth Hub
You can find free support, advice and information on sources of finance through the New Anglia Growth Hub. You can contact the Growth Hub online or call 0300 333 6536.
Advisory, Conciliation and Arbitration Service (ACAS)
ACAS has written a guide for employers and employees giving information about the different scenarios facing staff, such as self-isolating, designating staff as furloughed and sickness.
British Chambers of Commerce
The Coronavirus Hub contains advice and guidance about the steps that Chambers and members can implement to minimise impact on local communities and support the UK government's strategy.
Canine and Feline Sector Group
The Canine and Feline Sector Group have published a guidance for animal related businesses seeking to provide clear advice on how to operate in a safe manner that protects the health of their staff and clients.
Confederation of British Industry (CBI)
What you need to know about coronavirus and how it will impact your business.
Coronavirus communications toolkits
These communication toolkits provided by Norfolk County Council are for partners and for businesses to use and share. They include posters, leaflets, and social media images and videos.
Federation of Small Businesses (FSB)
Advice and guidance for small businesses and the self-employed.
Find a Job service
You can post vacancies on Find a Job for those businesses that find themselves needing to increase their workforce as a result of the outbreak, such as those in food logistics, preparation and retail.
Institute of Chartered Accountants in England and Wales (ICAEW)
Resources, advice and guidance for chartered accountants and business.
Institute of Directors
Advice and resources for directors.
HMRC Helpline
HMRC have additional helplines, including one set up to support businesses and self-employed people concerned about not being able to pay their tax due to coronavirus on 0800 0159 559.
You can find more details about contacting HMRC online.
Make UK - The Manufacturers Organisation
Visit Britain
Advice for tourism and event businesses affected by Covid-19 is available on the Visit Britain website.