Bin collections
Following changes to the bin collection days, we are aware that there has been some disruption. Using our online form is the quickest way to let us know about a missed collection.
Housing Land Availability
North Norfolk District Council gathers information on the number of dwellings permitted, being built and completed annually.
Details of the size and type of housing are also recorded, together with the number that are considered to be affordable houses. The Council uses this information to compile an annual Residential Land Availability Statement.
Summary of Information Annually for North Norfolk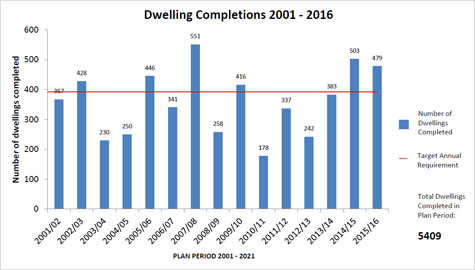 Dwelling Completions for North Norfolk 2001 to 2016
As of 31 March 2016:
Dwellings under construction: 447
Outstanding Planning Permissions for New Dwellings: 1005 (Detailed) 740 (Outline)
Notes:
The Dwellings Completed column shows the total dwellings built in each monitoring year. A monitoring year runs from 1 April to 31 March.
Outstanding Planning Permissions exclude dwellings completed or under-construction.
Dwelling totals have been estimated for sites with outline planning permission unless that permission, or a proposed layout, indicates the number of dwellings to be built.
An amendment was made in August 2012 to the total number of completions between 2001 and 2011/12. This reduced the total completions as of 2011/12 from 4104 to 3802 as a discrepancy of an additional 302 dwellings was found. This was concluded to be due to a typing error.
Information Source: planning applications made to North Norfolk District Council, compiled by the Planning Policy Team.
Annual Summary of Residential Land Availability by Parish
The summaries can be viewed or downloaded in .pdf format, using the links below. The latest report identifies the number of completed dwellings for each Parish from 1st April 2001 to 31 March 2015, the number of dwellings under construction, as well as the number of dwellings that have outstanding detailed and outline planning permissions.