Register to vote for the General Election 2019
Register by 11:59pm on 26 November to vote in the General Election on 12 December
Sheringham Leisure Centre – a facility for everyone to enjoy
The Council hosted a public consultation event in March 2018 where members of the public were offered the chance to learn more about the proposed multi-million-pound state of the art facilities, view artist impressions of the proposals, and comment on the design concept, site layout and overall impact of the proposed project before a planning application is submitted.
The consultation provided useful insight and included questions about access to the new facility and in particular, the pool. The designs have been progressed with the feedback in mind, and indicate that the pool will be DDA compliant and accessible for everyone with the following features:
Eleven dedicated accessible car parking spaces close to the building entrance
Level access into the building through the main reception
Automatic entry doors within the lobby area
Clear circulation widths suitable for wheelchair users to key activity spaces
Accessible toilets and accessible changing facilities on both floors
Dedicated 'Changing Places' room on the ground floor within the village change
Two lifts
Stairs designed for ambulant disabled, with wheelchair refuges to be included at the head of the fire escape stair
Visual contrast will be allowed for in terms of wall / floor finishes and leading edges of doors and ironmonger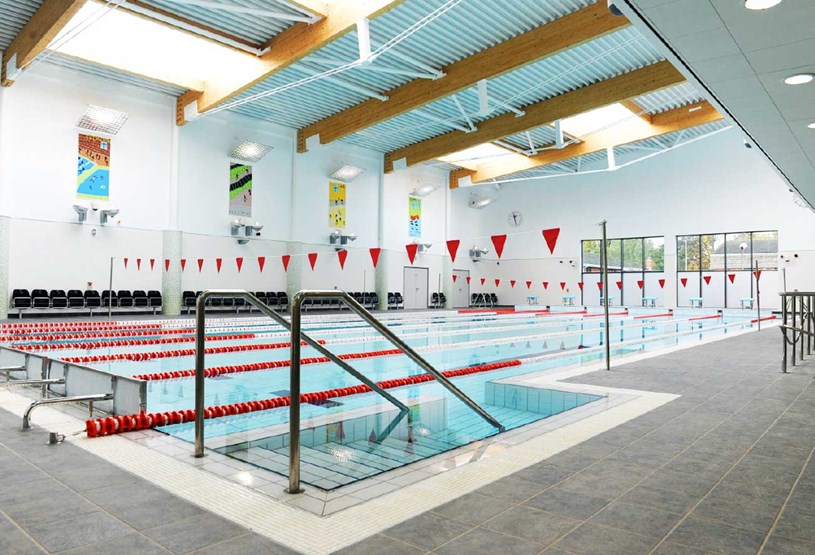 Typical large pool showing shallow steps, photograph courtesy of Saunders Boston Architects
Special attention will also be made to floor finish specification to include proposed colours and tactile surfaces. The pool area will include:
A 'pool pod' which allows for a safe and dignified entry into the water.  Watch a video of it in use at another pool 
A pool side wheelchair for disabled users to transfer to (compatible with the pool pod).
There will be a dedicated wheelchair storage zone in the village change (where users can exchange their chair for the poolside chair)
The pool pod is mobile and can move to either pool although it will be typically located on the main pool.
Shallow steps with a hand rail in to the shallow end of the pool of the pool
Use of the pool pod as a lift
The learner pool will have a moving floor
Disabled and ambulant disabled users (depending on the severity of their disability) can change in the Changing Places room, or 1 of 3 disabled WC / Showers or in the 'family cubicles' which are sized to allow a wheelchair to turn.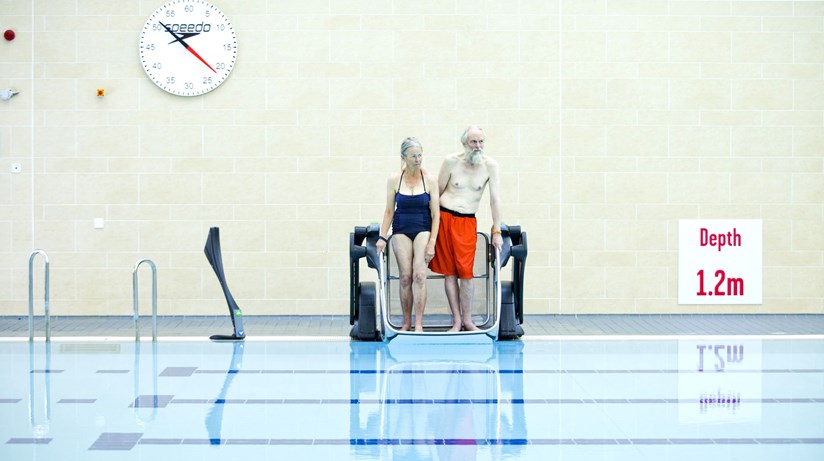 Pool pod being used as a lift on a typical large pool, photograph copyright Poolpod Products Ltd.