Local Election Results 2023
Results from the 2023 local elections are now available
Norfolk Covid Winter Support
Norfolk County Council has set up a the Norfolk Winter Covid Support scheme to help Norfolk residents get through winter.
The Norfolk Winter Covid Support Scheme is special support scheme to help Norfolk residents get through winter. It's for anyone who is experiencing financial hardship as a result of COVID-19.
If you need help or support, get in touch as soon as you can. And if you don't need this support, but know someone who does, please pass the message on.
Get help with finance and food
The Norfolk Assistance Scheme (NAS) provides hardship support to Norfolk residents. If you're struggling this winter because of coronavirus, NAS can help you with food, paying your bills and money for everyday essentials.
The support they offer is for two weeks to begin with. However, if you need more long-term help after that, they can work with you to access further support and find out what other help you might be eligible for.
Initially, the two-week provision includes:
Morrison's food boxes
Additional support with household essentials like nappies, formula milk and cleaning products.
Paypoint top-ups for gas and electricity
Daily living allowance for living expenses and household bills where needed.
Week three onwards:
Support with things like broadband and help to get online.
Additional support with household items such as washing machines and fridges.
How do I apply for this support?
You can apply by filling in an online form on the Norfolk County Council website. There is guidance to help you fill out the form.
Pink Orange ingredients boxes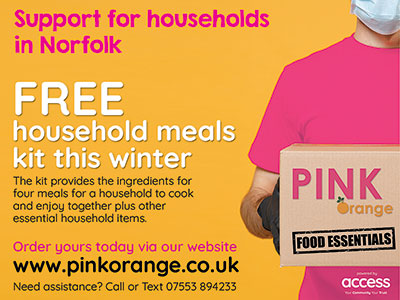 Pink Orange will provide household meal kits and recipe guides to families across Norfolk. Your kit will contain all the ingredients for four meals for your household to cook and enjoy together. It will also include some other useful essential household items.
Register today by filling in their sign up form.
Free school meals and food vouchers
There are food vouchers available for the Christmas and February half-term holidays. These are worth £15 per child per week. They are for:
All children who are eligible for free school meals, whether they currently use them or not
All home-educated children who would be entitled to free school meals
There is further information about food vouchers and free school meals on the Norfolk County Council website.