North Walsham West
Have your say on the draft Development Brief, which will inform future planning applications for the site. Learn more about this by selecting 'Find out more'.
Council welcomes new Chairman

Date published: 19th May 2022
At North Norfolk District Council's Annual General Meeting on Wednesday, 18 May, Cllr Jeremy Punchard stepped down as Chairman of the Council and Cllr Pauline Grove-Jones was appointed as the new Chairman.
Cllr Jeremy Punchard was appointed Chairman of the council in May 2021 and during his time as Chairman, he conducted many community engagements and supported his chosen charities.
Over the last month, some of his engagements include starting the Mammoth half marathon in Mundesley and planting an English oak tree to commemorate the Platinum Jubilee of Her Majesty Queen Elizabeth II.
Also in attendance were representatives from Cllr Punchard's chosen charities, Norfolk and Waveney Mind and The Fire Fighters Charity. He presented both charities with a fundraising cheque for £681.45.
We would like to thank Cllr Punchard for his service and the contributions to his chosen charities.
We would also like to welcome Cllr Pauline Grove-Jones as the new Chairman of the Council for 2022/23.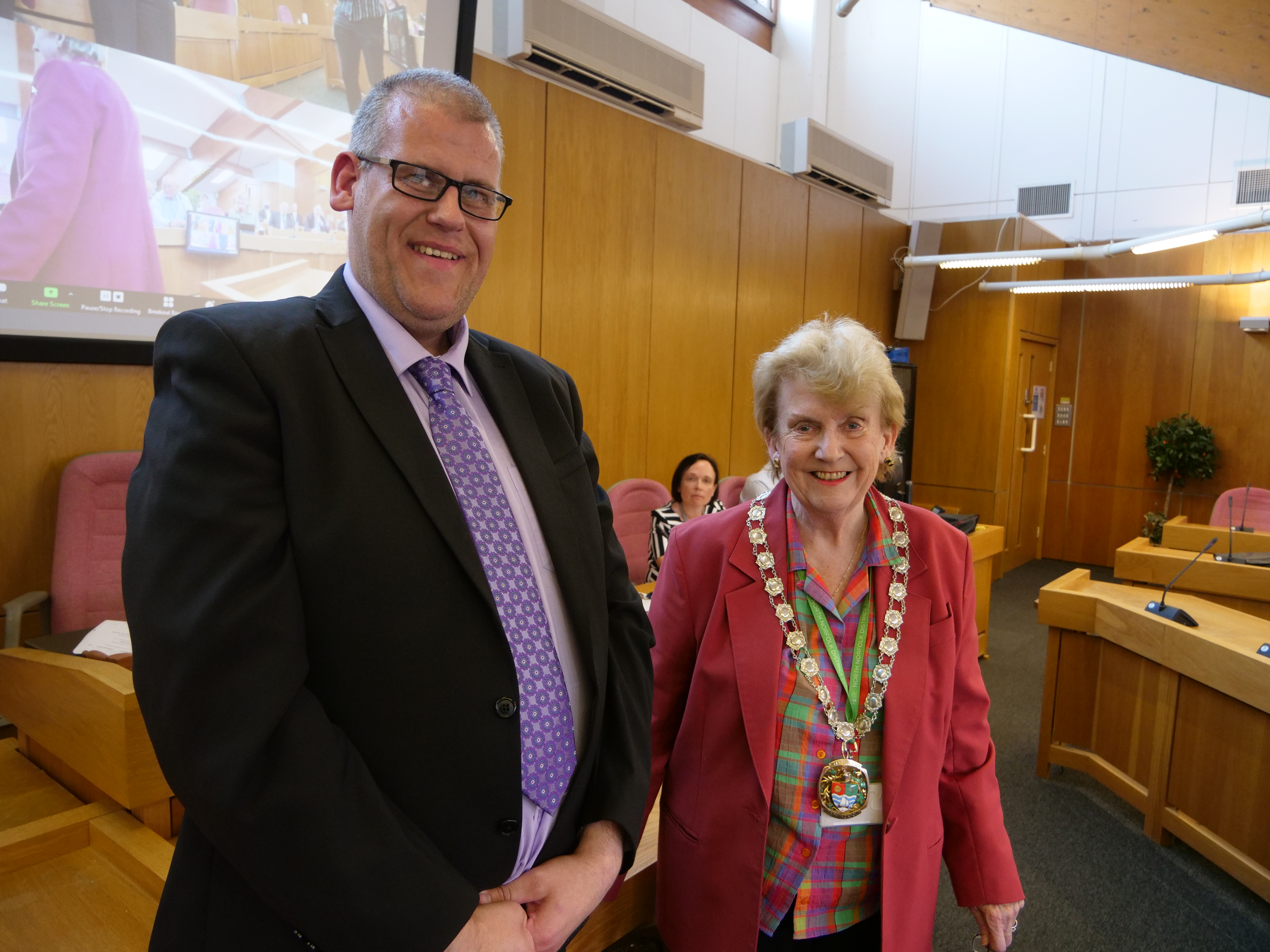 Cllr Jeremy Punchard and Cllr Pauline Grove-Jones
The Chairman's two chosen charities for her municipal year are:
Mancroft Advice Project  - an information, advice and advocacy service for young people living in North Norfolk.
Pricilla Bacon Hospice - a specialist inpatient service for people with complex palliative care needs.
Cllr Sarah Butikofer was appointed as the Vice-Chair.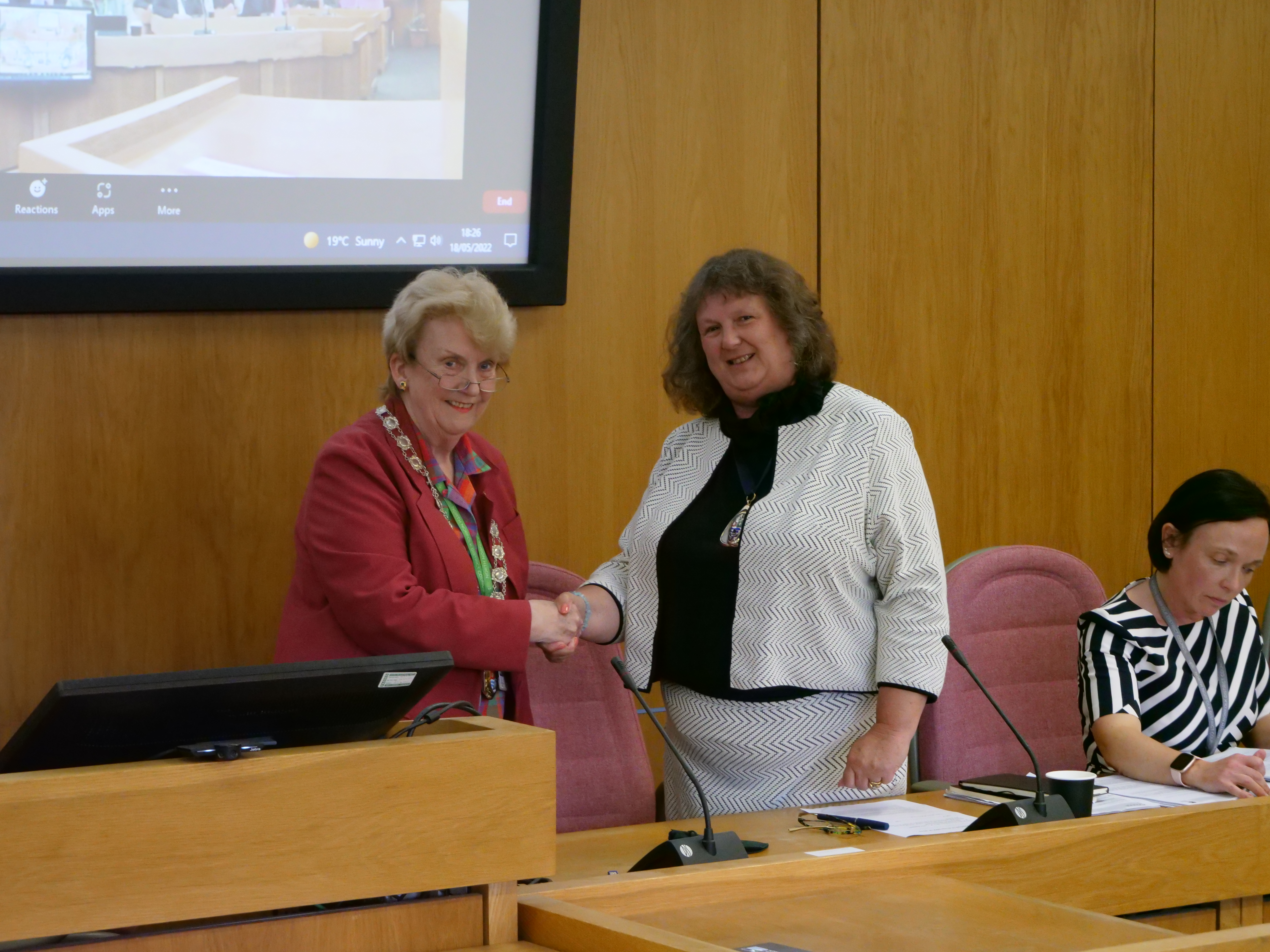 Cllr Sarah Butikofer and Cllr Pauline Grove-Jones
Trustee at Norfolk & Waveney MIND said:
"We are very pleased to be here and receive this cheque which will support the work that we are doing in terms of supporting mental health and mental health well-being across Norfolk and Waveney and the MIND organisation across the country.
We have been very proud to have been your nominated charity for this past year. As an organisation, it's through the presence and the profile and things like that that raise the awareness of mental health and the challenges of mental health within the community."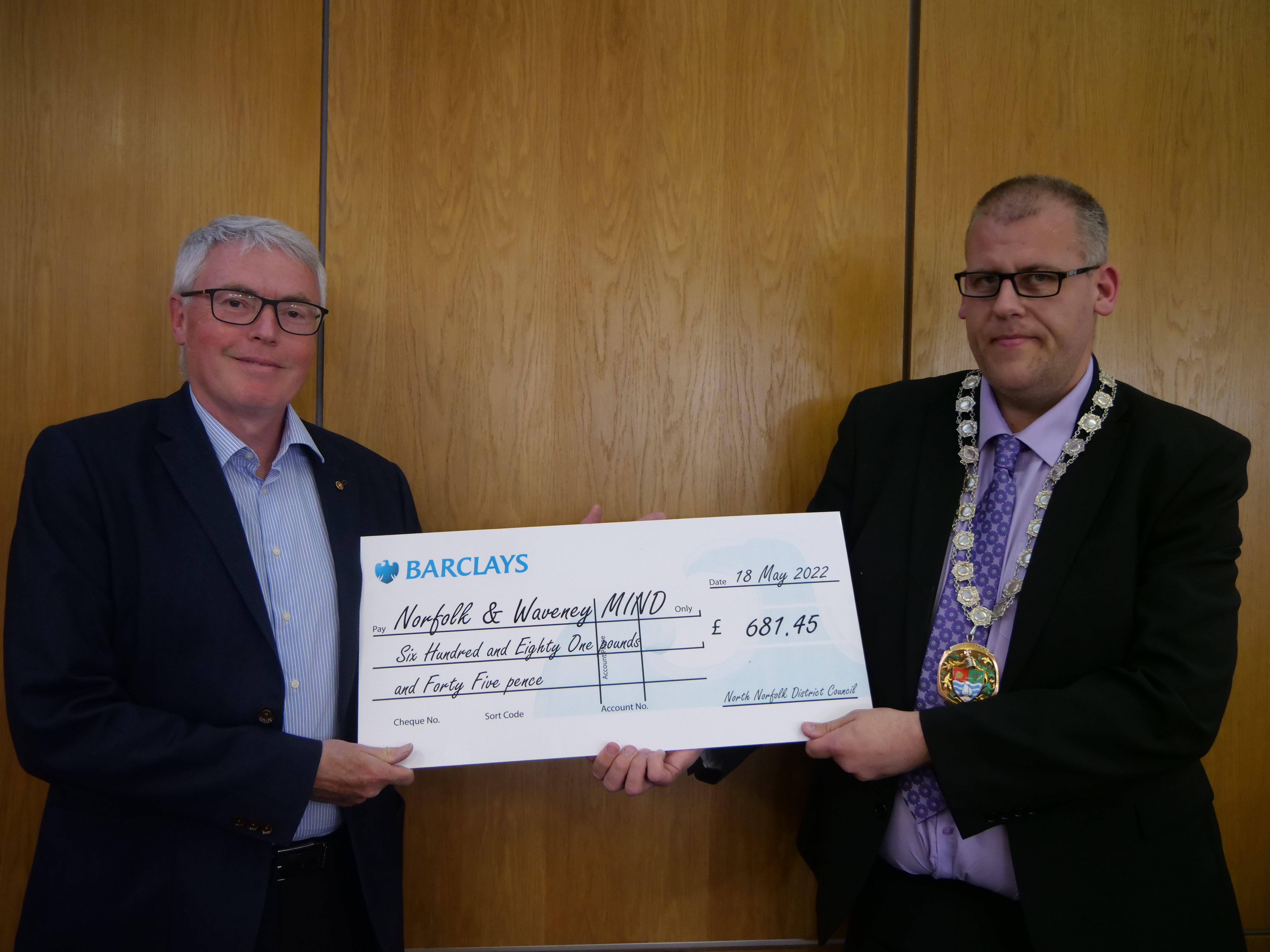 Norfolk and Waveney MIND and Cllr Jeremy Punchard
Stefan Rider, Station Manager, The Fire Fighters Charity, thanked Cllr Punchard for his support, saying:
"It is really important to us and I am proud to manage all the fire resources across North Norfolk, who you are now all supporting to go out and help your communities.
We are grateful for the donation but also for the reach you will have had through your organisation and the events we have done. Thank you very much from The Firefighters Charity and from all of the firefighters in North Norfolk."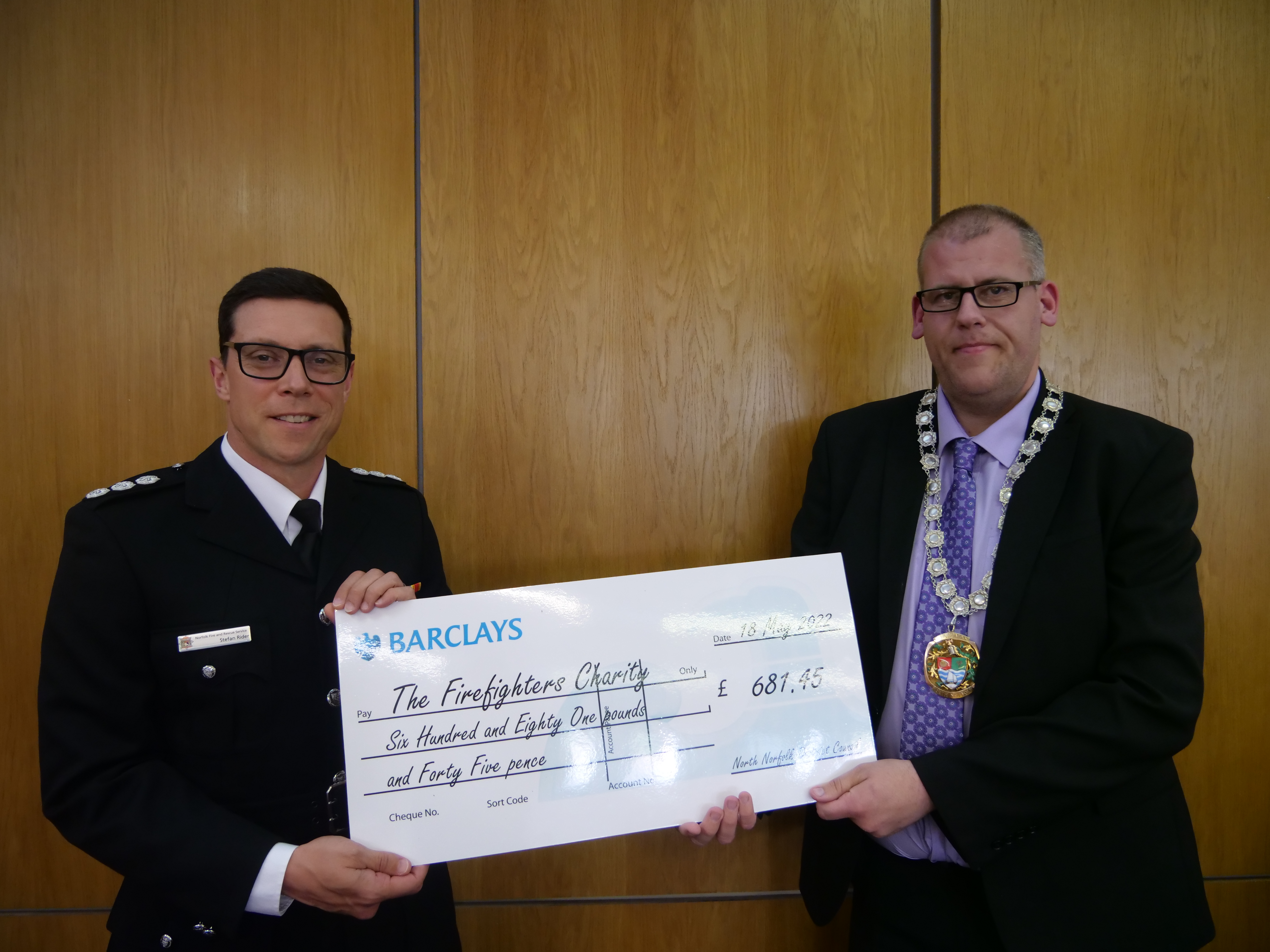 Stefan Rider, Firefighters Charity and Cllr Jeremy Punchard
---
Last updated: 12th April 2023