North Walsham West
Have your say on the draft Development Brief, which will inform future planning applications for the site. Learn more about this by selecting 'Find out more'.
Final 2023 Parliamentary boundary review consultation

Date published: 9th November 2022
The public is being invited to comment on proposals to make changes to the boundaries of the North Norfolk and Broadland Parliamentary Constituencies

The Boundary Commission for England is holding a final public consultation on a proposed new map of constituencies in England – which includes the proposals concerning North Norfolk.

The public consultation is open from 0:01 on Tuesday 8 November to 23:59 on Monday 5 December 2022.

Parliament regularly asks the Boundary Commission for England to carry out an independent and impartial review of all parliamentary constituencies to balance out the number of electors in each constituency, as sizes vary widely due to population changes over the years.

The new map proposed by the Boundary Commission will ensure each constituency has between 69,724 and 77,062 electors. Currently the North Norfolk District has approximately 84,000 registered electors as of the March 2020 electoral register, meaning that it is too large to be served by a single Member of Parliament.

2023 proposed changes:

Under the new proposals, the North Norfolk Parliamentary Constituency will cover the same area at present, but be extended slightly to take in the whole of the District Council's Priory and Stody wards, which were previously split between the two North Norfolk and Broadland constituencies, to address an anomaly created through the review of district council ward areas in 2019.

The parishes of Gunthorpe, Thursford and Wighton in the Priory ward, and Briningham and Melton Constable in the Stody ward, are therefore proposed to move from the Broadland Parliamentary constituency to the North Norfolk constituency, removing the current split of electors in these wards between North Norfolk and Broadland.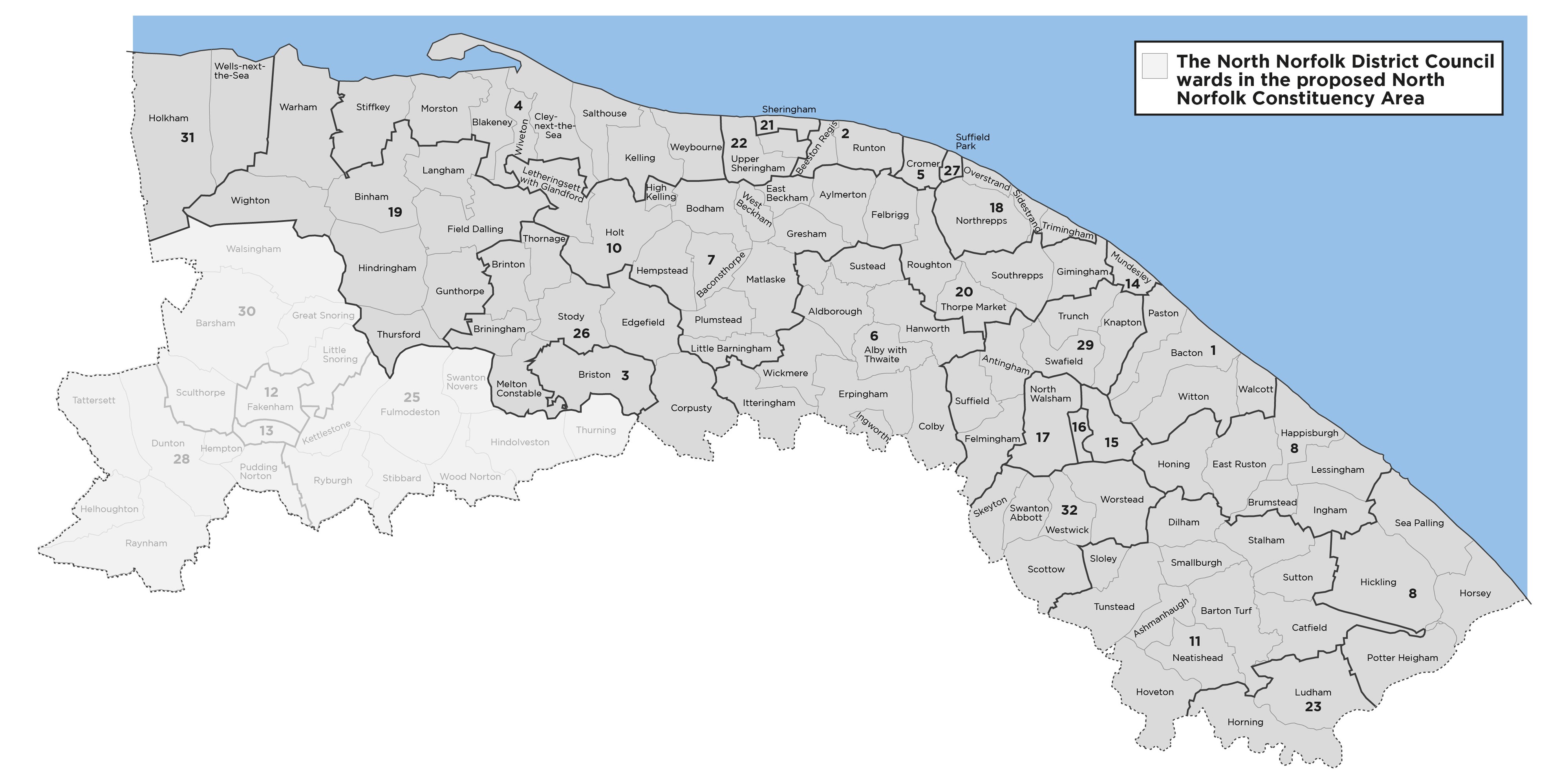 Map of proposed North Norfolk Constituency
The remaining five wards of the North Norfolk District Council area Lancaster North & South wards, Stibbard Ward, The Raynhams Ward and Walsingham Ward are to be retained within the Broadland constituency area, which will be renamed to the Broadland and Fakenham Constituency. In the previous consultation, it had been proposed that these five wards move into the North Norfolk Constituency; whilst electors in the Stalham and Hickling wards would have moved into an extended Great Yarmouth Constituency area.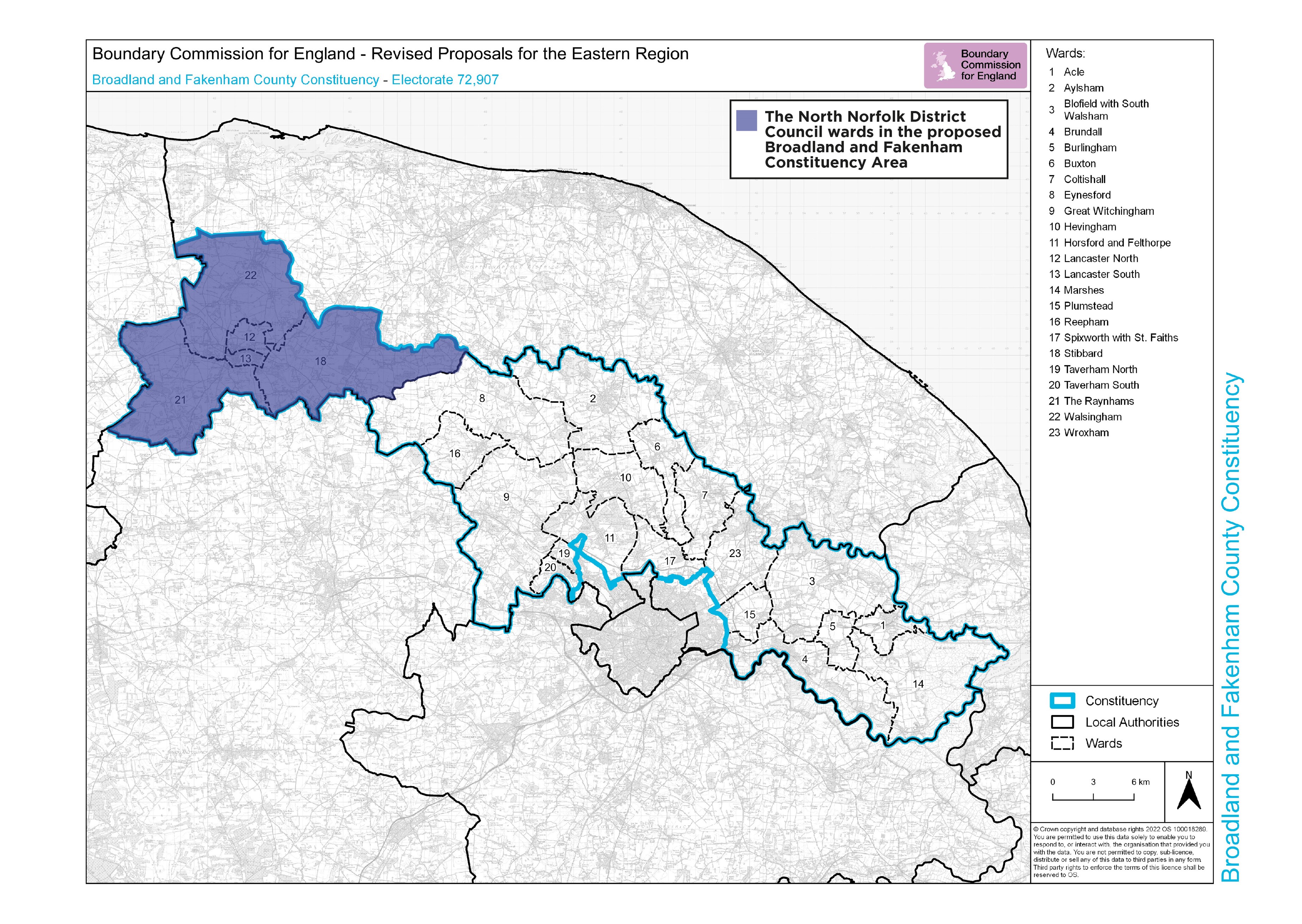 Map of proposed Broadland and Fakenham Constituency 

The changes apply to Parliamentary elections only and do not affect district or parish level operations or elections. 

The new revised proposals are now available to view via an interactive map on the consultation website - www.bcereviews.org.uk

The 2023 boundary review also requires the number of constituencies in England to increase from 533 to 543.

These boundary change recommendations will be sent to Parliament by July 1 2023, and would then come into effect for any Parliamentary elections from late 2023 to early 2024.

Have your say:

You can send in your views for the public consultation in writing by:

• Using the consultation website - www.bcereviews.org.uk

• Emailing information@boundarycommissionengland.gov.uk

• Sending a letter to:
Boundary Commission for England
35 Great Smith Street
London
SW1P 3BQ
---
Last updated: 12th April 2023