North Walsham West
Have your say on the draft Development Brief, which will inform future planning applications for the site. Learn more about this by selecting 'Find out more'.
New accessible toilets in Fakenham officially open

Date published: 16th June 2023
The new toilets in Queens Road Car Park in Fakenham are now open.

They are both water and energy efficient, with male and female facilities, a gender-neutral room, a family room, an accessible toilet and also Changing Places facilities inside.

The facilities are part of over £1.6m investment into public toilets in the District, including facilities at Stearman's Yard in Wells, Vicarage Street in North Walsham and The Leas in Sheringham.

The opening of these facilities in Fakenham brings the number of Changing Places facilities in North Norfolk to 4, with 3 further facilities to be delivered before the end of the year.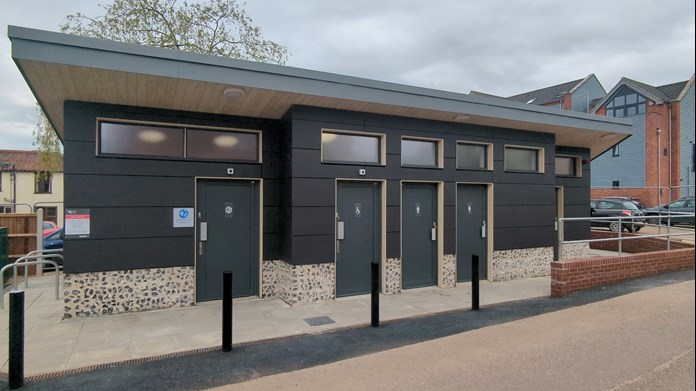 Cllr. Lucy Shires, portfolio holder for Finance, Estates & Property Services said:

"We're proud to provide excellent public facilities for North Norfolk - state-of-the-art public toilets like the facilities in Fakenham are something the Council considers an essential provision.

Accessible toilets and Changing Places rooms offer families a lifeline in planning their day or holiday, which are often planned around accessible and inclusive facilities."

The development of Changing Places facilities at Wells and Fakenham, built on the Council's behalf by Aspect Group Services Ltd., have attracted grant support from the UK Government, as will the facilities proposed at Vicarage St, North Walsham and The Leas in Sheringham.

New facilities at Vicarage St Car Park in North Walsham are being constructed by T.M Browne, are due for completion by the end of July. 
Cllr Jeremy Punchard, member for Lancaster South, commented: "The Council regards the provision of good quality public conveniences as a key service, underpinning the district's tourism offering as well as town centre economies.
Many residents and visitors with accessibility requirements plan their trips around the availability of accessible facilities like the Changing Places rooms."
Cllr Liz Vickers, also Lancaster South, added: "This improvement to our facilities, partly funded by a UK government grant, is welcome.
We want to encourage local families and visitors into our town centre."
View a full list of Public Toilets and Changing Places facilities.
---
Last updated: 16th June 2023