What affects your mental health? Take our survey

Date published: 16th May 2023
Throughout Mental Health Awareness Week 2023, North Norfolk District Council's Community Connector team are hosting drop-in community wellbeing workshops across the district.

Named "PositiviTea," the sessions are taking place between the 15 May to 19 May, involve a mix voluntary groups, council support officers, charities and key organisations, such as community engagement charity CAN, domestic abuse refuge NIDAS, healthy workplace provider Thriving Workplaces and mental health charity Mind.

The North Norfolk Health and Wellbeing Partnership, want to ascertain what affects North Norfolk residents' mental health – what has a positive a positive impact and what has a negative impact.

A survey will run until Sunday 21 May and all answers are completely anonymous. The results gathered from the survey will help shape future events and support through the North Norfolk Health and Wellbeing Partnership.

Catherine Van Battum, Health & Communities Leader said:

"There are so many amazing community groups in North Norfolk and many places that our residents can turn to for support - if we can better understand the support our residents need, we can find ways to deliver it."

The North Norfolk Health and Wellbeing Partnership seeks to support residents with their wellbeing at a community level, using charity and voluntary services.

If you are experiencing difficulties with your mental health, there are a number of services and organisations that can offer help and support to you, such as Samaritans, Anxiety UK, Mind and CALM.

Find out more via the Mental Health Foundation

You can also find out about services available to you at www.wellbeingnands.co.uk/norfolk

PositiviTea drop-in sessions this week: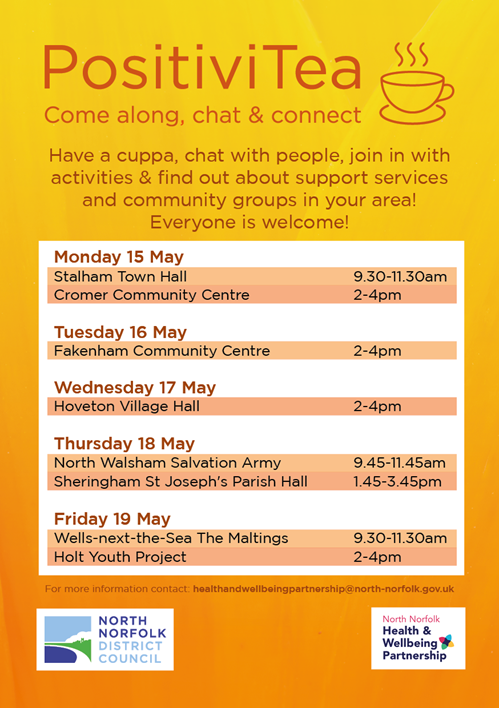 ---
Last updated: 16th May 2023