Work starts on the solar car port at The Reef

Date published: 12th May 2023
Next week work is starting on a solar car port covering two-thirds of the car park at The Reef Leisure Centre in Sheringham.
The solar car port will generate renewable electricity to help supply The Reef Leisure Centre and assist the Council's transition to Net Zero.
Although The Reef was designed with sustainability in mind, this project will reduce the leisure centre's carbon footprint further, providing protection against future energy price fluctuations and a return on investment to the Council. It will also provide shade for customers' cars, helping reduce fuel consumption.
The Reef's construction incorporated infrastructure to make this installation easier and planning permission for it was granted last year. The clever (retro-fit) design will see the installation taking place over the existing car park, with minimal disruption. The work will be completed in two phases. Phase 1 will involve five days of piling work to install bolts to a depth of 1.5 metres which will be the anchor points for the structure.
Phase 2 will commence in mid-June and involve the installation of the main structure.
During these works, some car parking spaces will be temporarily unavailable, but users of the Reef will be directed appropriately.
This scheme will be undertaken by RenEnergy, who have a wealth of experience installing solar arrays in many different sites in the region and around the County.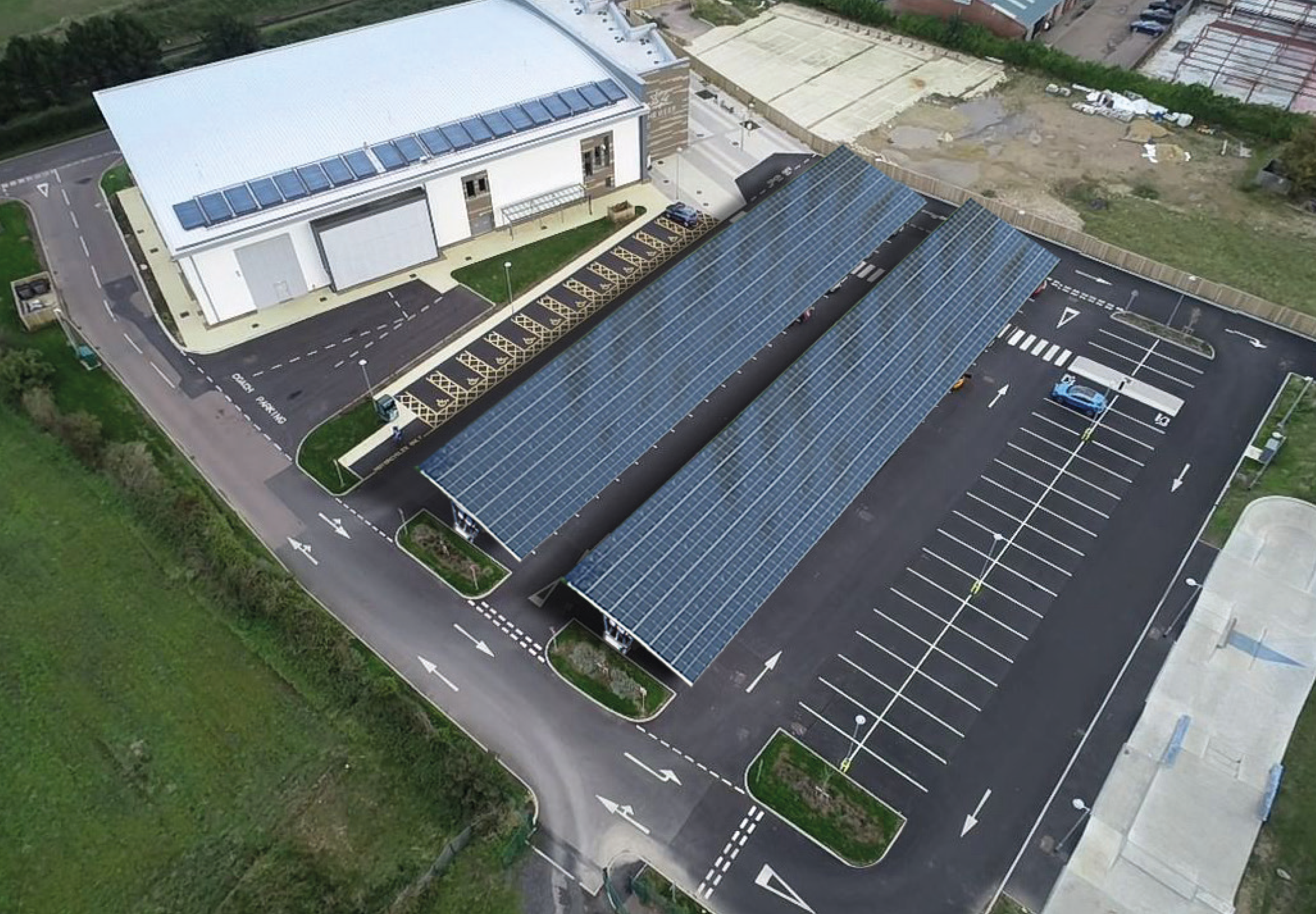 The Reef solar car port artist's impression
Kate Rawlings, Climate and Environmental Policy Manager at North Norfolk District Council, said:
"It is very exciting to see work start on the Council's latest sustainability project. This car port has been designed to deliver a significant amount of the Reef's electricity which will reduce the centre's energy costs and emissions. At the same time, we are working with our leisure partner, Everyone Active to identify energy-saving measures at the Reef and our centres at Fakenham and North Walsham."
Peggy Lee, Everyone Active's Group Sustainability Manager, said:
"We are delighted to support our partners at North Norfolk District Council on the provision of the solar car port, which will help to power The Reef Leisure Centre.
"Sustainability was a key element of The Reef's design and it is great news that this project will further reduce the centre's carbon footprint. Everyone Active is proud to work alongside our local authority partners to support them in achieving their net zero ambitions, as well as our net zero strategy."
The Council has committed to achieving Net Zero Carbon Emissions by 2030 and is exploring options for reducing energy usage and maximising efficiencies across its estate.
Solar car ports are an innovative way to retain functional space while generating energy to power the Council's assets. The Reef was designed to maximise energy efficiency including such measures as solar thermal collectors, which naturally heat the water.
This is intended to be a demonstration project that will hopefully lead to further such developments on other sites that North Norfolk District Council owns but also inspire other organisations to emulate this innovative use of space that will help reduce carbon emissions and adapt to global heating.
---
Last updated: 15th May 2023