Conservation and Design Award winners
An innovative house in Heydon, near Saxthorpe, has won the 2017 Conservation and Design Award.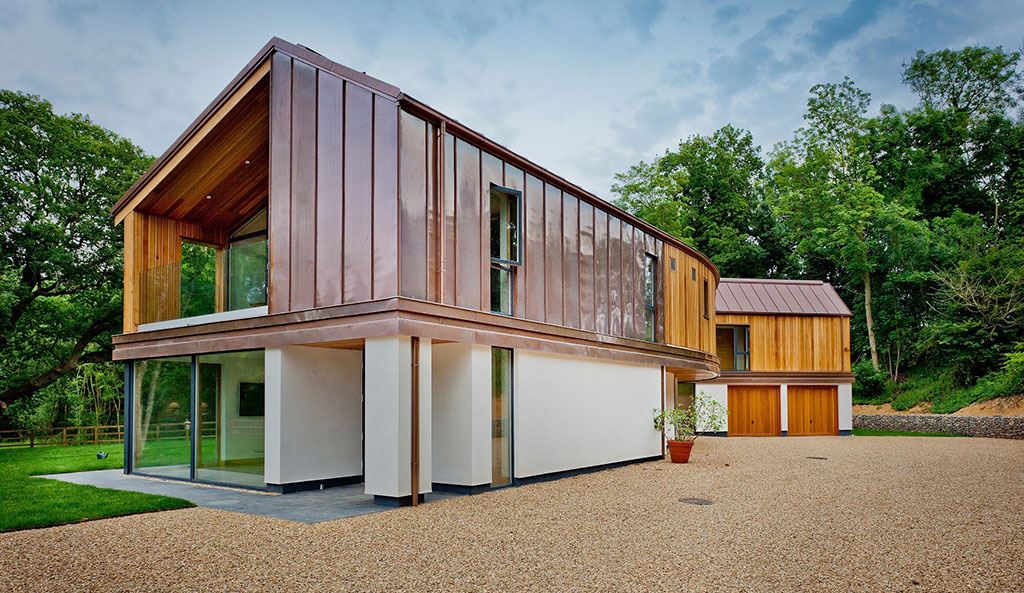 This year's overall winner was Wild Acres, on Holt Road, Heydon, which is owned by Robin and Carol Orrow. The project architects were Chaplin Farrant, with Norfolk Pro Build working as the contractor.
The project involved the demolition of a bungalow and the clever resiting and building of a new four bedroomed home using crisp and contemporary architecture. It was praised by judges for its intelligent reaction to site context, topography and landscape setting; visual interest portrayed by the curved form; low lying position and shallow pitch ensuring a discreet presence; and sustainable technology including ground source heating.
Cllr Sue Arnold, Cabinet Member for Planning, said: "The judging panel were blown away by the quality and innovation they saw on site and the use of an interesting mix of materials.
"Use of materials, careful design and a sustainable approach have all been combined to create a stunning piece of contemporary design which has used site context to create unique qualities and identity.
"We would like to offer huge congratulations to all those involved in the Wild Acres project and also many thanks to all the other very high quality entries."
Martin Lewis, Director at Chaplin Farrant, said: "Wild Acres takes its design inspiration from its natural surroundings and aims to have a minimal impact on the site and further countryside.
"We are delighted that this ambition has not only been achieved, but has also been recognised via the Graham Allen Award and the comments and feedback from the judges."
Wild Acres also won the People's Choice Award, which is determined by way of public vote during the Greenbuild weekend in early September. Greenbuild is NNDC's annual green lifestyle event, held at Felbrigg Hall.
Other projects which won awards at today's Graham Allen Awards ceremony at NNDC's Cromer headquarters were:
Highly Commended - Thursford Castle, Thursford Road, Great Snoring, owned by Mr and Mrs Hickling. This scheme has created a genuinely unique piece of architectural design. Its bold vision for modern contemporary living has retained a strong element of conservation. The architects for this project were LSI Architects.
Commended - The Reading Rooms, Church Road, Alby, owned by Simon and Joanne Williams. This project has secured the long-term future of an important listed building, but has also created a new intimate wedding venue which many people will be able to enjoy and come together in celebration. The architects for this project were SMG Architects.
Previous Award Winners
2017 - Wild Acres, Holt Road, Heydon
2016 - Hootz House, Pensthorpe Natural Park
2015 - Manor Farm Barns, The Street, Kettlestone
2014 - Bessingham Manor, Bessingham
2013 - Weybourne Priory, Abbey Farm, Weybourne
2012 - The Gunton Arms, Thorpe Market
2011 - Tithe Barn, Old Lane, Walcott
2010 - Curve House, Ramsgate Street, Edgefield
2009 - Binham Priory, Binham
2008 - Oddfellows Hall, Lifeboat Plain, Sheringham
2007 - Church of the Annunciation, Little Walsingham
2006 - RNLI Henry Blogg Museum and Restaurant, Cromer
2005 - Byfords, Shirehall Plain, Holt
2004 - Alicia Cottages, Walcott Road Bacton
2003 - Forge Cottage, Blakeney Road, Letheringsett
2002 - The Refectory, The Shire of Our Lady, Little Walsingham
2001 - The Old Mill, Mill Lane, East Runton
2000 - The White Lion, White Lion Street, Holt
1999 - RNLI Lifeboat Station, The Pier, Cromer
1998 - Coach House & Stables, Thornfield Hall, High Kelling
1997 - The Lodge, Hoveton Hall, Hoveton
1996 - 12-14 High Street, Wells
1995 - Barn, The Street, Horsey
1994 - Rear of 32 Station Road, Sheringham
1993 - Moor End, Barn Cottages, Stibbard
1992 - Gunton Railway Station, Thorpe Market
1991 - Old Manor Farm House, Swanton Abbott
1990 - Church Street, Sheringham & Foundary Farm, Great Walsingham
1989 - Schemes at Sustead & Fakenham
1988 - Brick Kiln Farm, Mundesley Road, Trunch
1987 - Upper Sheringham School Conversion & Tithe Barn, Holt
1986 - Budgens Supermarket, Cromer
1985 - Restoration, Gunton Hall & Woodwork Shop, Gunthorpe
1984 - Tunn Street, Fakenham & Watermill, Letheringsett
1983 - Hall Farm Cottage, Stalham
1982 - Cross Keys, North Walsham