Coronavirus (COVID-19)
View the latest information on how North Norfolk is responding to the virus.
Conservation and Design Award winners
A converted Grade II listed barn in East Ruston has won the 2018 Conservation and Design Award.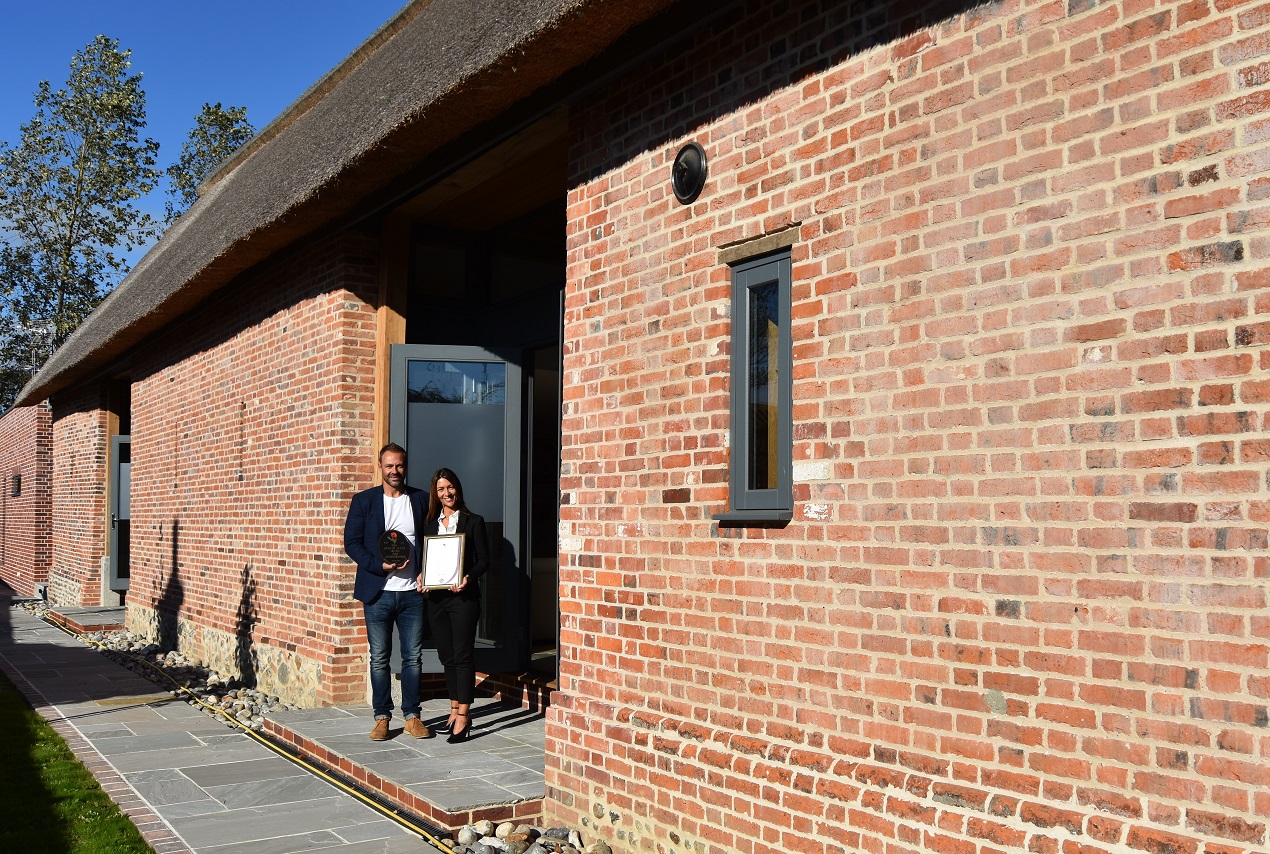 The latest name to join this illustrious list is Church Barn in East Ruston, which won the judges' vote this year. The project saw the conversion of a Grade II Listed Barn and the erection of a single-storey extension. Proud owners Sue and Simon Wiseman accepted the award and Mrs Wiseman said she was particularly pleased to have won considering the impressive standard of all the nominees. The judges praised the conversion and said they were impressed by the passion, dedication and vision the owners had shown in transforming a derelict, at risk barn into a unique home.
Cllr Sue Arnold, North Norfolk District Council's Conservative Cabinet Member for Planning and Chairman of the awards judging panel, said: "The quality of this year's entries and subsequent shortlist for judging was exceptionally high, so this year's winners can be incredibly proud of their achievement.
"Well done to all those who entered, it has again been a pleasure to be involved with this excellent set of awards in 2018."
Cllr John Rest, North Norfolk District Council's Independent Group Leader, said: "It is always rewarding to receive any accolade for a project that has taken time, energy and no doubt lots of money to achieve.
"Our panel take a lot of care and consideration in choosing the finalists. Well done to the winners."
Gitte Kjeldsen Highland, Director and Architect at Chaplin Farrant, said: "We are delighted to have been involved in the regeneration of the Wells Maltings building and extending it to create a facility that is truly at the heart of the community.
"The project has had a great team working together to deliver the facility and we trust that all who visit and use the Maltings, from local people to visiting tourists, will enjoy everything that the building has to offer in the way arts, film, music and entertainment. We wish the Wells Maltings Trust every success with the future."
Other projects which won awards at today's Graham Allen Awards ceremony at NNDC's Cromer headquarters were:
Highly Commended - Wells Maltings, Staithe Street, t

he project saw the conversion and extension of Grade II Listed Wells Maltings, a high profile building in the town, creating a cultural centre and community hub for the public to enjoy. The Maltings opened recently and has already had very good visitor figures.

Commended - 31-34 Market Place, Fakenham, t

he project saw the creation of a mixed use development following fire damage to the former Aldiss building in the town centre.
Previous Award Winners
2017 - Wild Acres, Holt Road, Heydon
2016 - Hootz House, Pensthorpe Natural Park
2015 - Manor Farm Barns, The Street, Kettlestone
2014 - Bessingham Manor, Bessingham
2013 - Weybourne Priory, Abbey Farm, Weybourne
2012 - The Gunton Arms, Thorpe Market
2011 - Tithe Barn, Old Lane, Walcott
2010 - Curve House, Ramsgate Street, Edgefield
2009 - Binham Priory, Binham
2008 - Oddfellows Hall, Lifeboat Plain, Sheringham
2007 - Church of the Annunciation, Little Walsingham
2006 - RNLI Henry Blogg Museum and Restaurant, Cromer
2005 - Byfords, Shirehall Plain, Holt
2004 - Alicia Cottages, Walcott Road Bacton
2003 - Forge Cottage, Blakeney Road, Letheringsett
2002 - The Refectory, The Shire of Our Lady, Little Walsingham
2001 - The Old Mill, Mill Lane, East Runton
2000 - The White Lion, White Lion Street, Holt
1999 - RNLI Lifeboat Station, The Pier, Cromer
1998 - Coach House & Stables, Thornfield Hall, High Kelling
1997 - The Lodge, Hoveton Hall, Hoveton
1996 - 12-14 High Street, Wells
1995 - Barn, The Street, Horsey
1994 - Rear of 32 Station Road, Sheringham
1993 - Moor End, Barn Cottages, Stibbard
1992 - Gunton Railway Station, Thorpe Market
1991 - Old Manor Farm House, Swanton Abbott
1990 - Church Street, Sheringham & Foundary Farm, Great Walsingham
1989 - Schemes at Sustead & Fakenham
1988 - Brick Kiln Farm, Mundesley Road, Trunch
1987 - Upper Sheringham School Conversion & Tithe Barn, Holt
1986 - Budgens Supermarket, Cromer
1985 - Restoration, Gunton Hall & Woodwork Shop, Gunthorpe
1984 - Tunn Street, Fakenham & Watermill, Letheringsett
1983 - Hall Farm Cottage, Stalham
1982 - Cross Keys, North Walsham