North Walsham West
Have your say on the draft Development Brief, which will inform future planning applications for the site. Learn more about this by selecting 'Find out more'.
Find out about Pretty Corner Woods
Pretty Corner is a beautiful 165-acre patchwork woodland and heathland, which forms part of a larger network of woods and heaths. Together they stretch along the 10-mile Holt to Cromer ridge within the North Norfolk area of outstanding natural beauty. Located a few miles from the historic market town of Sheringham, Pretty Corner Woods is a great place for families to play, learn, explore and be creative together. Pretty Corner Woods is a Green Flag Award winner and is jointly managed by the Council's countryside team and the Woodlands Trust.
Pretty Corner Woods leaflet 
For details of where everything is in the park view our leaflet.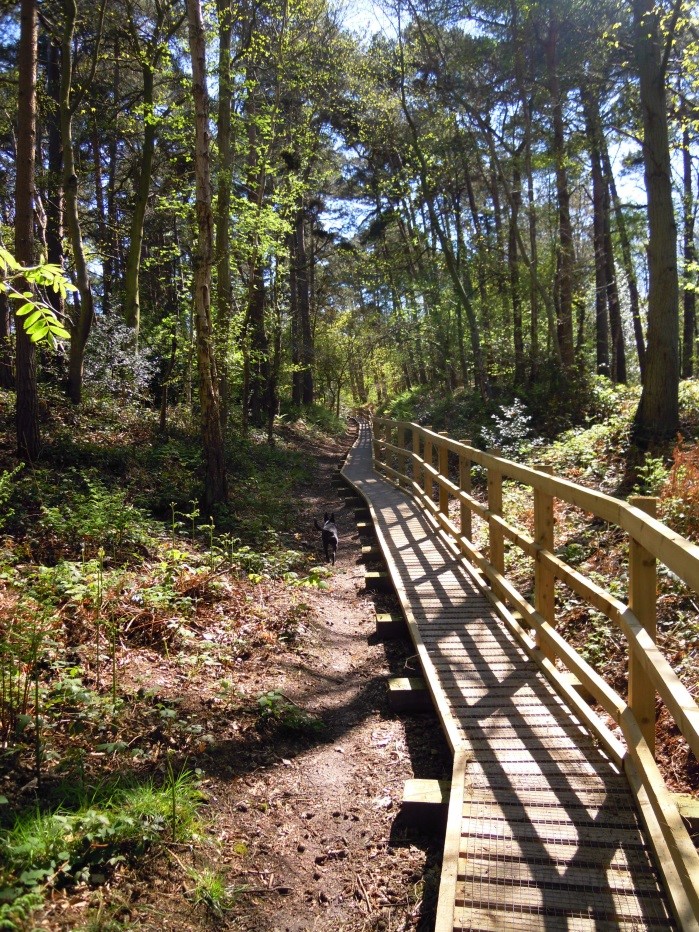 Wildlife
On your visit to Pretty Corner Woods, you'll discover an interesting range of natural habitats. You will find broadleaf and coniferous trees, heathland, grassland and ponds, as well as veteran trees such as oak, beech and sweet chestnut that date back hundreds of years. Pretty Corner Woods is home to a wide range of animals, birds and creepy crawlies. Look for the fluttering wings of bats, bullfinches, kingfishers, butterflies, owls and woodpeckers. Tread carefully around the woodland flowers and ferns. Look out for the scarlet flowers on the red campion, and the white tips of wood sorrel. Ssshhh! If you are really quiet, you might even see a deer munching in the long grass, or spot an adder or slow worm sunning itself in the heathland areas.
We recommend a steady walk to the highest point of Pretty Corner, rising to 96 metres (315 feet) above sea level it is one of the highest points in Norfolk, providing fine views towards Sheringham and the sea.
Learn
Opportunities to learn exist throughout the site with wildlife interpretation and two regularly updated noticeboards providing information to visitors. The Woodland Trust also offer activity sheets and explorer booklets to help keep you entertained and educated on your visit. 
Facilities
Facilities at Pretty Corner Woods include two car parks at either end of the woods - parking is available all year round. Pretty Corner Tea Rooms (privately owned) is next to the wood offering a good selection of food and drinks. Or why not bring a picnic and take advantage of the picnic field or our picnic benches.
The nearest public toilets are approximately 15 minutes' walk away in Sheringham town centre. There is a bus stop situated next to the woods with good links to Sheringham and the surrounding area.
Events and activities
Each year our team organises and delivers outdoor events for the local community and visitors to the district to enjoy. The aim is to promote regular use and general awareness of our parks and open spaces, provide countryside education and to help to make the service sustainable into the future. Find further information about our events and activities on our:
Contact and information
The western half of Pretty Corner Woods belongs to North Norfolk District Council. The eastern section of Old Wood and Sheringham Wood is owned by the Woodland Trust. The whole site is managed in partnership, and both areas are open for you to explore.
North Norfolk District Council
Head office: 01263 513811
Ranger office: 01263 712610
Email: countryside@north-norfolk.gov.uk
Website: www.north-norfolk.gov.uk/countryside
The Woodland Trust
Kempton Way, Grantham, Lincolnshire NG31 6LL
Telephone: 01476 581111
Website: www.woodlandtrust.org.uk