The Council is preparing a new Local Plan. This document will guide development decisions in North Norfolk until 2036.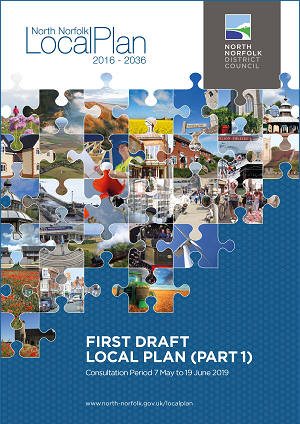 The Local Plan provides detail on where new homes, jobs and infrastructure will be created in order to meet the housing, employment and other needs of the area, while protecting and enhancing our unique natural and built environment. This includes addressing specific challenges such as accommodating a growing and aging population, providing affordable housing, improving the design of development, and managing the potential impacts of climate change.
The Council undertook a major consultation exercise on its emerging First Draft Local Plan and a range of supporting documents between 7 May and 28 June 2019. The feedback from this consultation is currently being considered and will help us to prepare a revised version of the Plan for further consultation. The next stages of preparing the Plan will be determined by the scale of changes that the Council feels are required following this consultation, and whether further evidence is required.
Further information about how we prepare the Local Plan and how you can get involved can be found below.
What is the Local Plan?
Local Plans set out planning policies and determine how land is used, what can be built and where. Plans ensure that the development needed as a result of population growth can be provided in the most suitable way which minimises the impact on the environment.
The main elements which form the Local Plan are:
Vision, Aims and Objectives which underpin the Plan and set the basis upon which the proposed policies and development sites are being proposed.
Policies that provide the overarching approach to sustainable development in North Norfolk, such as where and how much development should take place, the provision of infrastructure to support development, and addressing climate change. Other key policies cover the themes of environment, housing and the economy such as affordable housing, high quality design, tourism, and protecting the natural and built environment.
Site Allocations which set out detailed policies for the development of individual sites to help meet the aims, objectives and key policies of the Plan.
Policies Map which will show geographically where policies apply.
Why is a Local Plan needed?
The Local Plan is needed to ensure that we plan positively for the development and infrastructure that communities need, setting out the strategic priorities for North Norfolk to 2036. This includes policies to deliver:
housing, including affordable homes;
retail, leisure and other commercial development;
infrastructure for transport, minerals, waste, energy, telecoms, water supply and sewage treatment;
education, health, police and community facilities;
energy, including from renewable sources;
protection and enhancement of the natural and historic environment, including landscape, wildlife, open space, listed buildings and archaeology; and
protection of homes and property from flooding from rivers and the sea.
The government expects local authorities to have up-to-date plans in place to guide development within their area and to plan for the infrastructure, homes and jobs that our residents need. Failure to have an up-to-date plan could risk government intervention and a resulting loss of local control of the process. Having an up-to-date plan in place means that we retain control over where development should be located rather than it being delivered in an ad hoc way as a result of speculative development, sometimes without sufficient benefit to local communities.
In addition, North Norfolk has specific topics to address such as being an important tourism destination, areas of outstanding natural beauty, environmentally sensitive areas, coastal erosion, the acute need for affordable housing, and how to provide accommodation to meet the needs of an older population. The policies contained in the new Local Plan will set out the requirements that we expect to be provided by those undertaking development.
What is the process for preparing a Local Plan?
What is the timeline for preparing the Local Plan?