Local Election Results 2023
Results from the 2023 local elections are now available
Council nearing 110,000 trees target as planting season begins

Date published: 2nd December 2022
As North Norfolk District Council heads into the fourth-and-final tree planting season of the 110,000 Trees Project, it is expected to surpass the target set back in 2019.
The project, which set out to plant one tree for every North Norfolk resident, has seen the Council work with a wide range of community groups, planting new areas of woodland, hedgerows and improve communal spaces.
Volunteers, school children and green thumbed residents have all come together across 85 individual planting projects, to plant enough trees to span 34 football pitches so far.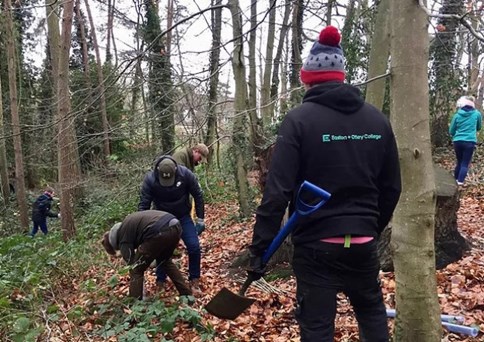 Tree planting event
Going into the 2022/23 planting season, 71,895 trees and hedge plants had been planted, with 51,742 of these were planted in the planting season Oct 2021 to March 2022.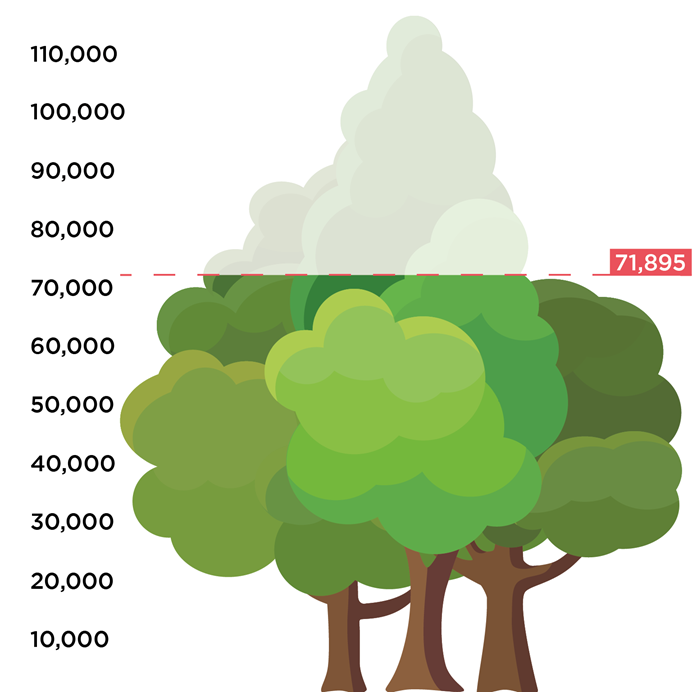 Total trees graphic
From November to March 2022, over 40,000 trees in over 40 projects will be planted, working again with schools, parish councils and local voluntary groups looking to make their local communities greener.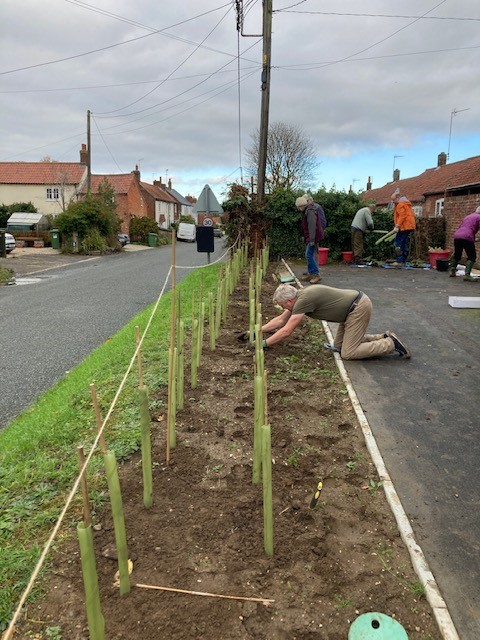 Hedgerow planting at Fulmodeston
Over the course of the project, the Council has sought to involve projects with innovative and restorative aims, where planting trees or hedgerows can be a regenerative process, encouraging wildlife, carbon sequestration or biodiversity gain. The project focus has been planting the right tree in the right place, where any of the 37 tree and hedgerow species can thrive and bolster the environment they're planted in.
Examples include aiding the work of the Felbeck Trust, who transformed a surveyors allotment through a mixture of tree planting and rewilding, and the planting of hedgerows.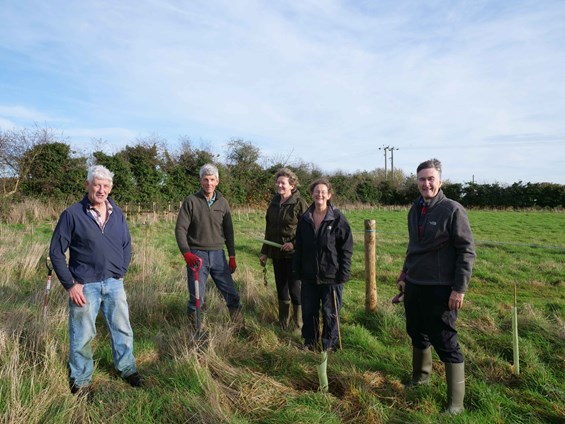 Felbeck Trust at the surveyor's allotment in West Beckham
 As well as restorative planting, the Council's Climate & Environment team have welcomed new experimental methods of tree planting, teaming up with Norfolk County Council to introduce the Japanese Miyawaki Method to Sheringham, North Walsham and Fakenham.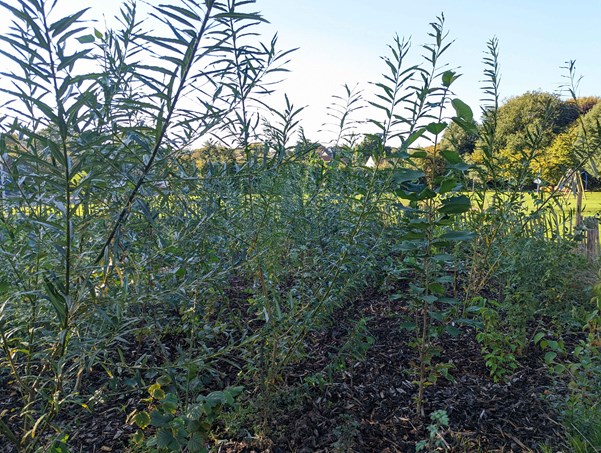 Miyawaki Forest in North Walsham, 9 months after planting took place
The Miyawaki Method involves planting trees close together, in nutrient and Biochar enriched soil, which is rotavated after digging into the topsoil; this method of planting and soil preparation creates 'tiny forests', which grow extremely quickly and exhibit a lower tree mortality rate than trees planted in a conventional method.
The experiment involved a control site of Miyawaki Method, and a regular tree planting method – 8 months on, the Miyawaki method has thrived with some saplings growing to over 3 metres tall, while the control site has been slower.
This method of planting suits urban environments, where smaller dense mini forests can create pockets of carbon capture and introduce green spaces to town environments.
The method will be replicated across the planting season, in 5 locations, including near Warren Woods and Beeston Hall School.
Cllr. Nigel Lloyd said:
"The 110,000 Trees project has seen us work with groups across the district, planting all over North Norfolk across so many wonderful projects. We've planted trees with schools, charities and community groups to create new woodlands and hedgerows, enhance green spaces and improve biodiversity in the district.
"Each tree represents a resident in North Norfolk, and the 110,000 trees project represents North Norfolk's commitment to our countryside and our communities' love for our natural world.
"Green projects like this are important for getting people involved with the environment and climate issues, and that small improvements we can make have a larger benefit for us collectively.
"I would like to thank all those residents who continue to come forward to plant trees. Your participation is helping to increase the tree canopy in North Norfolk and will leave a lasting impact on the district's biodiversity."
Alongside planting in North Norfolk, the Council has also held popular tree giveaway days at Holt Country Park, where local residents and visitors to the Green Flag site could collect a tree of their own to plant.
There are more giveaways planned for this planting season, set to take place from 10am til 2pm on 10 December, 14 January and 11 February.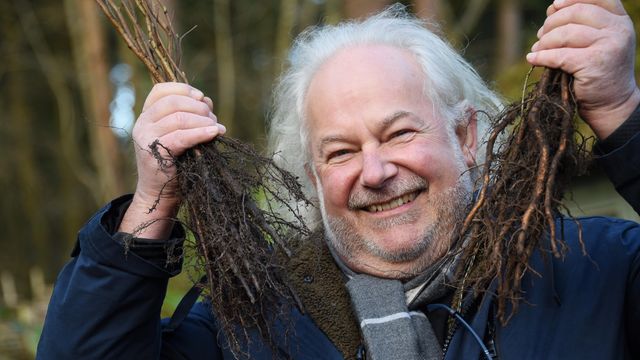 Cllr. Nigel Lloyd at one of the Tree Giveaways. Photo credit: Denise Bradley, EDP
Nige' Stannett said:
"The planting of 110,000 trees is symbolic, but tree planting has an incredible range of benefits, many of which are not obvious.

From reducing the impacts of climate change through absorption of carbon or conserving ground water supply, enriching the natural world, to improving our health and wellbeing, removing pollutants from the atmosphere, planting trees has many direct benefits."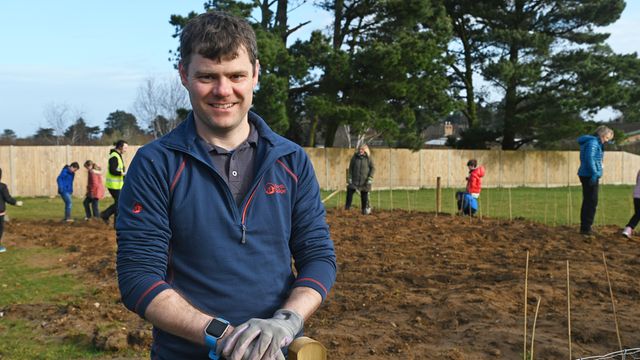 Nigel' Stannett at Miyawaki planting in Sheringham. Photo credits Brittany Woodman, EDP
The 110,000 Trees is no longer taking new applications for projects, but there are still many opportunities to get involved with tree planting in North Norfolk.
Find out more about the project or how you can plant trees of your very own.
---
Last updated: 12th April 2023