North Walsham West
Have your say on the draft Development Brief, which will inform future planning applications for the site. Learn more about this by selecting 'Find out more'.
First coastal marathon in 32 years is back on with runners' spaces announced
Mammoth Marathon is back

Date published: 19th January 2022
North Norfolk District Council, supported by North Norfolk Beach Runners, is set to host the first official 'Mammoth Marathon,' sponsored by Sportlink, on Sunday, 15 May.

The event, featuring 1000 runners, will be the first large-scale coastal road race in North Norfolk for 32 years and extra runner spaces will be released this Friday.
Having been postponed since 2020 (due to Covid-19), the racers and charities involved welcome the decision made by North Norfolk District Council to host the race in May, with the route for the full marathon starting in Sea Palling and finishing in Sheringham. 

Runner tickets will be available from 9am, Friday 21 January 2022 at the Mammoth Marathon webpage.
The event has been organised under UK Athletics regulations, and secures its position as an official marathon among those held in locations including London and Brighton.
The event will also support a number of charities including Break, Norfolk's Big C, East of England Air Ambulance and The Benjamin Foundation.
Cllr Virginia Gay, Portfolio Holder for Culture and Wellbeing said: "We are all delighted to host this 'mammoth' event which will bring together our community, as we welcome new and returning visitors while celebrating this wonderful stretch of North Norfolk's coast. 
"We are pleased to announce that we will have 1000 participants in total. It's good to know that so many runners have chosen our Deep History Coast as their destination."
The competitors will take in the stunning scenery of the North Norfolk Deep History Coast during the 26.2-mile race and will have to endure the gruelling 'Mammoth Mile' at mile 25, prior to eventually finishing at Sheringham High School.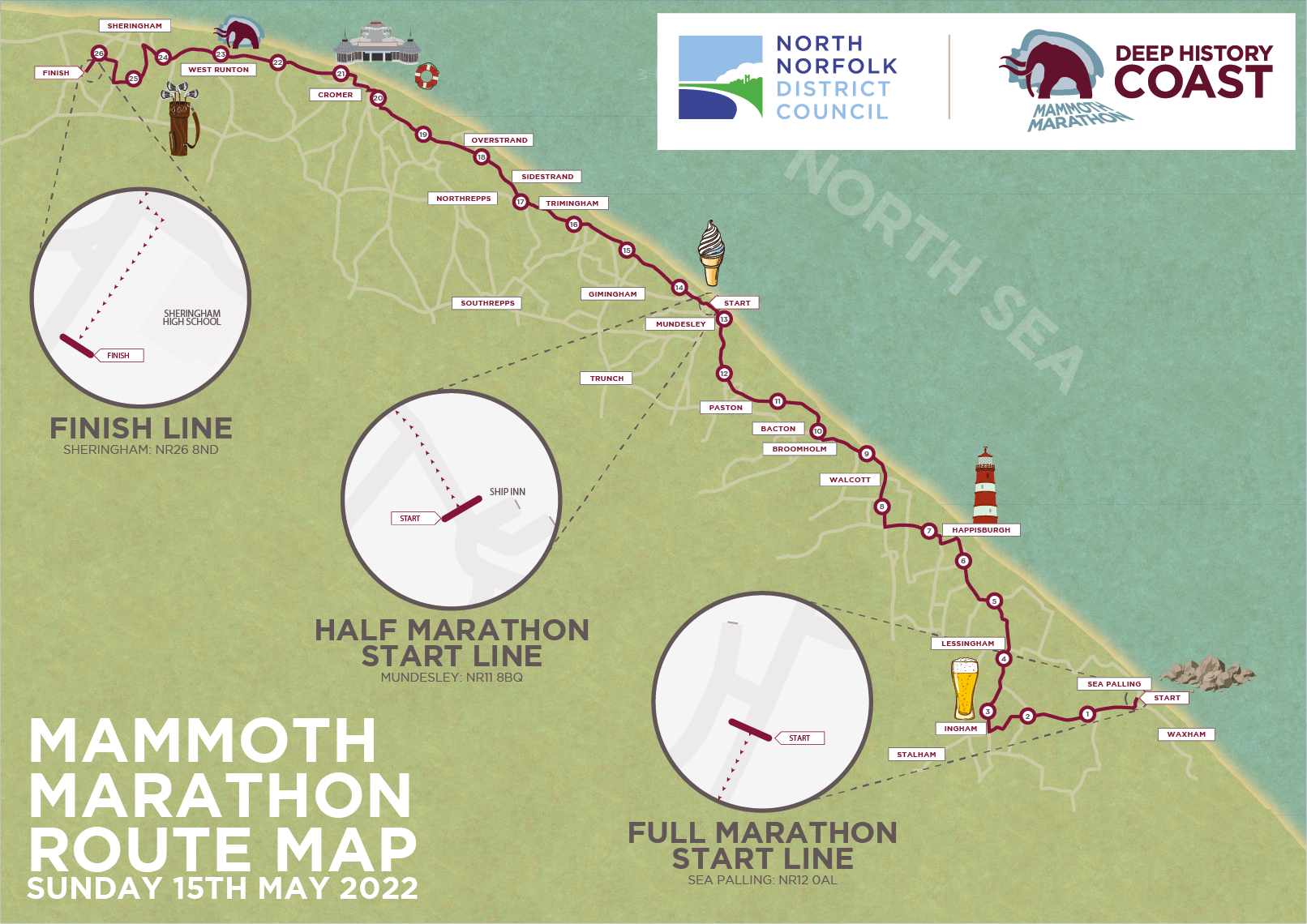 Organisers are calling for family, friends and visitors to come and support the runners and charities on the day and take the opportunity to explore the Deep History Coast. It's packed with pre-historic finds, from the 850,000-year-old footprints of early man to the most complete mammoth skeleton ever discovered.
Cllr Gay said: "As well as being a 'Mammoth Marathon' for many participants, the name of this event reflects the most spectacular relic uncovered on our coast, the West Runton mammoth."
The full marathon will start at 9.30am in Sea Palling and the half-Marathon will start in Mundesley - the finish line for both races will be at Sheringham High School.
Clive Hedges, Chairman of North Norfolk Beach Runners, added: "This is an exciting moment in the Norfolk Road Running calendar; this will be the first road marathon run in Norfolk since the original Norfolk Marathon came to an end in 1990. The North Norfolk Beach Runners are delighted to be supporting this event which will follow the coastline in our home county.
"I am sure this will appeal to many runners not just locally but from farther afield. Marathon running remains incredibly popular and to have this race in the Calendar for 2022 is a real bonus."
More details about the event, including categories, fees, prizes, start times and the full route will be available on the NNDC website.
Download the Deep History Coast App on iOS and Android to explore, capture fossils and flints and find out more about the heritage and local ambassadors, restaurant, cafes, hotels, parks and B&Bs.
---
Last updated: 12th April 2023