North Norfolk business fined after inadequate health and safety practice led to injury

Date published: 14th April 2023
At Chelmsford Magistrates Court on Thursday, Mackenzie Hotels Ltd pled guilty to a breach of the Health and Safety at Work etc. Act 1974, admitting that work at height practices had not been carried out safely leading to the serious injury to an employee.
The Company were fined £27,000 which was reduced to £18,000 to reflect that they entered a guilty plea at the earliest opportunity - the Company were also ordered to pay costs of £4,570.

The case relates to an employee who fell from a height in June 2021 when carrying out roof repairs. An area of the roof was damaged, and cracked tiles and damaged battens needed to be replaced to make the roof watertight.

The company directed that the work should be undertaken using a three-sectioned extending ladder which was incorrectly used and was footed by resting the bottom section against the wheel of a van. The ladder had been positioned against the roof at a dangerously low angle and the Court was told that there were two men on the ladder at the time that the fall happened. 

At the time of the incident, the employee was also wearing unsuitable footwear to undertake the nature of this maintenance work.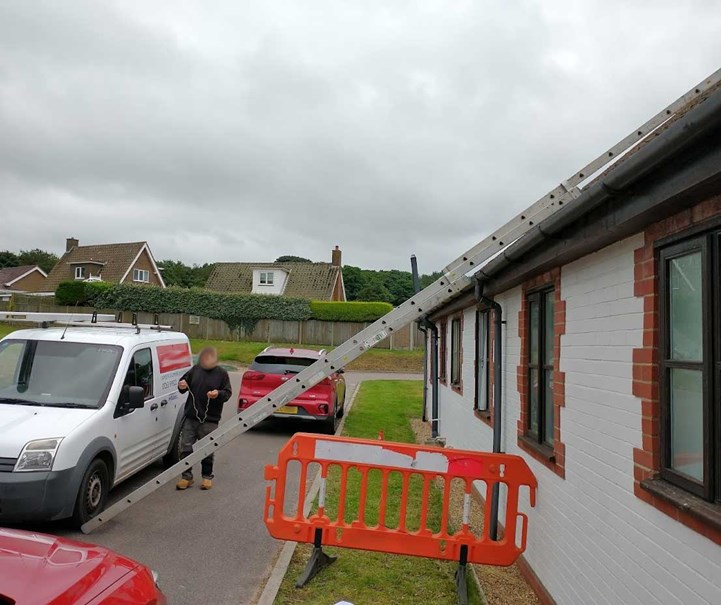 A detailed inspection was undertaken by the Environmental Health Department at North Norfolk District Council.The investigation showed that people had been placed at a significant risk of harm by undertaking the work in the manner directed and that the Company had failed to do everything reasonably practicable to protect the health and safety of its employees.

The concerns included a lack of training on work at height to some of the people involved, not choosing appropriate equipment to undertake the work despite such equipment being available to the Company and failing to properly plan work at height activities in a safe way.

The investigation determined failures in that risk assessments were not completed properly and that manufacturer's instructions printed on the side of the ladder regarding safe use were ignored.

Public Protection Team Leader James Windsor said:

"This case emphasises the need for employers to undertake their work activities in a safe way and in accordance with the relevant statutory provisions. While the injuries sustained from this fall were significant, they could have been much worse. The Health and Safety Executive identify working at height as one of the biggest causes of fatalities and major injuries with a third of all work at height accidents being caused by falls from ladders.

Accidents at work are investigated by North Norfolk District Council or the Health and Safety Executive and employers have a responsibility to ensure their workers can undertake their duties safely."

Accidents and incidents at work should be reported immediately - find out more about reporting an accident at work  
---
Last updated: 14th April 2023