Business Grant Update
We are contacting potentially eligible businesses this weekend (4th and 5th April) by text message and email to make them aware of how the grant scheme will operate.
How to recycle your unwanted clothing
We now have clothing banks spread across 29 locations throughout North Norfolk. Find out where you can donate your unwanted clothes and shoes.
Why recycle?
Around 350,000 tonnes of clothing is discarded in the household waste stream every year. That's around £140 million worth of used, but still wearable clothing being thrown away. Most of this wasted material could easily be reused or recycled through textile recycling. It can take tens of years for various types of clothing to break down whilst also having a damaging effect on the environment with the release of harmful gases and chemicals during the decomposition stage.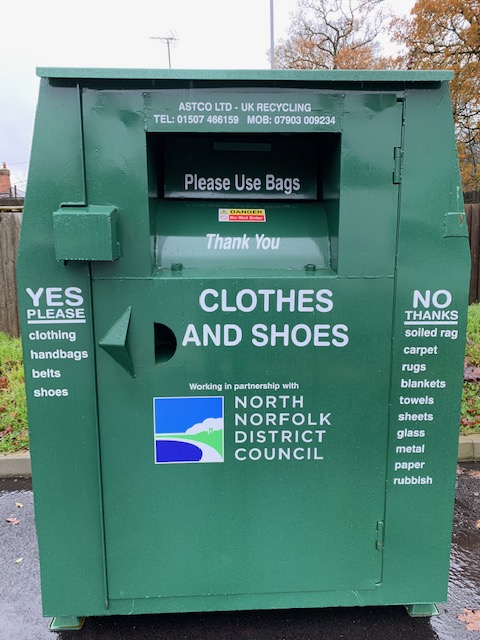 What happens to the clothing?
We reuse 100% of the materials collected after sorting in the UK, with 75% going into the UK, Europe, Africa and Asia. The remaining 25% of poor grade materials is sent to pulping mills and used as fillings for mattresses.
Items we recycle
clothing
shoes
belts
handbags
Items we can't accept
blankets
towels
sheets
carpet
rugs
soiled rags
Please do not dispose of any other material such as glass, metal, paper and rubbish.
Where can I find my nearest clothing bank?
There are clothing banks spread across 29 locations throughout North Norfolk.
| Location | Where? |
| --- | --- |
| Aldborough | Mill Lane |
| Badersfield | The Diplomat Inn |
| Banningham | Banningham and Colby Jubilee Hall, Colby Road |
| Briston | Pavillion Recreation Ground, Stone Beck Lane |
| Cromer | Cabbell Park (Mill Road surgery) |
| Cromer | Cadogan Road car park |
| Cromer | Meadow Road car park |
| Cromer | Runton Road car park |
| East Runton | Beach Road car park |
| Fakenham | Highfield Road car park |
| Fakenham | Leisure Centre, Trap Lane |
| Fakenham | Queens Road car park |
| Happisburgh | Village Hall Wenn Evans Centre, Blacksmiths Lane |
| Holt | Albert Street car park |
| Holt | Station Road car park |
| Horning | Village Hall, Mill Hill |
| Ludham | Village Hall, Norwich Road |
| Mundesley | Beach Road car park |
| North Walsham | New Road car park |
| North Walsham | Vicarage Street car park |
| North Walsham | Victory Swim and Gym, Station Road |
| Overstrand | Pauls Lane car park |
| Sea Palling | Clink Lane car park |
| Sheringham | Morris Street car park |
| Sheringham | Station Approach car park |
| Stalham | High Street car park |
| Trunch | Blooms Turn Playing Field |
| Walsingham | Bridewell Street car park |
| Wells | Stearmans Yard car park |