North Walsham West
Have your say on the draft Development Brief, which will inform future planning applications for the site. Learn more about this by selecting 'Find out more'.
Safe use of disposable BBQs in North Norfolk

Date published: 10th June 2022
Earlier this year, North Norfolk District Council installed 10 new BBQ disposal bins at key coastal locations to assist with the safe disposal of disposable BBQs.
Disposable BBQs can smoulder unnoticed for hours after you have finished using them and can easily reignite, causing fires in parks, bins and refuse collection vehicles.
Careless disposal of your disposable BBQ, such as burying it in the sand, can also cause injury to people using the beach.
To dispose of your BBQ safely, make sure it has completely cooled before placing it in a designated BBQ Disposal Bin by pouring water or sand over the embers and ash and leaving it to cool for several hours.
You can hold a beach BBQ on several of our District's beaches, and signage in the area will show where BBQs are permitted.
Wherever possible, please avoid taking BBQs to the park, beach or out in the countryside during warm periods where dry grass or trees can easily catch fire; if you cannot avoid these areas, do not leave them unattended. Always follow the instructions carefully and make sure they are extinguished and have gone completely cold after use.
You can find out where your nearest BBQ bin is located by following this link.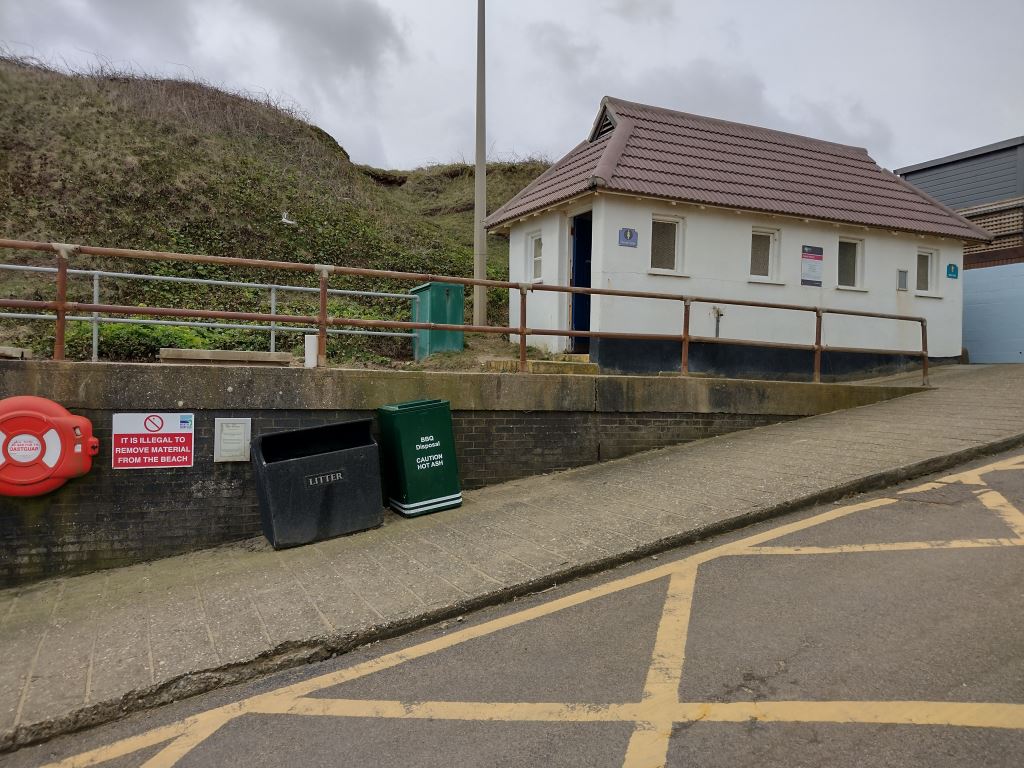 BBQ disposal bin in West Runton
BBQ Do's and Don'ts
No glass or glass utensils shall be used at the event or taken to the beach
No open fires! Including bonfires or campfires due to the health and safety risks
All rubbish and litter are to be cleared away from the beach directly after the event and taken away with you
Noise should be kept to a minimum. Music and generators are not permitted
Please do not bury rubbish in the sand where it may cause a health & safety hazard to other beach users
Please do not bury portable/disposable BBQs in the sand where they cause problems for future beach users. Extinguish/cool BBQs and take them home with you or place them in a designated BBQ disposal bin
Any planned events shall be entirely at the owner's risk
If you have applied for an event, we cannot guarantee that your party will have exclusive use of the designated area
At least one responsible adult must be in attendance at all times
Cllr. Nigel Lloyd, portfolio holder for Environmental Services, Climate Change and the Environment said:
"At NNDC, we are continually seeking new ways to ensure that our beaches and open spaces are not spoiled by litter. We have noticed that some people enjoy a bbq when visiting our beaches, so we have reacted by installing special bins at 10 of our most popular destinations so that disposable BBQs can be safely and responsibly discarded after use.
All we ask is that people follow simple common sense safety rules to protect themselves and others from harm. We hope residents and visitors alike continue to enjoy our beautiful beaches; we can all do our bit to keep them clean."
Where 13 or more people wish to get together for a BBQ in an outdoor public area, they are required to gain permission from the Council after giving seven days prior notice.
The Council will ensure the Police, Coastguards and relevant Town/Parish Council are notified of your event.
You can download an application form here
Remember, always put your BBQ out, make sure the ashes are cold and dispose of them responsibly. Fires can be as devastating to wildlife and habitats as they are to people and property. Call 999 if you see an unattended fire.
---
Last updated: 12th April 2023