North Norfolk apprenticeship stories: Oyster Yachts Ltd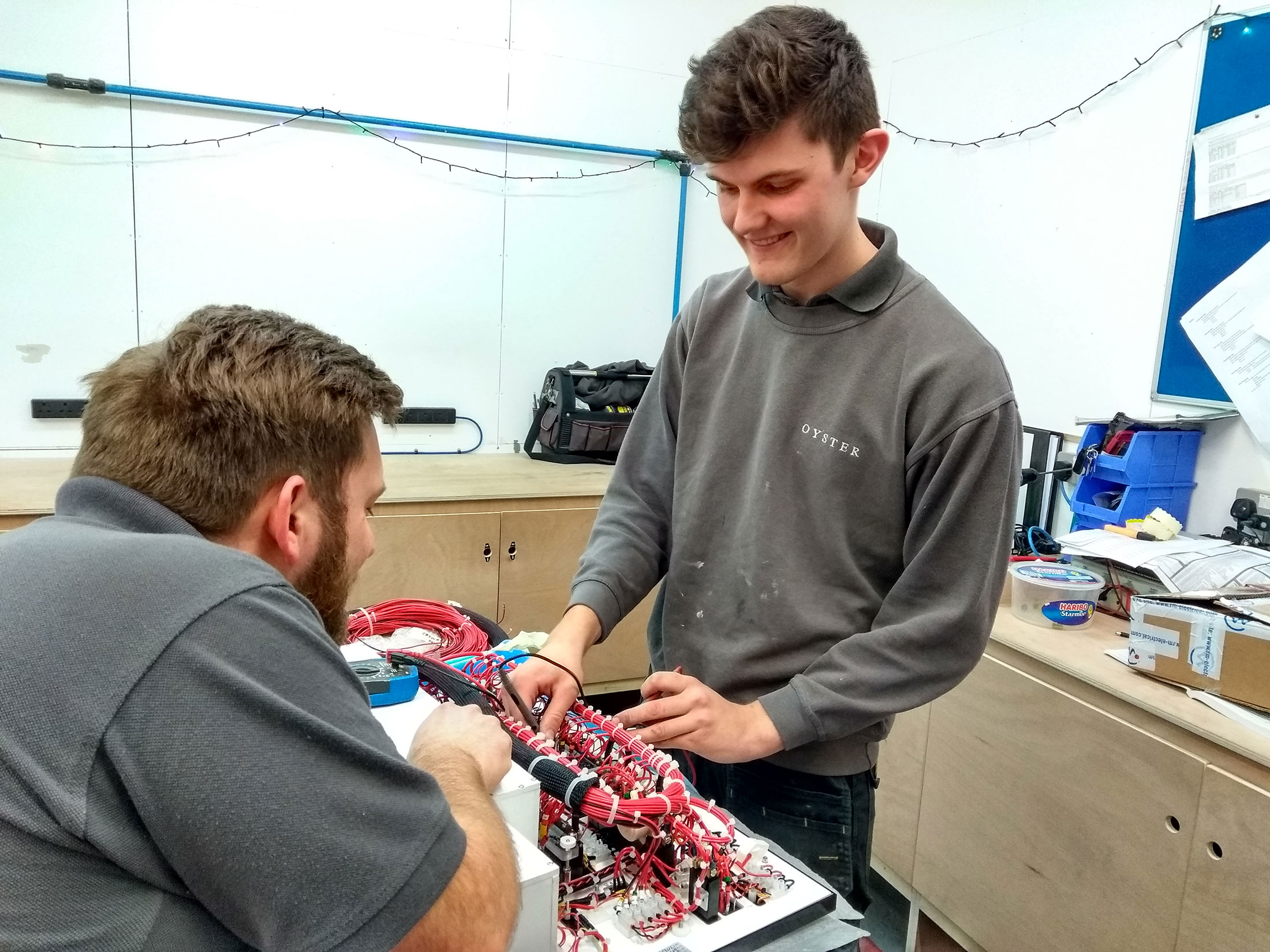 Ryan Peberday knew that he wanted to have a skilled career as an electrician in Year 10. He wanted to get away from the classroom and do something practical. He planned his progress by selecting Engineering as one of his GCSE options at Sprowston High School. While he was studying for his exams in Year 11, he started to apply for an apprenticeship. His mum and dad worked at Oyster Yachts in Hoveton, so he applied there and was accepted before he took his exams.
Ryan started on a Level 2 Electrical Installation apprenticeship which involved studying theory one day a week at City College Norwich. He chose electrical work 'because I wanted to know how things worked'. Ryan admitted that it was difficult to learn the theory at first, because it was all new. However, this was not a huge problem as he had a good tutor and a deep interest in what he was learning. He completed within a year and had done so well that the company decided he should progress to the Level 3 qualification, which is equivalent to A-level. This advanced course takes 18 months to 2 years to complete, again studying at the college on day release once a week.
When asked what it was like to be an apprentice, Ryan replied 'The best thing is earning and learning. It's the best of both worlds.' His advice to anyone thinking of becoming an apprentice is 'make sure that you really want to learn the skill. It's easier to change company than subject.' Ryan advises people to try out the work first, through a period of work experience. While still at school, he had helped his dad and knew what the work was like.
Ryan's job is to install electrical wiring into luxury yachts. 'If a customer wants a stereo system in the aft cabin, I'll sort out what's needed.' As he is involved in building ocean-going yachts, he has to make sure that all the wiring is sealed to prevent water infiltrating the system. One aspect of his work that he particularly enjoys is seeing the yachts launched in the water at Ipswich, when he has to test everything that he has installed before the customer takes ownership of the vessel.
Oyster Yachts plans to continue to employ apprentices in order to maintain the skilled workforce that they need to grow the business. The training and supervision required is seen as integral to the development of the company.
Apprenticeships are an important part of Oyster's future. The apprentice gets the opportunity to learn alongside a skilled tradesperson in all aspects of electrical installation, engineering, joinery, fit out & painting so they themselves will take over the senior roles and training as people retire. The apprenticeship programme enables us to continue the high standards that Oyster are well known for.
Kevin Webster
Manager
Oyster Yachts Ltd