North Walsham West
Have your say on the draft Development Brief, which will inform future planning applications for the site. Learn more about this by selecting 'Find out more'.
Commemorating the First World War in North Norfolk
2014 marked 100 years since the start of the First World War. From 2014 to 2018 nations, local communities, organisations and individuals were united in planning events and activities to mark, commemorate and remember the lives of those who lived, fought and died in the First World War.
On this page
North Norfolk WW1 Network
NNDC supported the development of a North Norfolk World War 1 Network which included a range of organisations such as Royal British Legion, local historical groups, Town and Parish Councils, Norfolk County Council and Armed Forces organisations. They worked together to support a coordinated and phased programme of commemorative events during the four-year centenary period.
Poppies in Steel commemorative sculpture unveiled
More than 130 guests with representatives from the North Norfolk World War 1 Network, Cadets from Air Training Corps in Cromer and Fakenham, Chairmen from both the Norfolk Royal British Legion Branch and Women's Section, Norfolk's Armed Forces Commissioner and 1st Queens Dragoon Guards the Welsh Calvary, as well as Standard Bearers from Royal British Legion Branches across north Norfolk, attended the official launch of north Norfolk's World War 1 Centenary Commemorations during Armed Forces Week.
The ceremony included the unveiling of Poppies in Steel, a commemorative sculpture donated to the Council by local artist and master blacksmith, Nigel Barnett. Major General Sir William Cubitt, KCVO CBE, and President of the Royal British Legion in Norfolk unveiled the sculpture shortly before a fly-past of a Tornado GR4 from 31 Squadron RAF Marham closed the ceremony.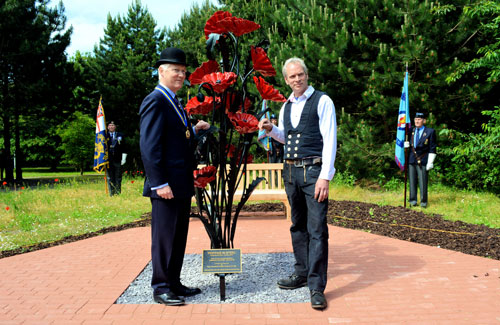 The North Norfolk WW1 Pillbox Trail
To mark the significance of the historical legacy left by our wartime coastal defences. NNDC in partnership with members from the North Norfolk WW1 Network (NNWN) launched a coastal trail of 14 accessible World War 1 pillboxes in the district. At least 48 pillboxes were known to have been built in Norfolk during the First World War. Twenty-four currently survive, with the majority being in North Norfolk.
World War 1 pillboxes were usually circular and made of concrete blocks. In North Norfolk, there was a continuous line of pillboxes along the coast from Cley to West Runton, with a WW1 pillbox further west at Stiffkey on National Trust land, part of the Norfolk Coast Path. This line was reinforced by a second line just inland, between Holt and Aylmerton. A line of pillboxes ran along the course of the River Ant. Several pillboxes survive on the upper Ant, with more coastal pillboxes at Mundesley, Bacton, Sea Palling and Great Yarmouth.
The pillboxes were usually built in pairs to provide mutual fire support. Surviving pairs at Bradfield, Little London, White Horse Common and Thorpe Market, are all included on the trail.
To complete the trail use our North Norfolk WW1 Pillbox Trail leaflet or pick up a copy from our Tourist Information Centres.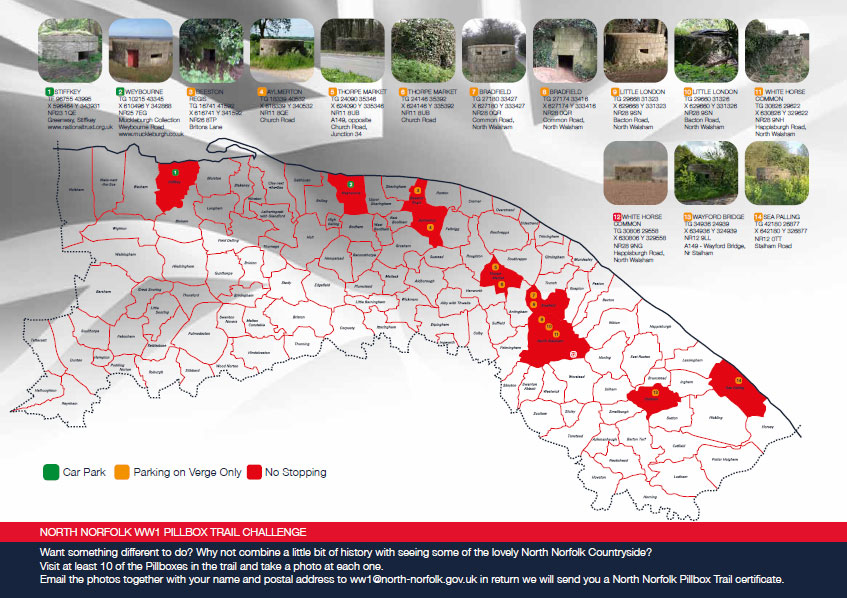 Two Tommy silhouettes erected at the NNDC's Cromer office
North Norfolk District Council's Cromer office has become home to two silhouettes, which are part of the There But Not There 2018 Armistice project for the charity Remembered. A third Tommy has been erected in Holt Country Park, and a fourth, 30cm Tommy has been installed in NNDC's main reception beneath the Tower of London Poppy. This poppy was bought for the Council by the Council's previous Chairman Trevor Ivory.
The project has been described as being the defining centenary commemoration of the end of the 1914-18 war. It aims to commemorate, educate and heal.
North Norfolk Flanders poppy seeds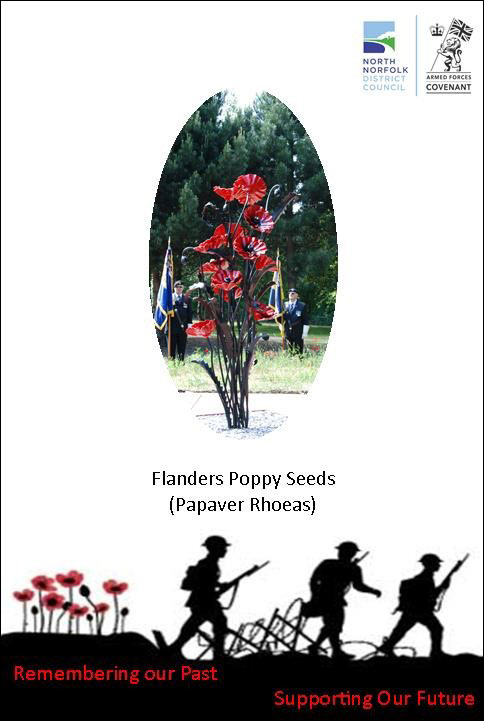 The Council also marked the Armistice centenary by giving packets of Flanders poppy seeds to local organisations, including Town and Parish Councils, schools and care homes. They were invited to sow the poppy seeds as a symbol of remembrance and respect for those lives impacted by the war.
Once sown the number of poppies should increase year on year and will provide a glorious annual display of colour and a visible, lasting legacy across North Norfolk.
Local places of interest and heritage projects
Related content and links
If you are looking for information about the First World War the following websites can lead you to information about the war locally and nationally with online resources.
Resources - online records, libraries, databases, museums etc
Access UK Military records online including British Army WWI Service Records, British Army WWI Pension Records, British Army WWI Medal Rolls Index Cards and UK, Soldiers Died in the Great War.
Discover places across the UK and Ireland with a story to tell about World War One, get involved in World War One events near you and view the schedule for World War One dramas, documentaries and debates on the TV and Radio.
Supported by over 500 historical sources from across Europe, this resource examines key themes in the history of World War One. Explore a vast array of exclusive articles, images and scans of original letters and manuscripts from the conflict.
Find out about war graves near you or search for relatives who died in the war. There are cemeteries in the UK and across the world for soldiers who died in the First World War.
Read the blog on how the First World War changed lives across Britain, Discover fascinating facts about the First World War displayed on digital postcards for you to share across your social networks and much more.
An archive and blog site dedicated to the Old Greshamians and staff who fought and died in WW1, funded by the Heritage Lottery Fund's 'First World War : then and now programme'
The Heritage Gateway website provides access to a variety of databases containing information about archaeological and historic sites including sites dating to the First and Second World Wars.
Sheringham born Olive Edis was Britain's first female war photographer.
A family of five museums. Find out about permanent displays, the archives, special exhibitions and forthcoming events.
The official UK government records of the First World War, including a vast collection of letters, diaries, maps and photographs.
Archant, the publisher of Norwich Evening News and the Eastern Daily Press, launched the web page Norfolk and Suffolk's First World War roll of honour so that readers are able to add biographical details about individuals, as well as photographs and tributes.
The Norfolk Record Office (NRO) collects and preserves unique archives relating to the history of Norfolk and makes them accessible to people in Norfolk and across the world. It includes the Norfolk Sound Archive. The NRO is a joint service of the County and District Councils of Norfolk.
An article published by Pen Heaven after their visit to the Imperial War Museum where they looked through archives and recent anthology 'Poems from the Front', compiled of a great deal of handwritten drafts and manuscripts in the museum's archives.
Your library card gives you access to Britannica Encyclopedia. To commemorate the centenary Britannica Encyclopedia Remembers World War One with links to major battles, military leaders, poems, weapons and more.
Blogs and articles on the impact of historical world war.
Living through World War One in the Norfolk Broadland Villages - Neatishead, Irstead and Barton Turf.
The casualty database lists the names and place of commemoration of the 1.7 million men and women of the Commonwealth forces who died during the two world wars. You can search by name, date, rank, regiment and award.
Education - programmes, activities and learning resources
Norfolk Museums Service's learning team delivers award-winning programmes for schools and all ages in ten museums across Norfolk. Our museums are in amazing historic buildings with wonderful collections and top class displays. We specialise in bringing history and learning to life.
The Archive Education and Outreach Service aims to make the documents in the Norfolk Record Office accessible to all ages, through a variety of means. NRO also have a number of activities which are available for extended schools, scout and girl guide groups and youth groups.
The Royal British Legion has created learning resources for schools, teachers and educators to increase knowledge of Remembrance, History, English and Citizenship activities. They have developed these Remembrance-focused learning resources to support schools, teachers and educators in developing their lesson plans. These materials are reviewed and updated regularly.