Get involved in local planning. The Local Plan is the key planning document for North Norfolk. This is your chance to influence its content.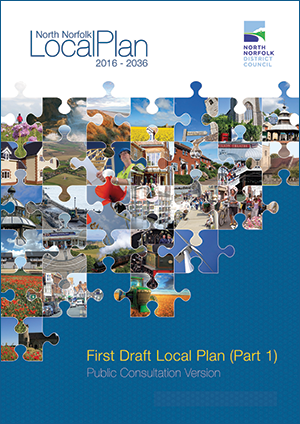 We will shortly be inviting residents, businesses and organisations to consider the content of the First Draft Local Plan (Part 1) to let us know if any changes are necessary. A six week consultation period will take place from Tuesday 7 May to Wednesday 19 June.
As part of this consultation we will also publish details of the Alternative Options that have been considered, along with the supporting evidence we have taken into account when preparing this document.
We will also be consulting on draft Supplementary Planning Documents (SPDs) which provide further guidance to support related Local Plan policies:
Design Guide
Landscape Character Assessment
Landscape Sensitivity Assessment
During the consultation period residents and businesses will have the opportunity to speak to planning staff at a number of drop-in exhibitions across the District. The dates, times and locations are detailed below.
Further information including details of how to respond will be published here in early May.
How can I comment on the Local Plan?
From Tuesday 7 May visit our consultation portal to submit comments.
Drop-in Exhibitions
Those who have questions about the Local Plan proposed policies and sites will be able to come and discuss these with planning officers at a number of drop-in events during the consultation period. The events will be open between 2.30pm to 7.30pm at the following locations:
| Location | Address | Date |
| --- | --- | --- |
| Sheringham | Community Centre (Room 5 and 6), Holway Road, NR26 8NP | Tuesday 7 May |
| Cromer | Parish Hall, Church Street, NR27 9HH | Wednesday 8 May |
| Briston and Melton Constable | Briston Pavilion, Recreation Ground, Stone Beck Lane, NR24 2PS | Thursday 9 May |
| Holt | Community Centre (The Lounge), Kerridge Way, NR25 6DN | Wednesday 15 May |
| North Walsham | Community Centre, New Road, NR28 9DE | Thursday 16 May |
| Mundesley | Coronation Hall, Cromer Road, NR11 8BE | Friday 17 May |
| Ludham | Village Hall, Norwich Rd, NR29 5PB | Monday 20 May |
| Stalham | Town Hall, High Street, NR12 9AS | Tuesday 21 May |
| Hoveton | Broadland Youth and Community Centre, Stalham Road, NR12 8DJ | Thursday 23 May |
| Fakenham | Community Centre, Oak Street, NR21 9DY | Friday 24 May |
| Blakeney | Village Hall, Langham Road, NR25 7PG | Wednesday 29 May |
| Wells-next-the-Sea | The Maltings (Clore Community Room), Staithe Street, NR23 1AU | Friday 31 May |
Will my opinion matter?
Yes! The local knowledge of residents and expertise of local organisations can help to make the Plan better. Whether you object to or support an element of the Plan, or wish to make some general comments, we are keen to have your feedback.
Further Consultation
First Draft Local Plan (Part 2)
It is proposed that small developments (0 to 20 dwellings) should be allowed in a number of villages across the District. These villages will be identified in the Part 1 document which will be published for consultation in May.
Later in the year we will consult on a Part 2 Plan which will suggest potential development sites in the identified villages. We currently anticipate that this consultation will take place in Autumn 2019.
Final Draft Local Plan
Following these consultations the Council will make necessary amendments to the Plan before consulting again on a Final Draft Local Plan. We estimate that this could take place towards the end of 2019.
Sign up for direct updates on the Local Plan and other Planning Policy matters.