Pay your council tax online
Set up a Direct Debit
Get involved in local planning. The Local Plan is the key planning document for North Norfolk. This is your chance to influence its content.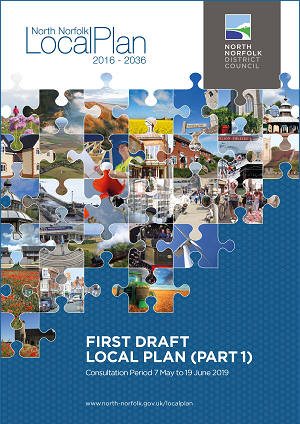 The First Draft Local Plan is here! The Council has drawn together the evidence, reviewed planning policies and identified a range of proposed development sites in preparation of the new Local Plan. The First Draft is the fruition of this hard work and we are now asking you for your opinions. We also want to hear your views on the new Design Guide and Landscape Character & Sensitivity Assessments that are being consulted on alongside the Local Plan.
What does the Local Plan say?
The Local Plan explains where, how, and how much new development should take place in North Norfolk between now and 2036. It proposes up to 11,000 new homes including 2,300 affordable homes, new employment land, protected areas of green space, and a range of new policies guiding development proposals relating to housing construction standards, design of development, renewable energy, coastal management and much more.
We recommend reading the latest Local Plan Newsletter which provides further summary information. Also our frequently asked questions page contains useful information about the consultation.
Where can I view the consultation documents?
All of the consultation documents, supporting documents and background papers can be found:
by visiting our Document Library
at all Libraries in North Norfolk District and at Wroxham Library in Broadland District
at one of twelve drop-in events being held across the District (details can be found below)
How can I comment on the Local Plan and other documents?
In order to comment on any of the documents, responses must be submitted using our online Consultation Portal. This allows you to direct your feedback to the specific paragraph, policy or site that you wish to comment on. It also enables the Council to efficiently manage and process your comments, resulting in a better service for you.
Due to the high volume of responses being received we have extended the deadline for accepting comments to 5pm on Friday 28 June. 
If you have any difficulty in using the Consultation Portal please contact us on 01263 516318 so that we can arrange an alternative way of submitting your comments.
Will my opinion matter?
Yes! The local knowledge of residents and expertise of local organisations can help to make the Plan better. Whether you object to or support an element of the Plan, or wish to make some general comments, we are keen to have your feedback
Drop-in Exhibitions
Those who have questions about the Local Plan proposed policies and sites were able to come and discuss these with planning officers at a number of drop-in events which were held in the consultation period. The events took place between 2.30pm to 7.30pm at the locations listed below.
For those who missed the events, you can view our exhibition displays: Part 1 About the Local Plan and Part 2 Town and Village Proposals
| Location | Address | Date |
| --- | --- | --- |
| Sheringham | Community Centre (Room 5 and 6), Holway Road, NR26 8NP | Tuesday 7 May |
| Cromer | Parish Hall, Church Street, NR27 9HH | Wednesday 8 May |
| Briston and Melton Constable | Briston Pavilion, Recreation Ground, Stone Beck Lane, NR24 2PS | Thursday 9 May |
| Holt | Community Centre (The Lounge), Kerridge Way, NR25 6DN | Wednesday 15 May |
| North Walsham | Community Centre, New Road, NR28 9DE | Thursday 16 May |
| Mundesley | Coronation Hall, Cromer Road, NR11 8BE | Friday 17 May |
| Ludham | Village Hall, Norwich Rd, NR29 5PB | Monday 20 May |
| Stalham | Town Hall, High Street, NR12 9AS | Tuesday 21 May |
| Hoveton | Broadland Youth and Community Centre, Stalham Road, NR12 8DJ | Thursday 23 May |
| Fakenham | Community Centre, Oak Street, NR21 9DY | Friday 24 May |
| Blakeney | Village Hall, Langham Road, NR25 7PG | Wednesday 29 May |
| Wells-next-the-Sea | The Maltings (Clore Community Room), Staithe Street, NR23 1AU | Friday 31 May |
Further Consultation
First Draft Local Plan (Part 2)
It is proposed that small developments (0 to 20 dwellings) should be allowed in a number of villages across the District. These villages will be identified in the Part 1 document which will be published for consultation in May.
Later in the year we will consult on a Part 2 Plan which will suggest potential development sites in the identified villages. We currently anticipate that this consultation will take place in Autumn 2019.
Final Draft Local Plan
Following these consultations the Council will make necessary amendments to the Plan before consulting again on a Final Draft Local Plan. We estimate that this could take place towards the end of 2019.
Sign up for direct updates on the Local Plan and other Planning Policy matters.