Car park consultation
Have your say on the proposed changes to our public pay and display car parks and other areas.
Find out about postal votes ahead of the 2021 Norfolk County Council elections and the Norfolk Police and Crime Commissioner election which are scheduled to take place on 6 May 2021.
Postal voting update 15 January 2021
The Government have announced that the 6 May elections are still going ahead as scheduled although the date continues to be under review due to Covid-19.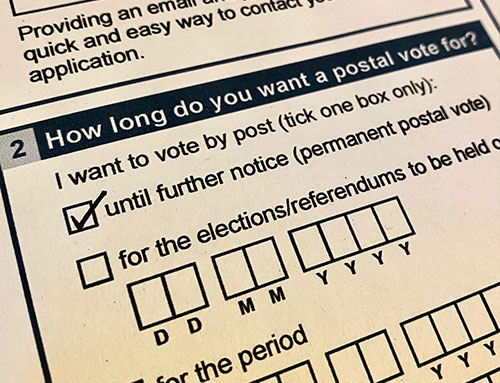 We recommend that if you wish to apply for a postal vote at the forthcoming election, you tick the until further notice box, as shown, so your application is covered in the event of any change to the election date.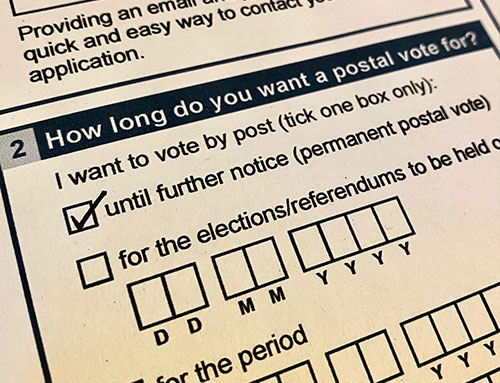 If you have already applied for a postal vote
If you have already applied for a postal vote and specified for it to be for the 6 May 2021 in the event of a delayed election, we will contact you to help you make a new application.
We will be issuing more information relating to the postal voting process and security in the coming weeks, but if you have any questions, please contact us at postalvotes@north-norfolk.gov.uk.
Postal votes are normally sent to electors about two to three weeks before an election. Therefore, we are encouraging electors who will not be able to make it to the polling station or do not wish to attend because of the COVID-19 pandemic to apply for a postal vote. We expect a high number of postal votes applications, so we recommend making your application at the earliest opportunity.
Anyone who is registered to vote can apply to become a postal voter. For security reasons we require both your signature and date of birth.
Voting by post is an easy and convenient way of voting if you are unable to get to the polling station. Ballot papers will be sent to your address before polling day so that you can cast your vote and return it by post.
How to apply
You must be registered to vote or have already made an application. Not sure if you're already registered? Use our online form to check.

Please complete this form, call 01263 516046 or email postalvotes@north-norfolk.gov.uk to request an application form. 

Please email completed forms to postalvotes@north-norfolk.gov.uk or post to:

Electoral Services
North Norfolk District Council
Holt Road
Cromer
NR27 9EN
Please ensure that applications are completed by hand using 'wet ink'. Forms completed with a digital signature are invalid and will require a new application form to be completed
Cancel a postal vote
If you don't want to vote by post anymore please contact the Elections team at postalvotes@north-norfolk.gov.uk or call 01263 516046.
Spoilt and damaged ballot papers
If you have damaged or spoilt your postal vote, you can get a replacement between Thursday 29 April until 5pm on polling day. Do not destroy or throw away your postal ballot papers. You will need to return them before you can get a replacement. 
Further advice and guidance
If you want to discuss any aspect of postal vote security please contact the Elections team.
The Electoral Commission website has further information on voting by post at an election or referendum.